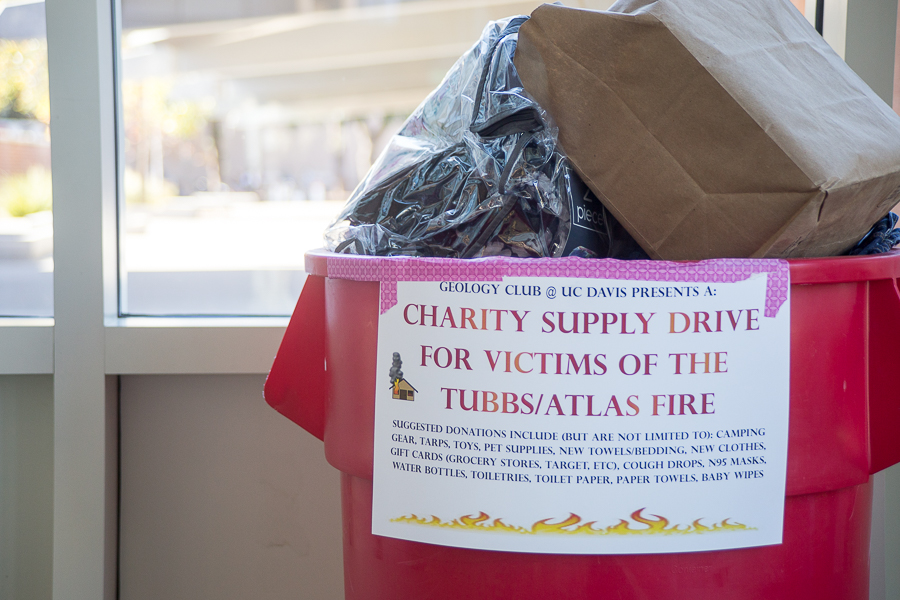 Northern California counties devastated by fires, UC Davis students affected
Quinlan Kezer, a third-year managerial economics major, was woken up to his mother's frantic warning that there was a fire and they had to get out. He was forced to flee to Davis, leaving his family in Santa Rosa behind to cope on Monday after the fire began.
"We were out of control of the fire, but the fire was very in control of what it was doing," Kezer said. "It looked like it was alive, it looked like it was methodically bouncing through a house, dropping the house and then moving to the next one. I mean, you could see the fire going from one house to the next, and in just a couple minutes it was studs or nothing, and it didn't take long. And so it kind of looked like it was alive, like it was methodically just moving."
The Northern California fires have ravaged much of Sonoma, Napa, Solano, Mendocino, Butte, Yuba, Nevada, Orange and Lake counties. These fires are different from previous California wildfires because of their unusual impact on suburban areas. UC Davis and City of Davis fire chief Nathan Trauernicht understands this impact.
"We've seen a lot of wild land fires in moderate to sparsely populated areas," Trauernicht said. "What separates this one I think for most people was the amount of homes — the amount of homes, structures, commercial businesses. It's been a long time since we've seen a fire get into a suburban area with the population density that this one did. And it's pretty devastating."
The devastation did not end at structures. As of October, the death toll from these fires stood at 42. UC Davis environmental science and policy professor Mark Schwartz works with management teams of national parks and forests to develop land management strategies that take into consideration climate change and wildfire risk. Schwartz' research has lead him to speculate on the cause of the fire's high death toll and its vast physical destruction.
"Certain amounts of changes in land use management in California have changed ecosystems such that they're more likely to sustain high-temperature fires now than they were in the past," Schwartz said. "Once that fire got going under [the] dramatic conditions, it [was] very, very difficult to stop that fire."
Schwartz said he is surprised by the damage, since suburban areas do not burn easily, as they are not rich in fine fuels necessary for fire to spread. However, unusual conditions enabled the fire to spread rapidly, and Governor Jerry Brown declared states of emergency on Oct. 9, 10 and 17 for all of the affected counties. This led to increased support and resources from the state and country with the UC Davis Fire Department among those who contributed.
"[The department worked] 36 hours straight because there just weren't enough resources and the fire was moving so incredibly fast," Trauernicht said. "The UC Davis fire department [is] a part of the California Mutual Aid System […] the concept of it is that whenever there's a major disaster or a major fire somewhere in the state, other places in the state send resources knowing that someday, you may need them. So it's kind of a reciprocal system of help and support."
While most students can't provide support on the front lines, Trauernicht encouraged the Davis community to donate to reputable organizations like the American Red Cross. As a student from the Sonoma County area, Kezer noted the consistent contributions from Redwood Credit Union's fundraising effort to benefit Sonoma County.
Kezer, who was asleep at his childhood home near a devastated neighborhood of Santa Rosa on the night that the fires encroached, emphasized the importance of both monetary donations and communities for healing. Kezer actively initiated this kind of support system through his creation of a rideshare page on Facebook for students with families in the Santa Rosa area.
"[Students from Santa Rosa] could talk to each other and communicate and know that people are on the move, people are aware of what's happening and they can at least care more than someone that might not be from the area could even potentially care," Kezer said. "It was kind of just more or less a place where people could know they weren't alone."
While grassroots support systems like the rideshare page developed, UC Davis Student Affairs has resources for those seriously impacted by the fire, whether monetarily or emotionally. Evacuation centers also populate the affected counties where organizations like the American Red Cross are providing practical resources.
Kezer recounts driving by a major evacuation center in his hometown which was ridden with tents and the suffering of recent disaster.
"You could feel the emotion, you could feel the community coming together, which was really great," Kezer said. "Then when you were in areas that weren't really affected it felt so eerily normal […] I think everyone's kind of doing what they can to help everyone else that was affected more so than they were, but you have to get back to work, you have to get back to school, you just kind of have to move forward."
Erica Larson, a third-year managerial economics major, had returned to Davis from her home in Sonoma the day before the fires began and woke up Monday around 4 a.m. to a barrage of missed texts and calls.
"My house didn't get hit or anything, but just from where they were there was a fire probably like half a mile away," Larson said. "They could see it when they were evacuating."
While the impact of the emergencies was inevitably felt in the counties affected, it is difficult to be as aware of the tragedy from a distance. Larson expressed being shocked by the normalcy of her Monday morning in Davis, a sentiment echoed by the sometimes isolated voices on Kezer's rideshare page.
"It's hard," Larson said. "You don't know how it feels and there's nothing you can really do or say to give them back their house."
This disconnect between bystanders and victims is mirrored by the experience of those from Northern California counties affected compared to the general UC Davis community. Kezer recounts returning to Davis the morning after the fires began. He went to class following a shift at work and expressed regret for his uncharacteristic behavior to colleagues, admitting he was distracted by the fires. They responded, to his surprise, with ignorance of the tragedy.
"I think everyone's kind of doing what they can to help everyone else that was affected more so than they were, but you have to get back to work, you have to get back to school, you just kind of have to move forward," Kezer said.
Although his memories of the fire and its devastation are haunting, Kezer believes that the community will rebuild itself. To aid in this, UC Davis has counseling available for students and professors are ready to alert crisis management teams on students in need of support. If the way in which local organizations, such as Larson's sorority and Kezer's rideshare page, have rallied together is any indication of the momentum toward change, counties will recover.
Written by: Stella Sappington — features@theaggie.org