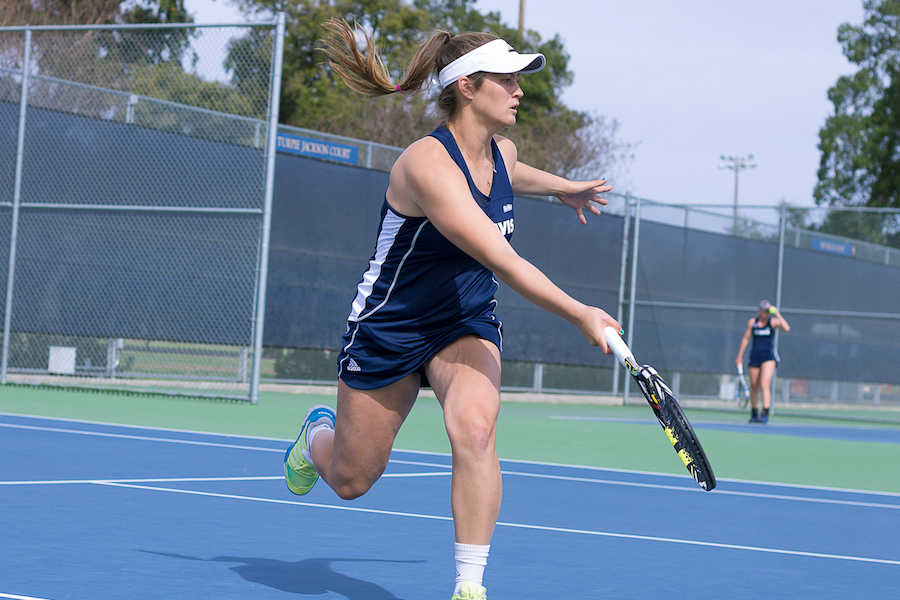 Women's tennis completes fall tournaments, looks forward to new season
October is not usually considered the height of the tennis season. For the UC Davis women's tennis team, however, playing autumn tennis is not such a strange concept, and is in fact an integral part of gearing up for a competitive regular season.
Over the course of October, the Aggies competed in three separate tournaments, all taking place in the Bay Area: The Cal Nike Invitational in Berkeley, the Saint Mary's Invitational in Moraga and the International Tennis Association Northwest Regionals in Palo Alto. While the regular season is still almost three months away, these fall events were the first opportunity for teams to gather invaluable, in-game experience for new players and to recalibrate into a competitive tennis mindset.
The Aggies, led by co-captains Lani-Rae Green and Kelsie Bryant, were largely successful in all three tournaments. The highlights for the Aggies, however, came in the Saint Mary's tournament. In Moraga, sophomore Kristina Breisacher defeated top seeded singles player Elizaveta Volodko of UC Santa Barbara in a hard-fought three sets. Green also had a chance to defeat Volodko, as the two went head-to-head in the flight A singles final, but came up just shy of victory.
It was in the flight B doubles draw of the same tournament where the Aggies collected a finals victory. Breisacher and her fellow sophomore Nikita Pradeep completed a run through the tournament and defeated the number two seed tandem from UC Santa Barbara in the final match. This doubles crown was the team's most significant feat in October, but head coach Bill Maze was pleased with the overall performance from his squad as they took on opponents from across the country.
"It's the best we've been in a long time," Maze said. "The team played a ton over the summer, they're raring to go. The seniors are leading the way. It's just a great vibe and the tournaments show it […] I can't wait for the season to start."
The matchups and victories against conference rivals during the tournaments are especially significant to Maze. He acknowledged the high-caliber players that typically flock to Big West conference schools like Santa Barbara, admitting that "it's always fun to win" against such formidable teams. Maze is eager to see how this Santa Barbara rivalry will unfold in the regular season, confident in his team's ability to compete with any powerhouse program. Green also shared her similar feelings about how the team competed this October, adding fuel to Maze's belief that the team can play tough against any opponent.
"Everyone had really good matches," Green said. "Everyone really competed and put everything out there any given day. We're just as excited for the season as [the coaches] are, if not more excited. Fall tournaments are always interesting to figure out the new players and who other people have, so it's nice to see that we were out there competing with some of the top players in the country. We were right in it."
As Green pointed out, the fall tournaments also served as an opportunity for new faces to establish their place on the team. The Aggies added two freshman to the roster this offseason: Shirley Hall of Chico, Calif. and Jessica Walker of San Diego, Calif. The two competed alongside each other in the doubles draw in all three tournaments while also being able to gather some confidence-boosting victories on the singles side as well.
"[The freshman] are great," Maze said.  "They're fun to be around. They've got the right attitude, they're soaking it all up. They're good in both singles and doubles. I think they're really going to help us. It's going to be tough for them to make the starting lineup but they got shots [to do that] for sure."
As a senior and a co-captain, Green plays a major role in facilitating the development of these younger players –– a role that she embraces. She remembers when she was in Hall and Walker's shoes just a few seasons ago; a young collegiate athlete who "looked up" to the experienced members of the team. Green is now one of those experienced players who hopes to shape the freshman into better versions of themselves. She realizes that best way for her to achieve this is by representing UC Davis well and "leading by example."  
"Honestly, I think our freshman are very good," Green added. "They're very self-sustaining people. It's not much of a challenge [to lead them]. It's just steering them, saying 'Okay, this is what we're doing today –– this is how we treat this situation, this is what we do on these occasions.' They're ready for any sort of challenge we throw at them, they're fitting right in and they're ready to go to. It's really fun when your freshman come in ready like that, it makes our job easy."
Green and her fellow seniors, Kristy Jorgensen and Jessie Lee, will have plenty of time to lead their younger teammates over the next several months. The period between now and January is what Maze calls the "dog days." Maze knows that with no tournaments coming up and December finals looming, it can be a challenge at times for the team to remain sharp on the court. But with this particular team's work ethic and passion for tennis, Maze feels "the most comfortable" he has ever felt.
"The challenge the last several years, for me personally, has been to look at it as a growth period," Green explained. "You have a solid month of practice to really work on getting better at something before the season starts, because once you hit season, it's more about maintaining […] Like [Maze] said, our team is going to have zero problems playing. We're all very competitive people. We don't want to come back [from break] and realize, 'Man, I'm a little out of shape, I'm not performing as well as I used to and this person next to me is beating at all these things they didn't beat me in before.' There's always that friendly competition, we love competing with each other."
With players who possess a mindset like Green's, it is easy to see why Maze is so excited about the upcoming season. The atmosphere of hard work and competition surrounding his team this year has led Maze to buy into this squad's potential to compete at a high level. Maze, who has over two decades of coaching experience, explained how his team's love for the game is extreme.
"I've been here a long time, but [this is] unusual," Maze said. "I think now we can be in the top half. What is that thing? It's an intangible. It's sort of an attitude and I can't really tell you what it is, but it's there. I know it when I see it […] I'm chomping at the bit."
This year, the Aggies aim to build off last year's 15-10 record –– the program's first winning season since 2011. The way that the team has performed this October is certainly a step in that direction. The competitive drive, along with the mix of young and experienced players, will make this team one to watch come January.
Written by: Dominic Faria — sports@theaggie.org