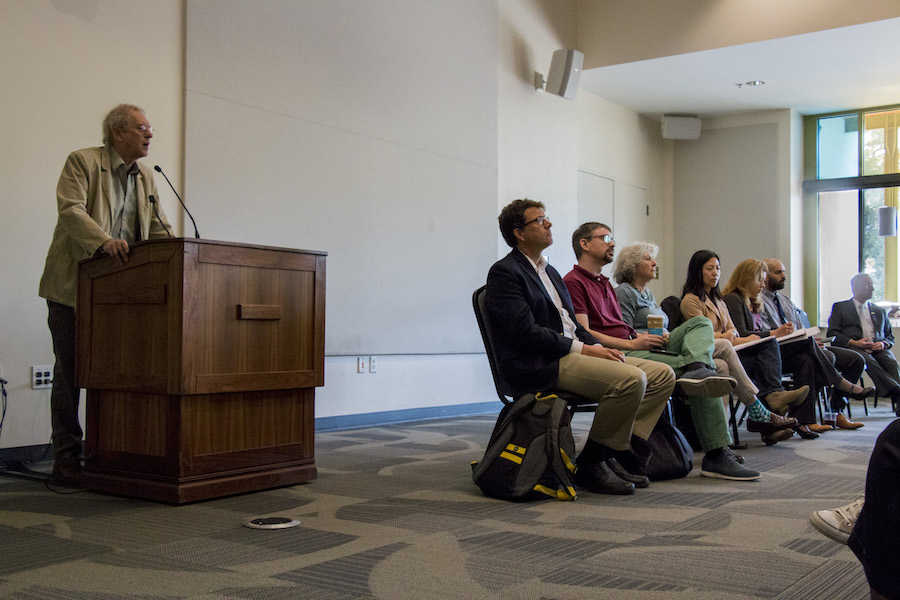 In response Charlottesville riots, seven professors engage in discourse with students
On Oct. 18, the UC Davis History Department hosted the event "Ask A Historian," a forum in the multipurpose room of the Student Community Center. Seven professors from the department volunteered to deliver five-minute speeches on issues related to the white nationalist rallies that occurred in August in Charlottesville, Va. After the speeches, the presenters participated in group discussions with students and community members in attendance to further explore the ideas presented.
"We decided pretty early on that we didn't want to do the 'stand up and lecture' mode," said Sally McKee, a UC Davis history professor and an event coordinator. "We wanted to engage with students and talk to them. We wanted to make it a […] small group experience so that students feel like they're really talking to faculty rather than just receiving what faculty has to say."
Provost and Vice Chancellor Ralph Hexter reached out for a response from the Department of History following the demonstrations of white nationalism in Virginia and President Trump's lack of immediate condemnation. According to Hexter, the purpose of the "Ask A Historian" event was to create student-led discourse on how "history, even in the distant past, affects us today." On the day of the event, attendees filled in each seat of the multipurpose room as Hexter introduced the speakers.
The forum kicked off with David Biale, a professor of Jewish studies, who touched on the presence of fascism in the United States and its traces in the country's past. He offered his opinion that a group of neo-Nazis rallying in Virginia isn't the sudden reappearance of fascist ideas in this country.
"There's a tendency we have [to think] about ourselves as an enlightened country," Biale said. "I think it's really important for us to be aware of the dark chapters in our own history."
Current political disputes, such as the controversy over preserving Confederate statues, were discussed by history professor Gregory Downs. An analysis into the hatred of minorities throughout history was discussed by history professor Susan Miller.
Conversations over the government's treatment of refugees and Mexican immigrants were also addressed and then explored further in group discussions following the talks. Groups were composed of small clusters of roughly 10 individuals, including at least one of the speaking professors.
"I think the number of students that came shows that there are a lot of students interested in these questions," Downs said. "My hope is that there are a range of ways that students are working out to talk to each other."
McKee also said she was pleasantly surprised by the turnout and hopes to see more opportunities for peaceful dialogue between students and faculty in the future.
Biale, Downs, Miller and McKee all spoke to the importance of meaningful communication with students in a time when hatred toward minorities and the mishandling of history has become increasingly prominent.
Faculty members involved made themselves available to answer ideological questions in a way a classroom setting might otherwise not have provided.
"Professors in my day were not interactive," Miller said. "Having this kind of open discussion where students and faculty are at least accessible to each other was really, very special."
The four professors also stated their observations about the willingness of students to approach and condemn racism, xenophobia and white nationalism.
"This is the way we send a message that the university and its students are taking all these issues very seriously and are going to resist," Miller said. "We want to give them the tools so that they can go out and debate."
Written by: Elizabeth Mercado — campus@theaggie.org