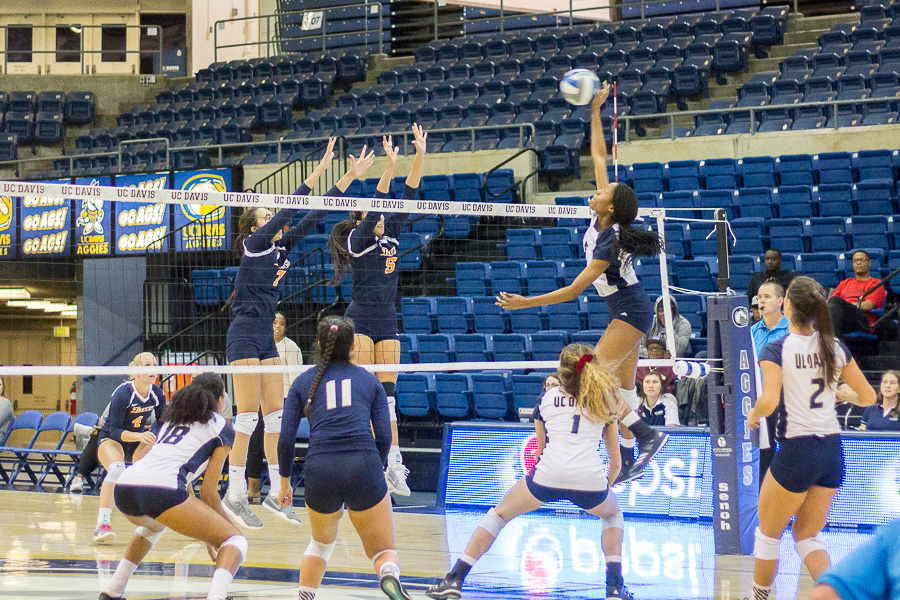 UC Davis volleyball keeps winning streak alive, now 7-6 in league play
Coming off of two conference wins against Cal State Long Beach and CSU Northridge, the UC Davis Aggies defeated the Cal State Fullerton Titans 3-0 in record time on Nov. 2 at the Pavilion. The one hour and 12 minutes it took the Aggies to sweep the Titans was the fastest game head coach Dan Conners has seen since joining the team in 2014.
The Aggies kept the lead for the duration of the game. With high energy, the Aggies won each set by double digits, with final scores of 25-10, 25-13, and 25-12.
"We played well," Conners said. "Offensively, we were sharp and then defensively, we didn't let them do much. We definitely had a lot to improve [on] from last weekend and I thought we sharpened up some things and that we looked good tonight."
With a lack of communication on the defensive coupled with a weak offense, the Titans only managed 11 kills for the whole match. In the first set, 9 of the 10 points earned by the Titans were side-outs.
Junior outside hitter Brianna Karsseboom was on top of her game and had a match-high 15 kills with an accuracy of .481. With only two errors for her total 27 attempts, Karsseboom lead her team to victory.
"I think our team played really well and really aggressively," Karsseboom said. "We went after it all three sets. We definitely don't want to let up in those moments [when we're ahead] and something that really helped us tonight was the bench. They were really energetic and cheering really loud, so that was a big help."
Being aggressive was definitely on the forefront of each player's mind, with freshman outside hitter Mahalia White right behind Karsseboom with 13 kills of her own.
"I thought as far as the team in general, and myself, we all just went out there and played really aggressive and it shows in the fast win [we had] today," White said. "We were really focusing on just keeping our momentum."
Freshman setter Paloma Bowman had the unique opportunity to play against her older sister, sophomore setter Nastassja Bowman of the Titans. Bowman proved that age doesn't always have the advantage, managing 33 assists throughout the game compared to her sister's four.
In the second game of the two-game homestand, the Aggies faced UC Riverside in the Gary Colberg Tribute Match on Nov. 4.
"Riverside is a tough defensive team," Conners said. "They hit the ball hard, too, so we're going to have to be ready for that."
The Aggies were ready for Riverside's defense. They defeated the Highlanders in five sets with scores of 17-25, 25-19, 25-27, 25-18, and 15-4. The Aggies are now 7-6 in conference play and are ranked 4th in the Big West.
The tribute match is played in memory of Gary Colberg, who passed away in 2016. Colberg was the director of sports clubs and intramural sports for UC Davis. Having officiated at the Olympic level, Colberg is considered an officiating legend in the volleyball community.
Written by: Liz Jacobson — sports@theaggie.org