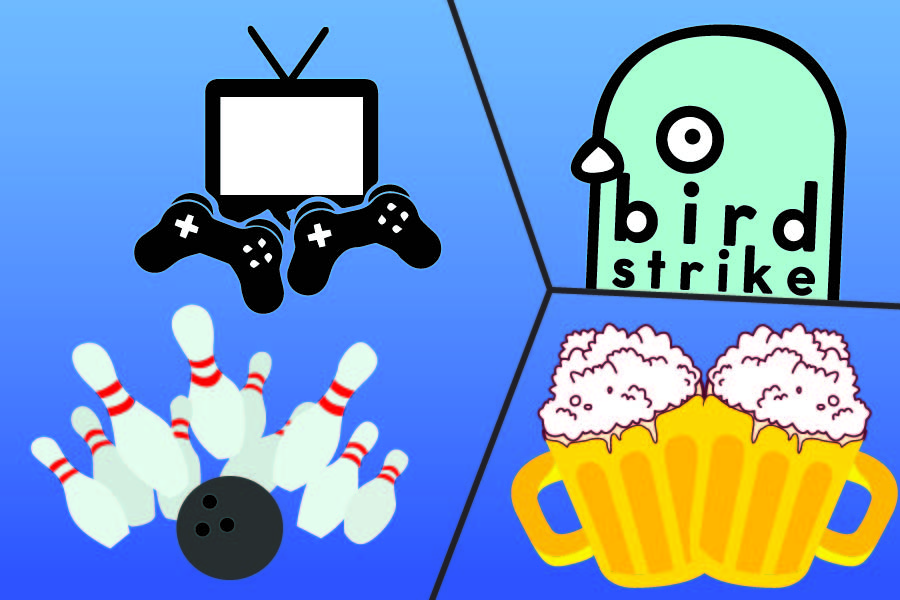 Davis offers variety of activities, hot spots for students seeking entertainment
Davis' location between Sacramento, San Francisco, Lake Tahoe and Point Reyes offers students many opportunities for an exciting adventure without having to travel too far. However, the city offers many opportunities for a fun Friday night that can be found right in students' backyards.
"I am constantly stumbling upon stuff that's really cool," said Kathleen Brandl, the Dock Store manager and events marketing coordinator for Sudwerk Brewing Co. "I was out last night and I was eating at the Hot Dogger, and then Sophia's was having their Latin night. I didn't even know that was a thing. And it was so much fun. You have to look for these things and then you find them."
Friday nights aren't so sleepy for this cow town. Fun activities and cool atmospheres can be found taking a stroll down G Street, but Brandl highlighted a Davis classic that's a little more out of the way: Sudwerk's Dock Store, located at 2001 Second Street.
"The Dock Store started out as being this interface where customers can try different beers and get to talk to people that actually work at the brewery," Brandl said. "The dock's about five years old at this point. It started off really small, like 'hey we're experimenting with new beers, let's try to sell them and see what people say' and it's just grown to what it is now."
Sudwerk Brewing Company has been around since 1989 and is one of the oldest craft breweries in the region. Although the restaurant isn't open anymore, the Dock Store, tucked back in an alley next to the parking lot, offers a cozy atmosphere on a Friday evening for those looking for a relaxing time.
"It feels like yeah you're in a beer garden," Brandl said. "It feels like you're in your friend's backyard, […] very neighborly. One of the founding mottos of the dock store was to 'savor the session' and to be able to enjoy being with other people and having a beer and being able to talk."
Patrons can enjoy live music, grab a bite to eat from the food trucks and play corn hole under the glow of the string lights. Large picnic tables offer a chance to meet new people and dog bowls can be seen scattered around, the dogs themselves lounging under their owners' chairs.  
"It's good beer and it's good people," Brandl said. "We have a really friendly staff and we work hard to have a friendly staff, and the people that come here are good people. We have the nicest regulars."
There are other Friday night options that don't involve alcohol, too. The best example is right here on campus in the Memorial Union Games Area.
"It's definitely a place that's targeted towards the student community," said Ferguson Mitchell, the Games Area coordinator. "We have discounted prices for students, but it's also […] an alcohol-free environment. It's somewhere that is aimed at providing entertainment and stress relief to anybody who's willing to come on down."
The MU Games Area was originally opened in the 1960's as a space for students to have some fun on Friday nights. It used to house old-school arcade games as well, but two and a half years ago the area went under renovation and today's Games Area is home to more modern video games in the form of consoles.
"When [it was] re-launched, [UC Davis] wanted to reshape the focus in a new direction," Mitchell said. "The arcade wasn't as appealing and attractive to the student community […and] when we reopened we really wanted to focus on providing a [welcoming] environment for students with the console gaming area. According to the statistics, [the MU Games Area has] more than doubled the percentage share of students coming down here, compared to before it closed [in 2015]."
Part of the Game Area's mission is to focus on wellness, fitness and mental health. Just last week, in order to promote social health and provide a sense of community, Mitchell launched the Special Events Program.
"Any student-focused campus group, which includes registered student organizations, sports groups and others, can host an event at the Games Area," Mitchell said. "It's absolutely free and they can choose the music, pick what's on the TVs, set up their own programming. [It's about] finding ways to promote their own club and their interests, but bringing it to a fun environment."
Mitchell hopes that it will eventually solidify itself into the campus culture in a way that transcends what a traditional bowling alley or games area is. His hope is that it will become the kind of place that appeals to all students.
"There's actually this really interesting research study they did a few years ago that directly correlated people in a community's 'feeling of community' with the presence of a bowling alley in that community," Mitchell said. "It's like a one to one, that if a bowling alley exists in this place, people will feel more tied to it as a function as a community."
When it comes to evoking a sense of community, UC Davis' own comedy improv team strives for just that. This team is known as Birdstrike, and its performances every other Friday night are another great outlet for anyone looking to kick off the weekend.
"Birdstrike aims to make our shows […]  feel good show[s]," said Jeton Gutierrez-Bujari, a third-year biochemistry major and team member of Birdstrike. "We want you to feel like you came to our show as part of the Davis community, and you left as part of the Davis community. That you were entertained and you laughed a lot, and maybe you've got some new perspective on something."
The origin of the group's title remains an urban legend, but Birdstrike has become somewhat of a household name in the Davis community since its conception in 2006. The team is made up of 10 or so members and performs year-round in Kleiber Hall on campus.
"During our shows, you can expect to hopefully laugh a little," Gutierrez-Bujari said. "[Our] improv shows […] basically mean that everything we do on stage is completely unscripted and unplanned. We don't rehearse lines, we don't rehearse plots, we don't practice characters or anything like that, we simply take suggestions from the audience and we try to transform those into scenes that are hopefully enjoyable for everyone. We definitely have a lot of fun, and we hope that the audience does too."
Birdstrike takes pride in the small size of its performance space, where there are often not enough seats for the students who attend. The closeness of the audience to the performing members allows for a positive experience for both parties.
"It's a dream of ours [to expand beyond Kleiber], but the other really cool thing about improv is it's so intimate," Gutierrez-Bujari said. "Hopefully you get to see a little bit of who we are as individuals and how we are as a team. We really bond closely as a team, and we want to have that same relationship with the audience."
Whether it's sitting in a beer garden, bowling or enjoying the humor of comedy improv with friends, the variety of activities available to students and community members is truly impressive. There's something perfect hidden just around the corner for every student to have a rockin' Friday night here in Davis.
Written by: Marlys Jeane — features@theaggie.org