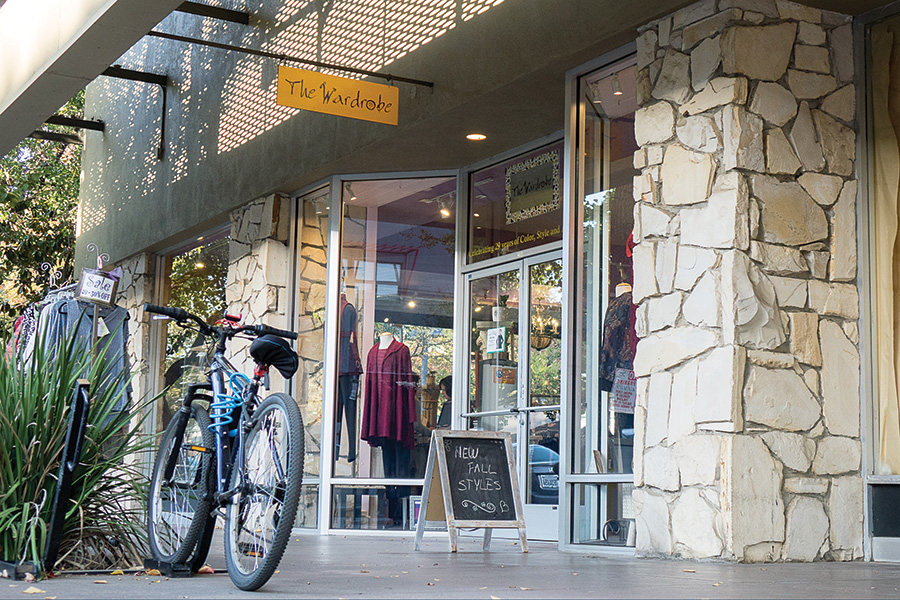 Local boutique holds trunk show featuring the Joseph Ribkoff collection
Established in 1988, The Wardrobe has been consistently bringing high-quality fashions to its devoted customers for nearly 30 years. Throughout the boutique's Joseph Ribkoff Trunk Show on Nov. 5, owner Heather Caswell mingled with the show's attendees and assisted them in picking out some of her favorite pieces from the collection.
"People grow up with The Wardrobe," Caswell said to longtime Wardrobe shopper Jesikah Maria Ross, as the two reminisced over the boutique's history.  
"It's exquisite," Caswell said of the Joseph Ribkoff designs. "It's the most stylish, sophisticated look that I've been able to bring to the boutique in 30 years of doing this."
The Wardrobe, located near the corner of 2nd and E streets, provides a shopping experience unlike any other. The boutique holds approximately seven trunk shows each year, featuring various designers selected by Caswell herself. The Wardrobe also often incorporates local clothing and jewelry designers into its collections.
Before bringing a new major design house into her shop, Caswell stated that she is always one step ahead. While she has admired the stylings of Joseph Ribkoff for almost seven years, the boutique owner waited until the time was right to finally bring the collection to The Wardrobe. From the Joseph Ribkoff collection, one is sure to find stylish and sophisticated pieces for many occasions, from office wear to evening styles.
"It's way more than just clothing here at The Wardrobe," said employee Raina Carr McKee. "It's a community-oriented, loving and welcoming environment."
Carr McKee started out working at The Wardrobe as Caswell's personal assistant and has since worked her way up to further responsibilities in the boutique's marketing and sales department.
In addition to the unique designers featured at The Wardrobe, the boutique fosters a close-knit relationship with its customers in order to provide shoppers with the best pieces to satisfy their own personal styles. Avid customer Jesikah Maria Ross spoke highly of The Wardrobe's dedication to its loyal customers by bringing the best quality fashion to the store.
"When you walk into The Wardrobe, you're greeted and welcomed," Ross said. "They try and figure out who you are and what it is that you want in terms of your clothes. Then they do everything to make that possible, whether it's taking you outside of your box or keeping you with what you want."
Currently, The Wardrobe features collections from brands such as Sympli, Cut Loose and Salaam. The boutique also plans to hold its next designer event on Dec. 8.
"I feel like I'm doing what I'm supposed to be doing," Caswell said. "It's very rewarding to be styling women and making a great impact on the planet. That's actually what rocks me."
The Wardrobe is located downtown at 206 E Street. For more information and store hours, visit The Wardrobe website.
Written By: Sydney Odman — arts@theaggie.org