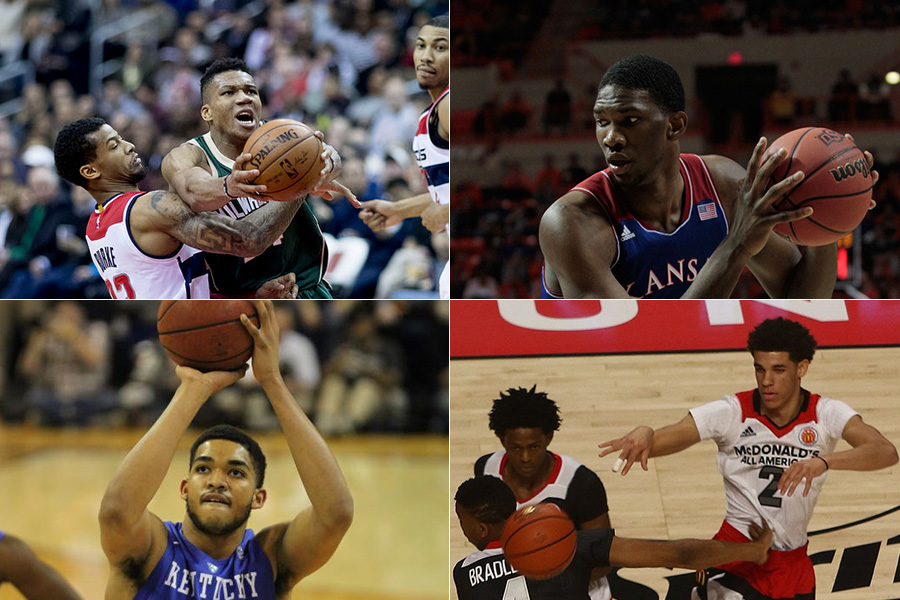 Rookies, young stars appeal to college demographic
After an offseason full of tumult, drama and blockbuster moves, the NBA's 2017-2018 regular season is underway and has already formed its share of intriguing storylines. With plenty of rosters experiencing a fair amount of turnover from last season, this year is sure to be an entertaining one, as more unproven teams are looking to compete for the postseason. Alongside the league's consistent veterans and perennial all-stars, there is a cohort of exciting young ballers on the rise who are seeking to climb into the upper echelons of the association.
The old rules of draft eligibility that allowed players like Kobe Bryant and LeBron James to enter the draft right out of high school –– often at the young age of 18 –– have long since been phased out. But even with new regulations requiring players to be at least one year removed from high school, the NBA still finds a way to stay young.
It has become more than commonplace for the best in the college game to enter into the NBA draft after completing only one or two seasons of NCAA competition. There are currently 92 players on an active NBA roster between the ages of 19 and 22 years old –– just under half (43) of whom are rookies. That means that one in every five NBA players lies within this "college age." This crop of young athletes is significant both in terms of how many there are and in the level of talent that they bring to the league.
The player who comes to the forefront of this examination of NBA young talent is Milwaukee Bucks forward Giannis Antetokounmpo. With his December birthday fast approaching, Antetokounmpo is entering his fifth NBA season on the plus side of 22. Due to his status as a Greek national, Antetokounmpo was able to enter the league in 2013 while still 18. Since his debut, "The Greek Freak" has only seen dramatic improvements to his game.
In the 2016-2017 season, Antetokounmpo became just the fifth player in NBA history to lead his team in points, rebounds, assists, steals and blocks in a single season. Antetokounmpo's long frame and raw athleticism has helped him to accomplish such an outrageous feat, and he is only building upon last year's effort. Through eight games this season, Antetokounmpo has averaged a league-leading 31.3 points per game. This early success has made Antetokounmpo one of the league's most recognizable players and an MVP contender.
Antetokounmpo is by no means the only young star making waves in the eastern conference. In his third season, New York Knicks forward Kristaps Porzingis currently ranks fourth in points per game, with 27.9. The 22-year-old Latvian seven-footer played the previous two seasons under the shadow of veteran star Carmelo Anthony, who has consistently led the Knicks in scoring over his seven seasons with New York. With Anthony's offseason departure to Oklahoma City, Porzingis has the opportunity to take control of this Knicks team, and he is showing signs of doing just that thus far this season.
The other New York-based franchise is also hoping to benefit from a productive young talent. Brooklyn Nets guard D'Angelo Russell, who moved to the team this offseason after spending his first two seasons in Los Angeles, is averaging a team-high 21.7 points and five assists per game. The 21-year-old is hoping that the move to the East Coast will help boost an already productive professional career.
In smaller-market Orlando, forward Aaron Gordon is also poised for a breakout year. The 22-year-old California native is averaging just over 20 points in the six games he has played this season, including a career-high 41 points against Russell's Nets on Oct. 24. After playing just one collegiate season at the University of Arizona, Gordon has had a lackluster start to his professional career. Now in his fourth season, Gordon has been coming into his own as a leader on a retooled Magic squad.
The eastern team with arguably the most talented committee of young players, however, is Philadelphia. Recent losing seasons have allowed the 76ers to secure top-three picks in each of the last four drafts. This season, the team hopes that the "process" will finally pay off. Philly's young forwards, Joel Embiid and Ben Simmons, have been the team's most productive scorers this season, averaging 20.9 and 18.5 points per game, respectively. While Embiid lies just outside this article's "college range," at 23 he is only playing in his second NBA season after being plagued by injuries over the past few years. At seven feet tall, a healthy Embiid's combination of skilled post offense and menacing interior defense will cause problems for any team he matches up against. Combine him with the raw ability and basketball intelligence of the six-foot, ten-inch Simmons and the Sixers frontcourt is a handful. If that's not enough, Philadelphia's number one overall pick in the 2017 draft, guard Markelle Fultz, has the potential to add more to the mix, as he has only played in four games this season due to injury.
Young players are forming formidable wrecking crews in the Western Conference as well. The Minnesota Timberwolves, for example, are witnessing a resurgence thanks to 21-year-old center Karl-Anthony Towns and 22-year-old forward Andrew Wiggins. Towns, a former NBA rookie of the year, is in his third professional season and currently leads the T-Wolves in points, rebounds, and blocks per game. His teammate, Wiggins, finished 16th in the league in points per game last season and so far this season ranks just behind Towns among Minnesota's scoring leaders.
Out further west, you'll find explosive young guards, like Phoenix Suns' Devin Booker. Last season, Booker became the youngest player in NBA history to score 70 points in a game. The 21-year-old's natural scoring ability extends beyond just these monster outings, as his 22.1 points per game average landed him in the top 25 in scoring. Through eight games this season, Booker sports the same impressive scoring average.
Of course, you can't complete a discussion about new NBA talent this season without including Los Angeles Lakers rookie point guard Lonzo Ball. Among rookies, Ball is second to Simmons in both average minutes played and assists per game, while leading all rookie guards in rebounds per game. Ball's outspoken father, Lavar, is a polarizing figure, but Lonzo possesses a much more soft-spoken demeanor and a genuine talent for basketball to backup the hype surrounding his name –– despite his awkward-looking shooting release.
Ball and other notable rookies, like Sacramento's De'Aaron Fox, Boston's Jayson Tatum, Chicago's Lauri Markkanen and Dallas' Dennis Smith Jr., will be sure to entertain as their first year in the NBA progresses. In fact, Charlotte Hornets rookie Malik Monk scored 18 points in the fourth quarter –– including 14 in just four minutes –– to lift his team to a late-game victory over the Bucks in Charlotte's eighth game. With young talent abundant, fans this season should be paying close attention to the up-and-coming faces across the NBA.
Editor's Note: The statistics reported in the article are as of Nov. 6 and are subject to change. Up-to-date statistics may be found on the NBA website.
Written by: Dominic Faria — sports@theaggie.org