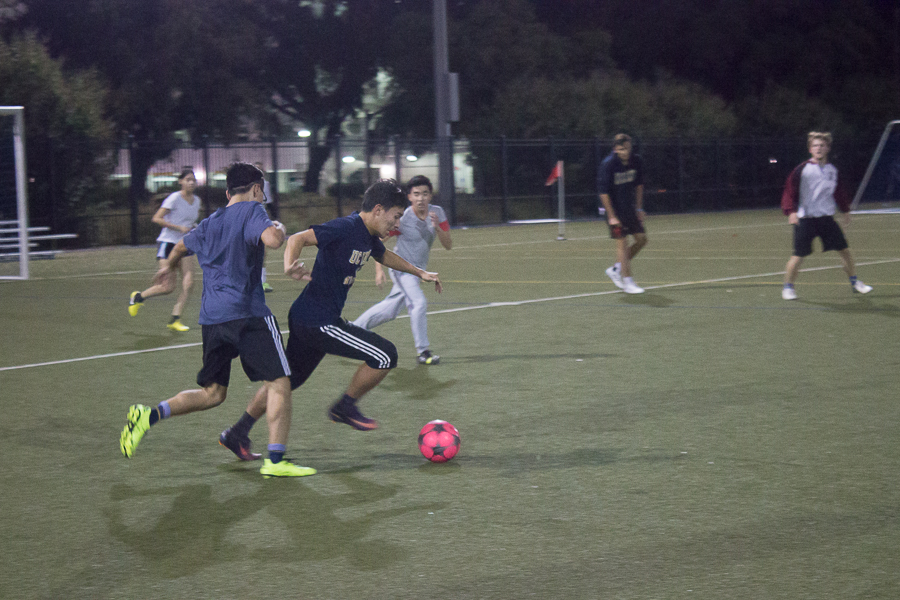 Keeping IM games clean
At UC Davis, there are more than 27 intramural sports and activities offered by Campus Recreation and Unions' (CRU) Intramural program. Included are traditional sports such as basketball and soccer as well as non-traditional sports such as ultimate frisbee and dodgeball. And while hundreds or possibly thousands of UC Davis students play intramural sports every school year, there are also other students on the field to regulate these games and events, making sure games are played in a safe and fair manner: the student IM referees and officials.
Any UC Davis student can become an IM official. The California Aggie had the chance to sit down with CRU student managers Clara Hancock and Frederick Williams to discuss IM officials and their duties.
For someone who may not know, what are student IM referees/officials?
"We have officiated intramural sports every quarter and we have students who officiate those sports," Hancock said. "They go through a clinic [about a week long] hiring process where there are different clinics like rules clinics and field clinics. Their job is to show up to games on time, set up the fields, and have good rule knowledge and officiate the game depending on what sport they are officiating."
Why have students be the referees for IM games opposed to non-student referees?
I think that student officials really help set the atmosphere," Williams said. "Student officials can also play IM sports so a lot of the time they are students that have a passion for the game, so it is really nice and makes for a good environment. It's also a good employment opportunity."
What is the training process that IM referees/officials must go through before they start doing actual games?
"The training process and the interview process are kind of intertwined," Williams said. "As you [possible officials] come to the clinics, we do an official rules training with a rules test at the end and then they go through the field clinics where the supervisors and managers will go to the field and demonstrate the positioning and mechanics. It is about a three- to four-day process and those who perform well in those will end up getting hired."
Do you think there are any advantages to being an IM referee for a student? If so, what are they?
"It's good because it isn't too long of a commitment," Williams said. "You can just commit for one quarter, and it is a quick job to get if you need one, and it is fun to be out on the field so to get paid for that as well I think it is a great advantage." Hancock commented on how a student can also develop other skills as a student official: "I feel like you learn a lot of useful life skills. You deal with a lot of irate participants and you learn how to problem-solve as well as learning leadership skills and being able to grow in the department."
Do IM officials have to possess sports knowledge in order to apply?
"We do full training, and go through the rules and mechanics, and it is good to have a base knowledge of sports but we have a variety of sports to choose from and we do train, so no experience is necessary," Williams said. Hancock added that there is no experience needed to become an official. "We also have sports like Quidditch which a lot of people don't know the rules of, but you can still be an IM official. It is also good to have other mechanics that makes a good official and not just knowing the sport."
So you're a student and you don't know if you should be an IM referee, why should a student take that step to apply?
"I would say come to the clinics," Hancock said. "For each quarter we have a week of clinics before actual season starts to come in and check it out before you decide."
Any additional comments?
"If people do want to officiate for Winter Quarter we have indoor soccer and basketball, and the clinics are the first week of school back from Winter Quarter," Hancock said.
If you are still on edge, or thinking about becoming an IM official, take it from Dylan Shadduck, a second-year electrical engineering major, who has been officiating IM sports since Winter Quarter of 2016.
"It feels good to give back and help other people, especially people who don't play a lot and help them learn," Shadduck said. "I have a lot of friends that come out and do IM sports so it is fun to see them while working, and it is one of the easiest jobs you can have on campus, so anything I can do to have fun and get paid for is nice."
Shadduck had some words of wisdom for possible future IM officials: "Definitely come do it. If you want to be an IM official please come check it out."
For more information, visit the UC Davis Campus and Recreation website.
Written by: Ryan Bugsch — sports@theaggie.org