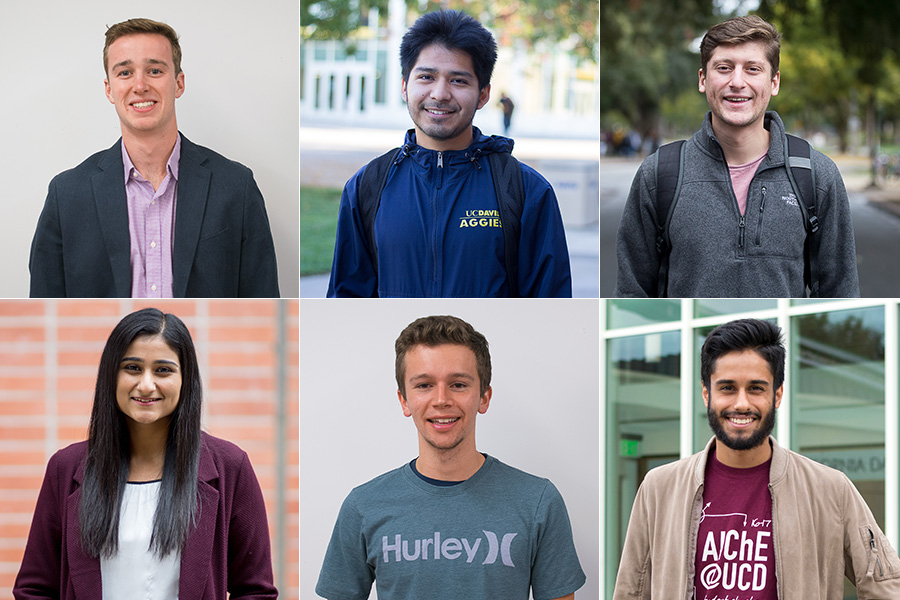 Debate held to encourage voter turnout for uncontested election
Five of the six UC Davis students hoping to fill the six open ASUCD Senate seats held a debate at the CoHo from 11:30 a.m. to 1:30 p.m. on Monday, Nov. 13. Jin Zhang, the ASUCD controller, facilitated the event, asked the candidates questions and selected questions from audience members.
The five students present were second-year computer science major Danny Halawi, second-year economics and environmental policy analysis double major Jake Sedgley, second-year managerial economics and political science double major Bryan Perez, second-year chemical engineering major Jesse Kullar and second-year economics major Andreas Godderis. Gaven Kaur, a second-year communication and psychology double major, was unable to attend the event due to a class conflict.
The debate began with Zhang questioning the candidates herself. Candidates also interacted with and answered questions from the student audience of about 50 or more.
"The logistics ran smoothly as [expected]," Zhang said. "But I think ASUCD always wants to see more students involved."
Candidates were asked about their understanding of the current workings of ASUCD. All five candidates struggled to answer this question.
"What I found really not necessary was the questions [and] how broad they were […] about our knowledge of ASUCD," Perez said after the debate. "I wish they'd asked us more about our platforms and what we'll add on."
Godderis agreed with Perez in this regard.
"They were asking very specific questions which I get, we need to be held accountable," Godderis said. "But I think it took away from the messages of our campaigns."
Godderis admitted in his platform that, prior to deciding to run for Senate this year, he hadn't voted in any ASUCD elections.
"I'm running a campaign that's focused much more on the culture of ASUCD and trying to change that and getting students engaged again rather than the 8 percent that currently is," Godderis said regarding the percentage of students who usually vote in the ASUCD elections.
Godderis' platform revolves around bridging the divide between ASUCD and the student body. Increasing voter turnout, promoting senator office hours and redefining student employee requirements are other issues Godderis hopes to address if elected to the Senate.
Sedgley's platform revolves around creating a more inclusive space for transfer students.
"From all the transfer students that I did speak to, many of them did not get an ASUCD presentation," Sedgley said.
Furthermore, Sedgley addressed his goal of improving ASUCD participation and voter turnout.
"I want to make a one-day event […] with all [of] ASUCD outside, commissions, units, senators are out there and there's a huge board that discusses the structure of ASUCD," Sedgley said.
Jesse Kullar had to leave early but was able to articulate important aspects of his platform during the debate.
"First and foremost, I am here to represent engineering and STEM," Kullar said. "I want to build a better sense of transparency and resource allocation so our students can readily get access to any budgets and bills within ASUCD."
Like other candidates, Kullar was especially aware that certain questions were targeting candidates' naiveté regarding ASUCD.
"I found that often the personal questions that my colleagues and I were asked served no basis but to put us on the spot and show our lack of understanding with ASUCD," Kullar said.
Kullar, among other students, was asked to back up his answers with evidence of individual senators' past actions with different units and areas at ASUCD. All candidates struggled with these more specific questions.
"Questions like these are the reason I feel like ASUCD has a sense of a hierarchy system," said Kullar. "ASUCD is a steep learning curve and I intend to continue learning about inner and outer mechanisms so I am more prepared in the future."
Near the end of the debate, at 1 p.m., only three candidates remained: Perez, Sedgley and Godderis. Halawi and Kullar had to leave for classes.
Although the debate was originally supposed to last until 1:30 p.m., the lack of students in the audience forced Zhang and the remaining candidates to wrap up early. A few candidates stayed after the debate to hear individual questions and comments from students in the audience.
Because there are six open positions in the Senate and only six candidates running, this election is uncontested. For most candidates, their terms as senators will be their first exposure to ASUCD.
Written by: Ally Russell — campus@theaggie.org