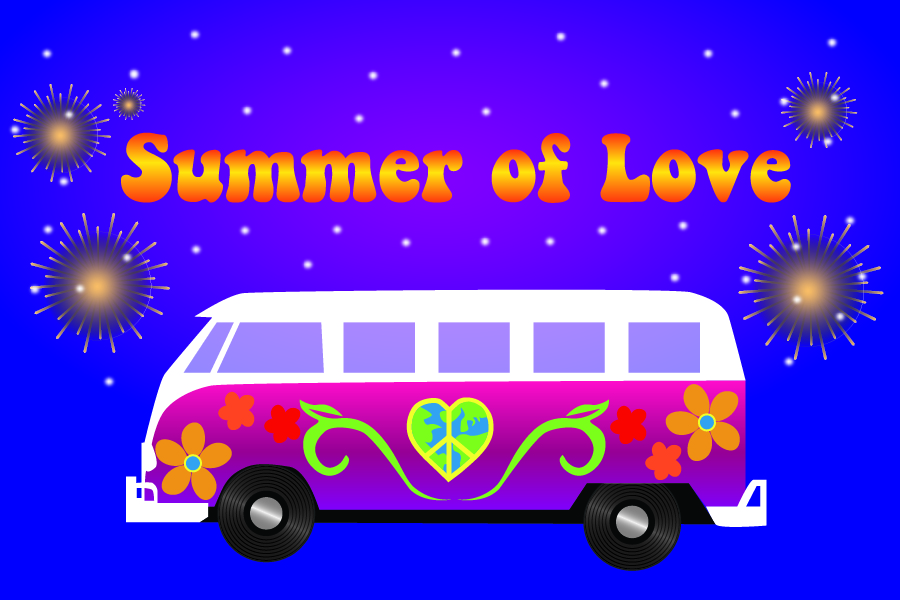 Take a break from the fall chill and return to Summer of Love
In celebration of 1967's Summer of Love, Sudwerk Brewery is celebrating the landmark year's 50th anniversary featuring covers of Jefferson Airplane, Grateful Dead, Moby Grape, It's A Beautiful Day, Youngbloods, Buffalo Springfield, The Doors, Jimi Hendrix, The Byrds, Cream, Neil Young and Country Joe and the Fish.
The event will be complete with a light show, lava lamps and even a tie-dye booth to capture the essence of the late 60s. The event will have one band and multiple solo artists performing songs from bands that played during the original Summer of Love. Eric Dewey, an organizer and drummer for the show, believes these songs kickstarted rock and roll culture.
"I mean, it was all experimental. It was a time when rock and roll was getting its traction in society," Dewey said. "There's a lot of good music coming out today, but there was also a ton of great music that came out from that era. It changed how music, and particularly how instruments, were played. Nobody would have expected someone to set a guitar on fire like Jimi Hendrix. That's wild, crazy stuff. The music was also sophisticated and there were different styles. Rock and roll had been primarily rockabilly at the time, and this was a period when rock and roll began to expand its horizons. I'm sure it was an exciting time to be a musician."
Dewey not only believes late-60s rock and roll revolutionized today's music industry, but also  provided a strong message for our country at the time.
"I think we need to get back to the core message of Summer of Love today because there's so much division in our country right now," Dewey said. "The idea that you accept people for who they are and love them for who they are is a powerful message that we've somewhat lost track of."
Richard Urbino, a bass player for the event, lived through the counterculture movement. To him, the Summer of Love ultimately represented a lifestyle that shifted sound and societal values during that era.
"It was basically a bohemian lifestyle," Urbino said. "There was a standard way to do things and there was the unusual, bohemian way to do things. Basically the bohemians of San Francisco got control of the media and everyone focused on them for bit of time. They had a different look, and the music had different sounds. It was just a different way of doing things."
Music was not only more exciting then, but created a sense of agency for the artists.
"Everything was much more organic then, and there was no real corporate control of music," Urbino said. "There's an aspect of that still existing today, but typically it's controlled by corporations."
Due to the amazing turnout and response from the first event at Odd Fellows, the organizers reached out to Sudwerk's Dock Store manager, Kathleen Brandl, to host the event in Sudwerk Brewery's Tap Room, a perfect setting for this community event.
"We typically host community events like fundraisers, nonprofits or university organizations," Brandl said. "We like to host a lot of music and our big events are just fun things for the community to do. Living in Davis, sometimes there's not a lot of things to do, so we like to spice things up and make it more exciting. The culture behind the tap room is to savor the session. Most of the beers are lower in alcohol and we have no TVs. The idea is just to grab a beer with your friends and hang out and enjoy yourself as opposed to sitting behind a TV or going crazy at a club."
The event is also supporting the Davis Phoenix Coalition, a local nonprofit organization that fights intolerance and violence resulting from hate. The Summer of Love was meant to foster community values and harmony.
"Especially with our current political atmosphere, it's important to remind others that they should learn to accept one another," Brandl said. "It's food to celebrate diversity and inclusion."
The event is free and will take place at the Sudwerk Brewery Dock Store on Nov. 18. Doors open at 4 p.m. and the show starts at 5 p.m.
Written by: Becky Lee — arts@theaggie.org