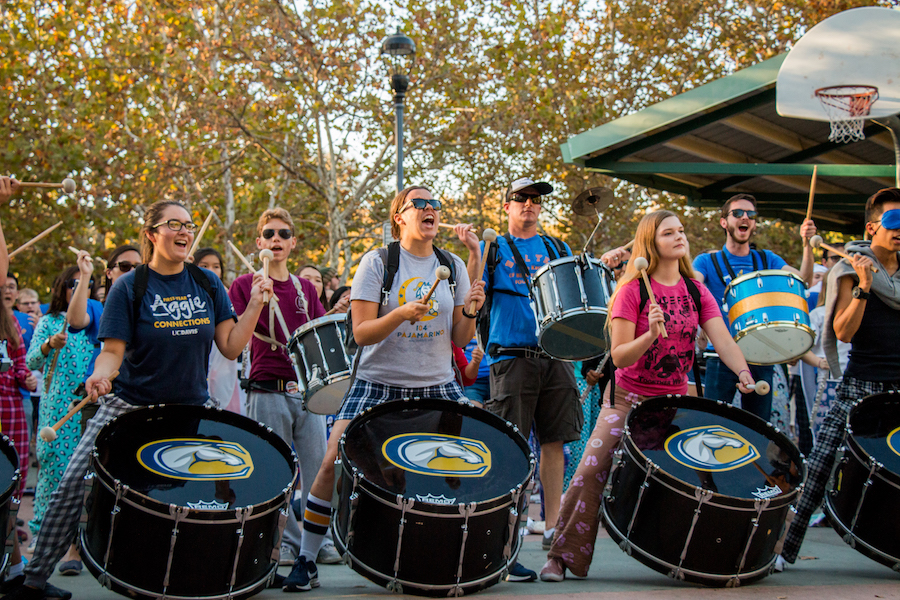 A look into the Cal Aggie Marching Band-uh! student musicians, traditions
The Cal Aggie Marching Band-uh! is UC Davis' official marching band. The Cal Aggie Marching Band-uh! was formed in 1929 as a small pep band for the football team. Now, the band has upwards of 200 members and is open to students of all majors and levels of experience. The Band-uh! is mostly student-run and operates completely on a volunteer basis.
The arrangements the band performs and the choreography are created by students themselves. This year, arrangements included breakup songs, "Guardians of the Galaxy," Led Zeppelin, high school songs and the Foo Fighters.
The majority of Band-uh! members are not music majors, but simply have a passion for music. Jan Hong, a fourth-year psychology and human development major and bass drum player, joined the band their first year at UC Davis.
"I have done music all my life in public school," Hong said. "I am someone who has trouble making friends, so band has always been a really welcoming place for me, and when I came to college here, I didn't really know where to go, and the band anywhere is a good place to be, in my opinion, so that's why I joined. It's just like automatic friends [and] I love music."
The band performs at every home football game and basketball game as well as at
other community events throughout the year including birthday parties, commencement ceremonies, the Save the Music Festival in Belmont, Calif. and Snow Fest in Tahoe. This year, the band even had the opportunity to perform at an Oakland Raiders game during halftime. The biggest events for the band are Homecoming's Pajamarino and Picnic Day. At Picnic Day, the Band-uh! hosts a Battle of the Bands, inviting schools like Stanford, Humboldt State University, UC Irvine and UC Berkeley. The bands keep playing until they run out of music to perform and the last band standing is the winner. This past Picnic Day, the Battle of the Bands lasted eight hours.
"It's a whole day for us," Hong said about Picnic Day. "We're literally getting ready at 4 a.m. and then [we] don't leave campus until past midnight. We do two parades, a rally, and then battle, so we're literally playing all day."
The band is rich with traditions, and every band member has their favorite traditions and gigs. A favorite tradition held by a lot of members is the seasonal caroling. During the Christmas season, trumpet players carol through Davis and on Valentine's Day, the low brass section performs love songs downtown and around campus. For snare drum player Chelsea Coppock, a fourth-year animal biology and entomology major, it's the freshman rally on Picnic Day.
"One of my favorites is at the start of Picnic Day and we all wake up really early," Coppock said. "The freshmen put on a rally for their uppers, which is everyone past their freshman year. They arrange their own songs and they practice it. There's breakfast and stuff, so it's really fun."
For clarinetist Chris Rivas, a third-year evolution, ecology, and biodiversity major, his favorite events are the ESPN basketball games.
"For me, it's anytime we do an ESPN game," Rivas said. "The band is just super energetic at basketball games, but at ESPN games, the energy is even more noticeable."
The Cal Aggie Marching Band-uh! is part of UC Davis athletics, so there's always a debate on whether to consider marching band a sport, even within the band itself.
"In our band, there are a lot of people who probably don't consider marching band a sport and a lot of people that do consider marching band a sport," Hong said. "I do very much feel like marching band is a sport. It's like a sport of the arts, in the same way you would consider dance and gymnastics. I think it's very precision-based, like archery or golf. The thing about sports, too, is that you'll have your higher level teams and you're not as serious teams, and the way that I look at the Cal Aggie Marching Band, is if you compare us to basketball, we're like the neighborhood pickup team. And other [college] bands, they're more like the actual team, they take it very seriously."
Coppock echoed her bandmate's sentiment.
"We do take music seriously," she said. "Sometimes people think because we don't have auditions and don't make cuts, that we don't take ourselves seriously. We do, but we do have fun."
Written by: Liz Jacobson — sports@theaggie.org