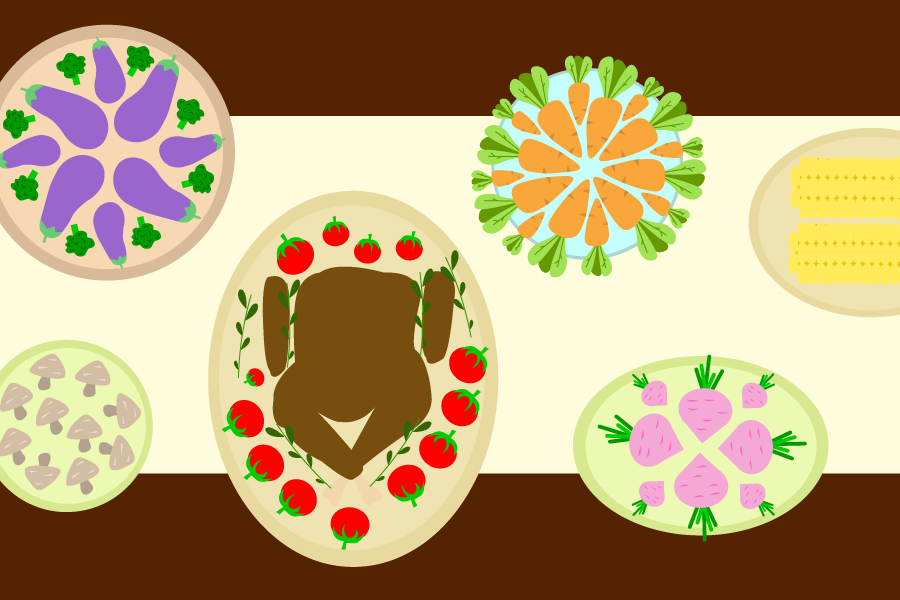 Break tradition with these seasonal recipes
We all know the typical Thanksgiving: the turkey, the stuffing, the gravy, the potatoes. Time to spice up Thanksgiving — literally. This holiday season, The California Aggie will show you how to take your Thanksgiving dishes to the next level.
We'll begin with a timeless fall dish. Pumpkin pie is both culturally and seasonally associated with this time of year. Generally when we think of a pumpkin pie, we of course think that the main ingredient must be pumpkin. New York Times food writer Melissa Clark challenges this notion with her nuanced take on the pie we all love. To do so, Clark substitutes the familiar pumpkin with the equally delicious butternut squash. In addition, Clark relies upon heavy cream instead of evaporated milk; dark brown sugar instead of light brown or white sugar and just a splash of brandy. All this culminates in a pie that is dark in color, delicious in taste and devoured within minutes. Needless to say, you'll be coming back to this brandied pumpkin pie every fall season to come.
Perhaps pumpkin pie isn't your ideal dessert, or pie at all for that matter. Don't worry, there are plenty of other dessert options to wow your friends and family. For the best dishes, you need the freshest ingredients; for the freshest ingredients, you need to stay seasonal. Beginning with our in-season butternut squash recipe, we can follow that up with another lesser-known fall delicacy: the persimmon. Persimmons have differing varieties. There are two in particular that are quite good in fall.
Fuyu persimmons are the better known of the two; shaped like a small brandywine tomato, they are a light orange color when ripe. Their flesh is firm in texture and quite sweet, with hints of cinnamon. Hachiya persimmons appear stretched-out versions of their counterparts, taking on an acorn-like shape. They're practically inedible until overly ripened. This is due to the high amount of tannins found in the persimmons. While this may seem off-putting, don't write off Hachiyas just yet. When ripe, their jelly-like texture lends itself to cooking and baking. Renowned chef and food writer David Lebovitz has adapted a persimmon bread recipe from the great chef James Beard. In this recipe, Lebovitz calls for "4 squishy-soft Hachiya persimmons," and having made this recipe myself, I can attest to the incredibly moist and delicious bread you end up with. Paired with a hot beverage, this bread is a perfect ending to a more casual sans pie Thanksgiving feast.
Lastly, we will focus on the savory aspects of your Thanksgiving meal. I won't bore you with stories of turkey and gravy; let's try something new. One thing we won't be changing is our seasonal approach. Are turnips in season? You betcha. Our first side dish consists of pan-roasted Tokyo (Hakurei) turnips. Cooked the right way, fresh Tokyo turnips are among the most delectable root vegetables fall has to offer. This recipe from food blog Gourmandistan is adapted from Andrea Reusing's original recipe. The recipe calls for tossing the turnips in honey and cayenne, which I'm sure is delicious, but in reality you can cook these turnips any way you like. As is, they have a delicious buttery flavor that closely resembles that of a scallop. How you season them is up to you. What's certain is that you'll have a mouthwatering dish that will keep people coming back for more.
Chard is another fall vegetable that is delicious and malleable enough to quickly become a Thanksgiving staple. Chef Alice Waters has a shockingly easy take on a parmesan chard side dish that is sure to please. Waters calls for one bunch of chard, destemmed and boiled in heavily salted water. After, the chard is tossed into a pan of melted butter and parmesan cheese. This recipe can be doubled or tripled depending on your guest list. Either way, the cheese is the star of the show, so if possible, you should be working with a quality parmigiano reggiano. In the end, you will be left with yet another tasty dish perfect to pair with your heaping piles of turkey, mashed potatoes and stuffing.
These dishes are not only delicious, but also financially friendly and simple to make. If you are among the group of students staying in Davis over the holiday, get together with friends and give these recipes a try. Your Friendsgiving just might outdo your peers' home-cooked Thanksgiving.
The Aggie would love to see your cooking! If you're cooking something this Thanksgiving, send in photos of your meals to arts@theaggie.org. Feel free to get creative and branch out from the recipes above.
Bon Appetit!
Written by: Rowan O'Connell-Gates — arts@theaggie.org