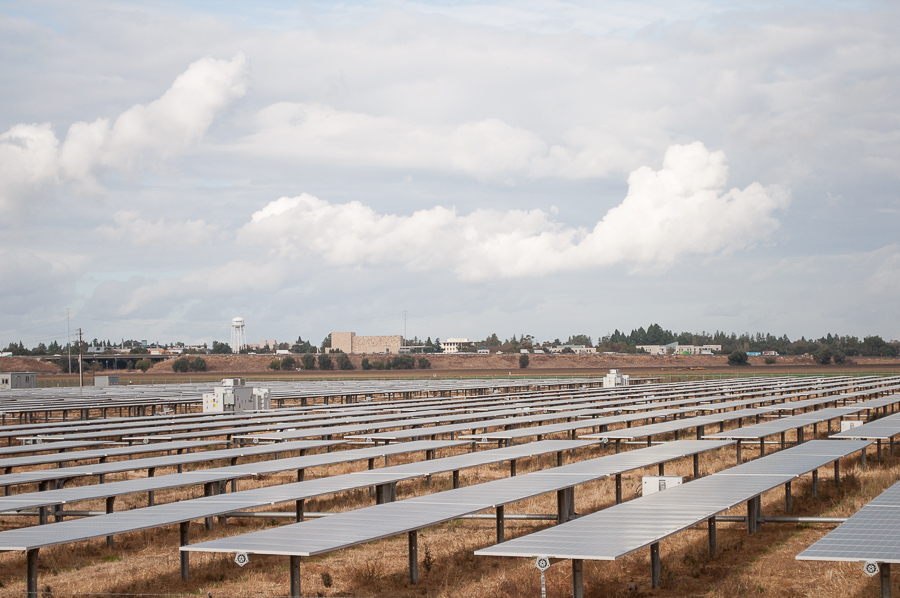 UC Davis leading way on solar development
Solar development has contributed significantly to the UC system's goal of carbon neutrality by 2025, and UC Davis has played a major role in this progress. However, more challenges still lie ahead to achieve a balance between environmental and economic sustainability.
According to its website, the South Campus Large Solar Power Plant, which became active in 2015 and is located south of I-80 near the Raptor Center, produces 16.3 megawatts (MW) of power, which helps to offset UC Davis's carbon footprint by about 14 percent annually.

"[This 14 percent] will vary from year to year, depending on total generation, total consumption and other sources of greenhouse gas emissions," said Camille Kirk, the director of sustainability and a campus sustainability planner.

The 16.3 megawatts represent almost half of the 36 megawatts of on-campus solar power generation in the entire UC system, showing that UC Davis is leading the way when it comes to solar energy.
At the Environmental Protection Agency's Green Power Leadership Awards in late October, David Phillips accepted an award on behalf of the University of California. Phillips was a key figure in the development of the South Campus project while he held the director of utilities position at UC Davis.
In addition to the South Campus project, UC Davis also has rights to 24 percent of the power from the 60 MW Five Points Solar Park in Fresno County and the 20 MW Giffen Solar Park, helping UC Davis provide about 36 percent of solar power generated in the UC system.
While the solar investments are proving to generate adequate amounts of power to chip away at the reliance on carbon, costs remain a question for skeptics.

"Due to lower than expected electricity pricing over the last couple of years, the solar projects are currently costing more per kWh than wholesale electricity," said David Trombly, a utilities engineering supervisor. "If electricity costs go up as projected, the solar energy pricing will become favorable."

Even with the likelihood that solar and other renewables will become favorable in the future, it still remains important to proceed intelligently in the development of renewable energy with one eye on sustainability and the other on economic realities. James Bushnell, a professor of economics at UC Davis who has done research on energy policy and environmental economics, expressed concern about how rapid solar development can cause excess supply at certain times of day and alter prices.

"While the costs of solar continue to decline, the value of solar output in California is declining even faster," Bushnell said. "This is because there is already so much solar output on our system that we have a glut of energy during the middle of the day. In April 2017, electricity produced in the middle of the day was almost worthless because we already had more than we could use."

Storing solar electricity has long been a concern if there is excess production, an issue that Kirk also discussed.

"We could have installed more solar if we had sufficient storage to avoid exporting," Kirk said. "When we installed our Large Solar Power Plant, analysis showed that storage did not make financial sense, and probably still wouldn't, though we do continue to explore storage options, especially as part of class projects."

Despite these challenges, Kirk remains optimistic that these investments will prove to be worth it in the long run.

"We expect electricity prices to rise from other providers, so our on- and off-site solar through the power purchase agreement model of delivery should prove to be cheaper in the long run because we have a fixed price for electricity for the duration of our contracts," Kirk said.

Kirk and Trombly agreed that the UC's goal of carbon neutrality by 2025 is highly ambitious, but they think that UC Davis is on the right track.

"UC Davis is very well-positioned and has already demonstrated major progress in reducing emissions," Kirk said. "Carbon neutrality is an ambitious goal, but we think we can achieve it through many different steps."

Trombly echoed these sentiments, adding that after these major investments in solar power, it may be prudent to explore other types of clean energy to supplement UC Davis' solar and hydroelectric power and its biodigester, each of which contribute to an energy portfolio that is currently about 60 percent carbon-free.

"We would probably benefit from diversifying our investment in renewables to some other production type, but these decisions will be hashed out as part of the climate action planning process," Trombly said.

While engineers and project managers work to design, develop and fund new renewable energy efforts across the UC system, students are also engaging in the process by spreading crucial information with their classmates and working to bring change to campuses.

CALPIRG, a group that is active on campus on the issue of getting UC Davis to commit to an entirely renewable energy portfolio, is pleased with the progress that has been made in the last several years to reduce the entire UC system's reliance on fossil fuels.

"The UC system is doing great work for the environment with a commitment to carbon neutrality," said Jillian Patrick, a fourth-year environmental science and management major and UC Davis' CALPIRG chapter chair. "Solar and other clean energy sources are becoming increasingly more affordable and accessible — renewable energy is the future."
While the UC as a whole has an additional 13 megawatts of solar power in development, UC Davis currently does not have any pending plans for more solar projects, given the dent that its solar investments have already put in the carbon neutrality goal. However, with CALPIRG's activism, UC Davis may develop more renewable projects in the coming years to continue transforming and diversifying the school's energy sources.

"So far this quarter we have collected over 1,000 petitions through outreach and engagement with the campus community to show our Chancellor there is ample support for 100 percent clean energy here at UC Davis," Patrick said.
Written by: Benjamin Porter —  features@theaggie.org