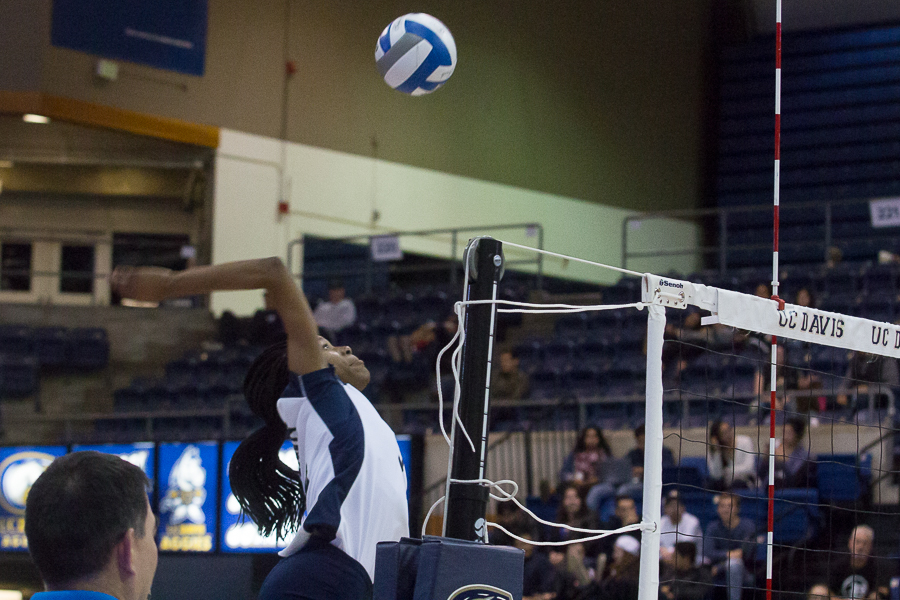 The California Aggie sits down with freshman outside hitter to discuss outstanding first-year performance
Some may call her a volleyball killing machine, but her teammates simply call her Mahalia. Mahalia White is a freshman outside hitter for the UC Davis women's volleyball team who has been dominating the game with her offensive performance in kills. White is an organizational studies major from Canoga Park, Calif. In her senior year at Chatsworth Charter High School, White was a two-time All-Los Angeles City Section and all-area honoree, while ranking 19th in class of 496, being one of 20 valedictorians. Currently, White ranks in the Big West Conference top five for total season kills and ranks in the top ten in kills per set. Her incredible performances in conference matches, such as her career-high 27 kills against Long Beach State on Oct. 27, have earned her four Big West Freshman of the Week accolades, the week of Nov. 6 being her second consecutive award. Did I mentioned the team has only been in conference play for seven weeks?
The California Aggie had the chance to sit down with White to discuss how she started playing the sport as well as her feelings on her incredible performances and honors.
How long have you been playing volleyball? What got you into the sport?
I actually tried out for my first volleyball team my freshman year in high school, which is kind of considered late. I moved to an outside [hitter] my sophomore year, and started playing club that same year.
What was the process like to play for UC Davis? Were you recruited, did you go to open tryouts?
I got recruited near the end of my [high school] junior year and had a couple of other schools, but Davis was the best fit for me and I am really happy I chose Davis.
Why did you choose to play at UC Davis?
I really liked the team when I met them my first visit and I liked the tour. I came to the tour with my family and we all loved the school and the college town. It is also just a great academic school.
How does it feel when you see that over the period of about seven weeks in conference play, you receive the Big West Freshman of the week three times?
It is very exciting and keeps telling me to continue to move in the direction that I am going in and keep getting better. It just keeps pushing me to move forward and keep playing better.
I'm sure people are wondering what the secret is to your success is at such a young point in your collegiate career. Is there any?
I think it is just working hard and being open to all feedback, not just to coaches but to other players. I just am open and listen to what other people tell me and really try to implement it in my game.
How does the team react to all of the records you have been breaking and the accolades you have received? What is the level of support from them?
They really hype me up. Especially after like a good kill they are really very supportive of anything I do, and it really does help my overall performance.
How do you feel the team is doing right now currently being 7-6 in conference and you still have three more conference games to play?
We started off the season knowing it was going to be a learning process and so starting to see those results is really rewarding but we still have work to get done and keep going for the rest of our season.
What is the ultimate goal for you to achieve athletically and academically at UC Davis during your next few years?
Sports wise, conference champs and NCAA playoffs. Academically, I just want to graduate with my major and figure out what I want to do in life. Personally, I want to keep bonding more. I think that we already have a great bond but I want to really just keep growing with my team.
Written by: Ryan Bugsch — sports@theaggie.org