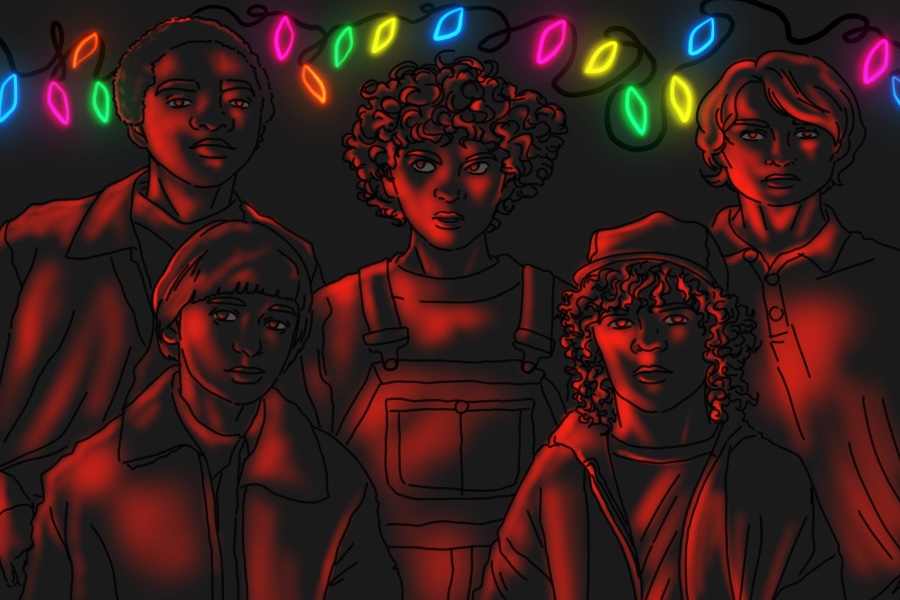 It's bigger, better, darker and spookier.
It's Halloween time in 1984, and "stranger things" are still happening in Hawkins, Ind. Released to Netflix on Oct. 27, the second season of "Stranger Things" provides nine new episodes, or "chapters," fully equipped with everything a good sci-fi sequel should contain. It's bigger, better, darker and spookier, but still manages to stay grounded in the roots of its first season.
The Duffer Brothers allowed Season 1 to be left off on a satisfying yet anxiety-filled note as viewers yearned for more time to be spent in the world of the Upside Down. The audience was left wondering about the whereabouts of the beloved Eleven (played by Millie Bobby Brown), who previously sacrificed herself to save her friends at the end of the last season. Of course, the young telekinetic is back, with an unlikely ally in police chief Jim Hopper (played by David Harbour), who acts as a father figure to the angsty teen.
This time around, Mike, Dustin, Lucas and Will are simply trying to fall back into a state of normalcy. You know, Dungeons and Dragons, arcade games, walkie-talkie conversations, Ghostbuster costumes — typical 1980s teenage nerd stuff. But a vicious shadow monster, nicknamed "the Mind Flayer" by Mike (played by Finn Wolfhard) and his team, has other plans in mind, thrusting the city of Hawkins back into a battle against the dreaded Upside Down.
Similarly to its first season, "Stranger Things 2" offers a form of escapism and refreshing originality that most shows are lacking these days. The second season strongly delivers in terms of its nostalgia, unique cinematography, great music, innocent humor and well-developed characters.
The plot thickens as the Upside Down still lingers throughout the town, haunting Will Byers (played by Noah Schnapp) who is plagued by visions of swirling red storms, dark shadows in the sky and an unshakeable feeling that remnants of the Upside Down continue to linger inside him. His mother, Joyce (played by Winona Ryder), along with Chief Hopper, work together to help Will through these struggles, but the poor kid can't catch a break.
Much to the satisfaction of its viewers, "Stranger Things 2" wraps up several open-ended ties left from the last season. Beyond that, we get to see our favorite characters — and even our not-so-favorite characters — dig deeper as they redeem themselves and learn fascinating truths about their pasts.
Eleven goes on a search for her birth family, discovering that she may not be as truly alone as she thought. Despite his heartbroken antics, Steve (played by Joe Keery) steps up as a strong ally and "babysitter" to the young team of ghostbusters, growing especially close to Dustin (played by Gaten Matarazzo) throughout the season. Mike continues his dedication to destroying the Mind Flayer while he still romantically hopes that Eleven will return to The Party someday. Lucas (played by Caleb McLaughlin) comes into his own, gaining more screen time and a stronger sense of self, while also growing a complicated relationship with Max (played by Sadie Sink), the new girl at school.
Despite its many strong suits, Season 2 of "Stranger Things" prompts some concerns regarding the future of the series. "Stranger Things 2" successfully, but predictably, manages to live up to the hype, still continuing to exist within its own comfortable sphere. Although predictability often hits upon exactly what viewers want to see, this season didn't seem to take as many risks as the first did. If the third season were to follow suit with a similarly formulaic structure to its predecessors, will that strike a chord or leave viewers feeling burned out over the same-old, same-old once again? So far, co-creators the Duffer Brothers have done an extremely impressive job incorporating the perfect amount of nostalgic vibes, romantic moments, jump-scares and spooky monsters into the show. But it still remains to be seen whether or not the director duo will manage to shake things up in the town of Hawkins well enough to keep the hit series new and relevant.
As we anxiously await the third season and what is to come, there are several questions to be answered in the coming episodes. Is Will free from the Upside Down? How will the Mind Flayer attack next? What will happen between Eleven and Mike? The second season wraps up with what appears to be a happy ending, with an unsettling level of teenage normalcy. While Mike and his team mingle together inside the school dance, the image of the Mind Flayer looms over the ending scene, leaving audiences in bubbling anticipation for the exciting, new adventures sure to come.
Until next time, Hawkins — see you in Season Three.
Written By: Sydney Odman — arts@theaggie.org