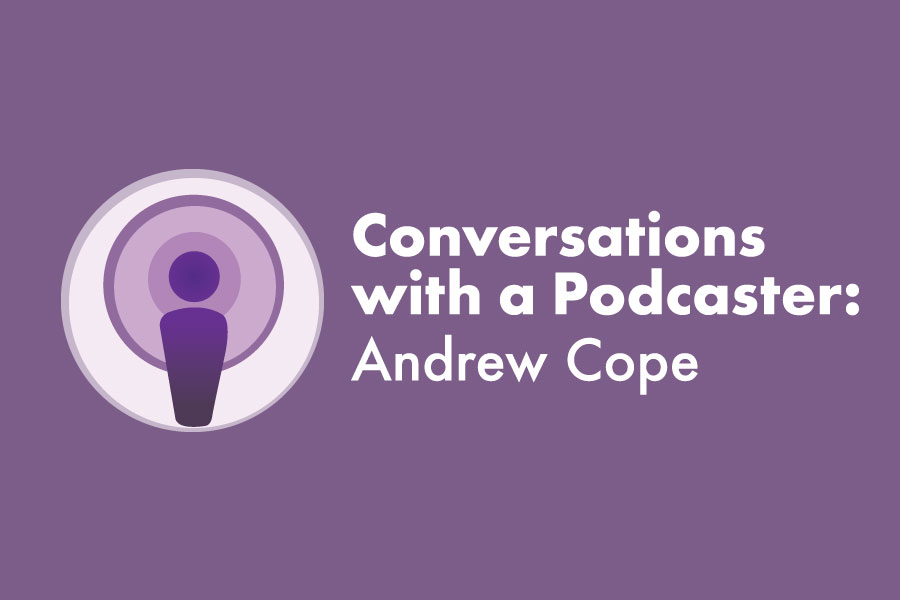 An article about podcasts, interviewing a podcaster who podcasts
Andrew Cope, a fourth-year computer science major and co-host of podcast "How Do You Feel About That?," loves podcasts. It comes as no surprise, then, that one of his episodes is about — you guessed it — podcasts. That episode alone has thousands of listens, as it's one of his show's most popular episodes.
"We've thought about making a second episode, just by popular demand," Cope said.
What started as a reaction to seeing renowned podcaster and host of "Serial," Sarah Koenig, speak at the Mondavi Center, transformed into acting on one of Cope's passions: starting his own podcast with co-host Myah Daniels.
Indeed, Cope seems to be a good expert on the subject of podcasts; if you listen to as many podcasts as he does — roughly 40 hours a week, to be exact — you can't help but think about the underlying implications that make this medium so intriguing.
One such concept is the authenticity of podcasts. The "likes" and "ums," the conversational speech that imbeds itself in the form "lessens the abstraction between the podcaster and listener," according to Cope.
It must be noted, however, that multiple types of podcasts exist. For example, one type is the more heavily produced, scripted and "story-telling" style, like those found through NPR; the other is more conversation-based, like what Cope records in his living room once a week. No matter the format, there is an idiosyncratic character that fosters itself in each podcast.
"Say you are writing an article — you have to have an angle and have it be in a certain format," Cope said. "But when you are talking about a topic in a podcast, your confusion is allowed to show because that's how people talk, and that's why it's fun to listen to. 'The Weeds' is a podcast that has three people who are really knowledgeable and competent writers, and they talk about things like the tax plan. They say things like 'I don't even know what that is' and talk through weird jargon they don't know. It is an authentic way how people grasp ideas. That is more interesting to me, almost seeing the first draft and getting to know a human being."
Even one of the most famous podcasts, like "Serial," follows the same principles. Koenig isn't afraid to let her various confusions show, to stutter her words and express her frustrations as she tries to piece together the murder of a high school student.
"If Sarah Koenig had a podcast where she just told what happened [in the murder] it wouldn't be interesting," Cope said. "What made it so good was that we saw her naturally through the whole process."
Indeed, Koenig did not record each of her episodes in advance. Rather, each episode was done week by week as new revelations in the case emerged in her investigation of the case. Therefore, a definitive conclusion (spoiler alert: which she never even got to by the end of Season 1) was not necessarily the point of the podcast as a whole. Maybe the point is to get to know her.
"When you are getting to know someone, you won't get to know them by this prepared speech that they have," Cope said. "You want to be friends with them through a conversation over lunch, getting to the core of that person. Some of the podcasters I listen to I feel like I know really well even though I never met them before in my life, but I have these anecdotes that they have given me […] There are podcasts I've listened to that have had recorded people going through crazy things and crying. That's a really intimate moment I got to share with that person who I don't even know."
While different types of podcasts exits — conversational, storytelling and everything in between — they seem to work toward this specific purpose: understanding human narratives and human experiences. There is inherent value in getting to know people.
Beyond that, there is merit in understanding someone else's point of view or a perspective that you would not have otherwise had the opportunity to hear.
"There is so much value to hear the private conversations of others," Cope said. "The hosts of 'Another Round,' a Buzzfeed podcast, don't need to sit me down and say, 'this is what I'm feeling about white privilege.' […] Maybe if I heard the ideas about white privilege on paper, I may not get it as fully as I would being told by two black women. It is a lot about how it is presented to you. Hearing it from the human being can be more compelling and worthwhile. There can be more information hidden in between the lines in someone's voice that you may not be able to get on a black and white piece of paper."
Podcasts, therefore, may not express completely refined anecdotes and ideas. However, that does not diminish the significance of what a podcast can offer.
"I think for a reference piece, podcasts are not a good fit," Cope said. "They are not researchable, you can't really Google the content of a podcast. You have to be aware of which information is best stored in a podcast. But there are still wonderful things that a podcast can do that other forms cannot do. In podcasts, you have people's voices and their inclinations. You only convey more information, not less."
Podcasts express what other mediums can't — the human element.
"I think that is the most important thing of all," Cope said.
Podcasts are able to offer this plethora of interactions and information because of how accessible they are. Podcasts demand the attention of only one physical sense — audio — to convey their ideas. This physically isolates the listener; there is nothing to get in the way of the quasi-human connection fostered by the podcast.
"If it wasn't audio, I would maybe not have the time to invest to these ideas," Cope said. "But since it only demands one sense, I can be doing other things while I am listening."
Isolation in podcasts is not just auditory, but in design as well. Podcasts as a medium have a freedom and autonomy not often found in other forms of media.
"In theory, a video of someone and an audio of someone is basically the same," Cope said. "In theory, the more senses you have, it would be better — it's more information. But a TV news interview has a lot of other factors that it has to be aware of: time, viewership, ratings. Because of how podcasts work industry-wise, they don't need to have those same constraints. On a TV interview, it just ends up being that when you are limited on time and can only cover the crazy extreme stuff, you don't get to talk to someone for two hours."
Moreover, content owned by the podcast producer and not another external entity.
"[…] a podcast is a text on someone's website with mp3 files and download links," Cope said. "There are therefore no networking constraints [as there are] with TV channels or things like that. You are hosting your own files on your own website. No one can take it down; it's just there. That is the freedom of podcasts."
Cope's podcast "How Do you Feel About That?" can be found here.
Podcast co-host Myah Daniel is employed by The California Aggie.
Written by: Caroline Rutten — arts@theaggie.org