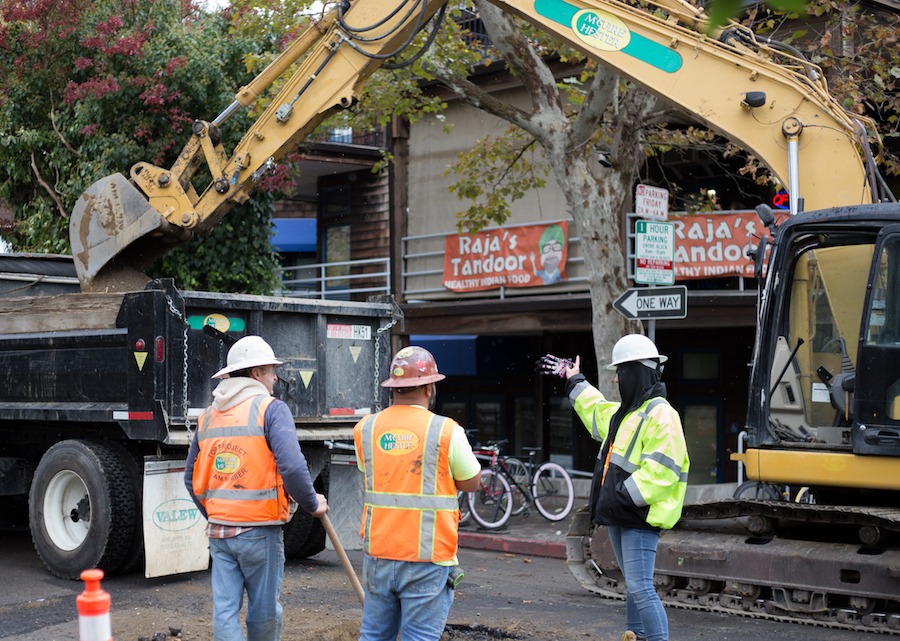 Construction to continue on Third Street until completed resurfacing in late 2018
The current construction on Third Street, which affects the two-block area between A and B streets, will continue until the end of 2018. According to the City of Davis' website, the goals of the construction, known as the Third Street Improvements Project, are to improve bicycle and pedestrian safety, upgrade infrastructure, improve storm water drainage and localized flooding, establish a UC Davis gateway and beautify the street.
Project planning began in 2006, and construction officially broke ground in 2012. The project is being conducted in phases, all of which will contribute to the ultimate goal of resurfacing and beautifying the Third Street entrance to downtown from the UC Davis campus.
Michael Mitchell, the principal civil engineer for the City of Davis, spoke about the series of preparation projects that have been ongoing since 2012.
"We first replaced a water main that was deteriorated over on Third," Mitchell said. "Then with the cooperation of PG&E — it was actually PG&E's project — [we undergrounded] all of the electrical in that area, which took a couple years to get going. Then we had to put in temporary street lights because all the lighting was underground and the poles were gone."
Phase IV of the project is currently underway. Access to Third Street between A and B streets is closed off because workers are replacing a sewer main in that area and also installing a new storm main between A and D streets. The original deadline for the completion of Phase IV was early November of this year, but it was pushed back due to funding delays.
"We didn't get awarded fast enough," Mitchell said. "The contractors have been very good, actually ahead of schedule. We wanted it awarded earlier, but it just didn't happen due to issues outside of our control. The current project should be done by the end of the calendar year, before Christmas. And then we should have the main project — the main event — out to bid and awarded in the early part of next year in time for a spring construction."
Since Third Street is heavily populated with small businesses and apartment complexes, some of its residents are feeling the construction's effects. Hayley Chung, a third-year landscape design and architecture major who lives above 3rd and U Café, said that the Third Street project has impacted her everyday commute.
"I walk and or bike to school and right now that street is shut off, so I have to start my bike a block away from where I could actually start it because of the construction." Chung said. "Right where campus starts is where the construction ends for me. I walk my bike to A because I can't bike on Third."
Chung also noted that a lack of parking due to street closures could have an impact on access to popular Third Street restaurants, which include Raja's Tandoor, Ali Baba, 3rd and U Café, Sharetea and Pho King 4.
"There are already a lot of one-way streets in this area, and it's already kind of complicated, so I'm sure that the business there aren't super happy," Chung said. "But they still get the foot traffic from campus, so I'm not sure if they're hurting that badly. But it cuts down on parking spots on Third. There are like four or five parking spots on the road there, and they are no longer accessible."
Meral Basit, a fourth-year biochemistry and molecular biology major who also lives on Third Street, said that the construction disturbs her daily routine.
"I often get woken up by the construction because it's right outside my window and it's really loud because they're jackhammering concrete," Basit said. "It normally starts between 7 and 7:30 a.m., and it's just incessant for half an hour, so I normally get less sleep because of it."
The construction has also created some dangers for bikers since detour warning signs make it difficult for cars to see oncoming traffic.
"If you're going down Third toward campus and you're on the right, on the left there are those little poles — they've put signs in front of those poles so bikers have to go around them," Basit said. "But that takes them right in front of a car, and you can't see them because they are behind the sign until they peek around."
Mitchell said that the city has worked with local businesses and Unitrans to make sure that people are aware of blockages and rerouting. Other than a few minor complaints, most people have been cooperative with the goals of the project.
Davis residents can expect to see mockups of the final resurfacing project within the next few weeks and a completed product by the end of 2018.
"The future [project] is going to be a beautiful corridor with pavers set into a pattern and specialty lighting, furniture and bicycle locks and all that," Mitchell said. "We're actually manufacturing two signs to go up very soon at the limits of B and A to show a nice rendering of what it will look like after it's complete. You know, construction always has its nuisances during construction like dust, noise, congestion, having to detour, but it will look really nice once it's done."
Written by: Olivia Rockeman — city@theaggie.org