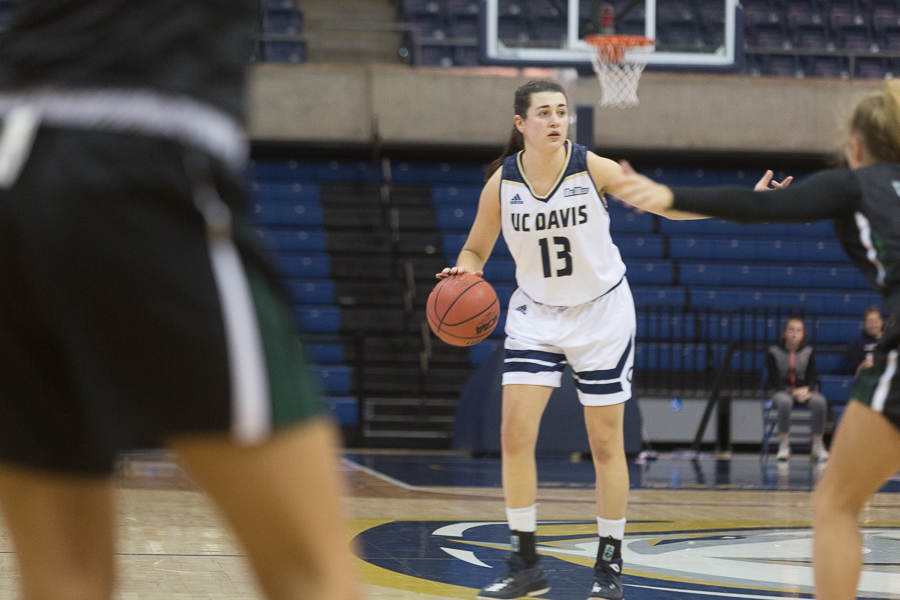 Aggies end three-game homestand with decisive win
Heading into the final game before its first three road games, the UC Davis women's basketball team hits the road with a third straight home win under its belt. With 0-2 Portland State coming into town, the opportunity was there to begin the road trip on a high note, and after a close first half the Aggies hit the pedal and cruised to a 79-67 victory.
Despite Portland State's 0-2 record, UC Davis head coach Jennifer Gross knew that the team would need to bring their A-game in order to come out ahead. To Gross, Portland State presented a unique threat which the other teams had not yet posed on the defensive end of the court.

"[Portland] State is a challenging team to prepare for," Gross said. "Obviously they play a lot of zone. Their offense has a lot of action and they shoot the ball extremely well, so they present different challenges. And so our focus this week was on continuing to get better, ourselves, but also making sure that our team was as prepared as possible."
It took some halftime adjustments to break the game wide open for the Aggies, but once they built a cushion at the start of the second half, the game was where they wanted it, and the team began to hit its stride from the three-point line, where they shot a blistering 15-28 from the field. Senior guard Rachel Nagel led the team with six three-pointers on 11 attempts en route to her team-high 20-point performance, a total which she shared with junior guard Morgan Bertsch. Senior forward Dani Nafekh also played a role in the victory, hitting three of her six three-pointers in her 12-point performance.

While the shooting certainly helped the team get where it wanted to be, Nagel was much happier with the work of both herself and of her teammates on the defensive end of the court.

"I'm a defense fan," Nagel said. "I mean, to me, threes will come and go. Offense, you'll have ups and downs, but defense is something you can bring to every game, so I rely on that a lot to bring myself energy, and the rest of the team energy."

While the Aggie starters did their best to dictate the game, the bench provided a balanced effort that helped to spark the second-half flurry that would ultimately decide the game. Sophomore forward Sophia Song and senior center Marley Anderson led the bench with six points each, while sophomore forward Nina Bessolo added five points. According to Song, it is important for the bench to prepare for every game, regardless of the minutes that they may or may not play.

"We know we're ready to play," Song said. "However many minutes we get, we're going to go in there and make a difference, make a spark on defense, and hit shots, and I think we're all comfortable with our role."

This added depth is huge for the team's prospects. Gross praised the bench's performance when comparing to the others in the past.

"This is the deepest we've ever been. Sophia is a lights-out shooter. She can come in — especially against the zone, I thought she gave us a nice boost, hit a couple shots and she's also a very good defender, and so I think — our bench — everybody has their strengths. I thought Nina [Bessolo] changed the game today. She came in, brought some great energy, got a tip in the press, hit a shot. So everybody has something just a little bit unique, and depending on the game, we can go with different lineups and bring people in for different sparks and so far they've done a great job with that."

While the team is off to a perfect 3-0, both coaches and players know that competition, environment and the feeling of the game can be quite different when the team plays on the road. Gross is working with her team to make sure that they're ready for that aspect of the season.

"We did a tremendous job in protecting our home court," Gross said. "Now the challenge changes a little bit, so our focus, we have to be really dialed in. We know that in order to win on the road, you've got to defend, so we're really focused on continuing to improve our defense and our rebounding and making sure that we're really locked in there, and then, offensively, we've just got to stay loose and play to our strengths."

The players know that they need to stay focused and work toward their ultimate goal, and while it's easy to get ahead of oneself, Song intends to keep her eyes on the prize.

"We're going to win championships!" Song said. "That's our mindset, and we're going to attack every team with all we've got, and I'm very confident in my teammates and what we're going to do this season. I'm very excited for what is to come."
The Aggies have since gone on to play University of the Pacific, Southern Utah and Seattle on the road and return home with an undefeated 6-0 record. The team aims to maintain this record in its game today against Sacramento State in the ARC Pavilion at 7 p.m in this year's Causeway Classic. A full game recap of tonight's game will be made available in the next print edition.
Written by: Bradley Geiser — sports@theaggie.org