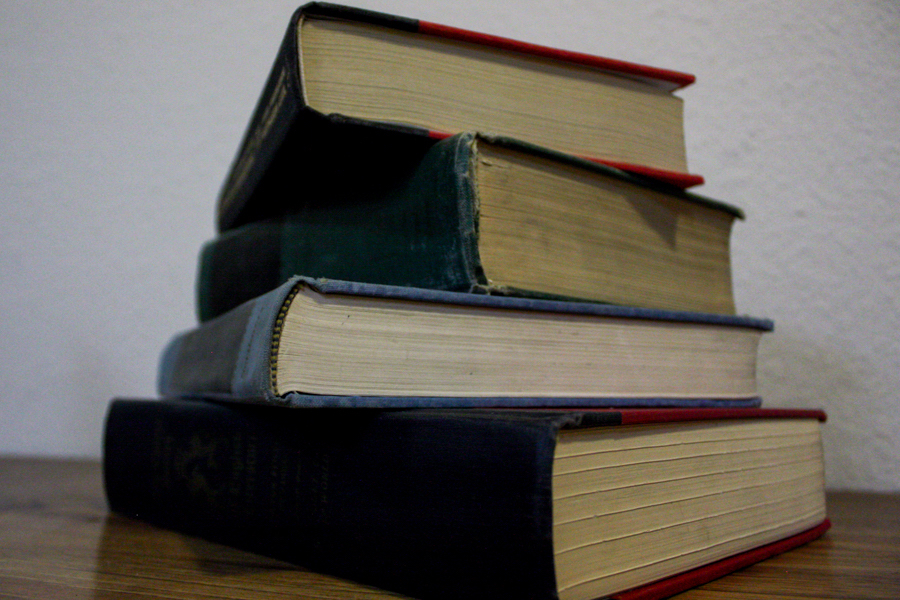 Books concerning history, food, fantasy and life experiences
Throughout college, high school and even middle school, we have been assigned certain books to read for class. Oftentimes, these works of literature were grandiose in vocabulary, plot and length. Couple that with the era of technology and media that we grew up in, and you get a generation of young adults who aren't particularly fond of reading books.
But books don't have to be painful, boring or impractical. In fact, they can be quite the opposite. With that in mind, here are five books I think are must-reads for college students.
"Scar Tissue" by Anthony Kiedis and Larry Sloman: An autobiography of The Red Hot Chili Peppers' lead singer, Anthony Kiedis, this book follows the life of Kiedis from his early beginnings. As a young boy in L.A. rubbing shoulders with the likes of Neil Young, Sonny Bono and Cher, Kiedis's burgeoning musical success soon followed with his internationally renowned rock band, The Red Hot Chili Peppers. Along the way, his adventures are so outlandish that the reader begins to wonder how Kiedis is still alive. The book is an exceedingly literal take on the expression "sex, drugs and rock & roll." Above all else, Kiedis's story is perfect for college students. He couples great writing and vivid detail with stories that young adults can identify with. While his adventures may inspire some to pick up the guitar or a mic, for others, "Scar Tissue" is simply an opportunity to learn about just how exciting and crazy life can really be.
"12 Recipes" By Cal Peternell: This cookbook was written by the former head chef of famed Berkeley restaurant Chez Panisse. Peternell was inspired by his own children leaving for college — who inevitably asked him for recipes while they were at school. This prompted Peternell to put together a cookbook of simple recipes that are elegant and delicious but also lend themselves to the poor, starving college student. You'll learn how to make the best toast, numerous sauces, simple desserts, pasta, salads and much, much more. Even if you don't love the idea of cooking, I suspect that picking up this book will change your point of view on the perceived arduous, time-consuming task of preparing a home-cooked meal.
"The Brief Wondrous Life Of Oscar Wao" by Junot Díaz: A Pulitzer Prize-winning novel, Díaz wrote this fictional story by drawing heavily from his Dominican background. The story begins with Oscar de Léon, a nerdy, overweight Dominican kid living in New Jersey. We follow Oscar through life as he searches for love and acceptance. The book is emotionally charged, causing the reader to travel with Oscar to his highest highs and all the way to his lowest lows. But above all else, Diaz's unique writing style is what truly draws readers in. Díaz pushes the boundaries of what we expect from successful literature. He constantly alternates between English and Spanish slang in the story, giving the reader a rare opportunity to completely submerge themselves in the text regardless of cultural background. In addition, at times, Díaz goes so far as to write in the second person, a rarity in lauded literature. One has probably never read another book quite like "Oscar Wao."
"The Devil in the White City: Murder, Magic, and Madness at the Fair That Changed America" by Erik Larson: A historical book written in novel form, Larson's work will trump any history text you have previously encountered. His book alternates between the stories of the famed Chicago architect Daniel H. Burnham and the 19th-century serial killer Dr. H. H. Holmes. The stories center around the late 1800s in Chicago. After developing a successful architectural career, Burnham and the City of Chicago are chosen to head the building of the World Columbian Exposition of 1893. The exposition is a massive undertaking involving numerous other architects and millions of dollars. In addition, it draws in even more individuals who were already flocking to the up-and-coming American city. One of those newcomers is a Dr. H. H. Holmes, who begins to use the influx of tourists for his own unsavory desires. Larson's work is perfect for any student, especially fans of history, mystery, and murder.
"1Q84" by Haruki Murakami: A fantasy novel to end all fantasy novels. Internationally recognized for his fantastical ideas and stories, Murakami takes his readers to a completely new world in "1Q84." Set in Tokyo during the year 1984, the story mainly alternates between the perspectives of Tengo Kawana and Aomame. Tengo is a seemingly unremarkable math teacher. Aomame, on the other hand, splits her time as a gym teacher and an assassin. This unlikely duo slowly see their lives intertwine, and the result is a story filled with magic, culture, cults and characters so strange you may have to read the page twice. The beauty of "1Q84" is that you start believing in the world so strongly that eventually nothing shocks you anymore. It is at that moment that you, the reader, have been fully transported into the tumultuous setting of "1Q84." Murakami's most recent novel is the ultimate fantasy, and students looking for an escape from studies and stress should look no further — the world of "1Q84" is waiting, but be careful, you just might never come back.
Written by: Rowan O'Connell-Gates — arts@theaggie.org