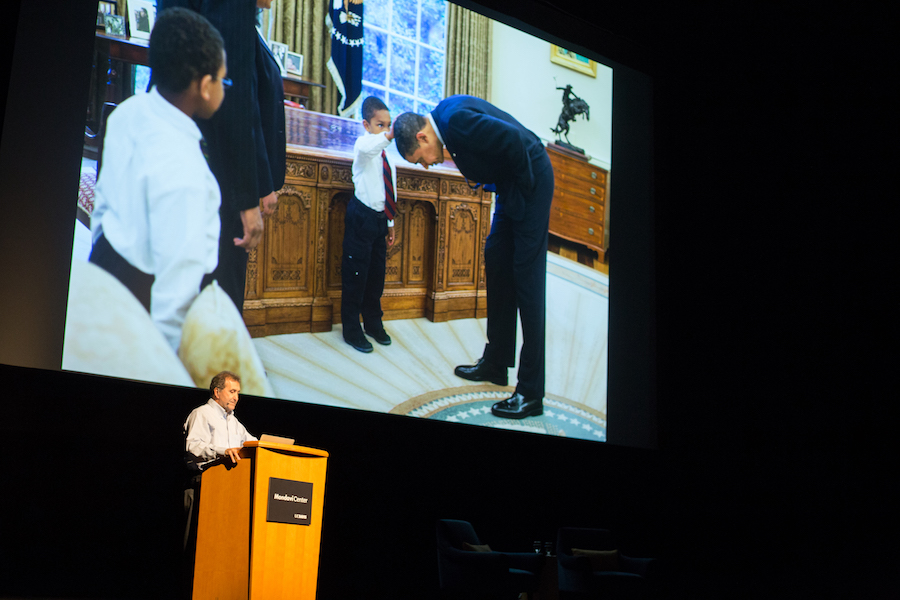 Souza shares favorite photos, White House experiences during Mondavi Center Distinguished Speaker Series event
Pete Souza, the former chief official White House photographer, spoke in Jackson Hall at the Mondavi Center on Dec. 1. Souza was also the official White House photographer during the Reagan administration and is a freelance photographer in the Washington, D.C. area as well as a professor emeritus of visual communications at Ohio University.
The event was part of a speaking series in conjunction with Souza's new book, "Obama: An Intimate Portrait." Prior to his presentation in Jackson Hall at 8 p.m., Souza offered a student-oriented moderated discussion where students and professors asked questions backstage in a more intimate setting.
Shelley Holt, a third-year transfer student and cognitive science major, attended the student-oriented discussion and said that she was interested in Souza's role in documenting Obama's presidency as compared to Reagan's presidency.
"Obviously [Souza's] enthusiasm for Obama is really high, so I'm curious to see how that progression went from the Reagan era to playing such a prominent role in Obama's image," Holt said.
At the backstage discussion, Souza shared his observations of former President Obama and his experiences as a behind-the-scenes White House staff member.
"I knew [President Obama] for four years before he became president, when he was senator and I was working for the Chicago Tribune," Souza said. "And I didn't think he changed that much between when he was first senator and even throughout his presidency. The sort of core character of him stayed the same. The one thing that's changed since he's left is it's as if […] the weight of the world has been lifted off his shoulders — you forget how everything that was going on in the world and in the United States was on his shoulders when he was president."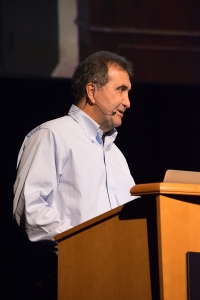 During his presentation in Jackson Hall, Souza shared some of the prominent photos from "Obama: An Intimate Portrait," which is currently No. 1 on the New York Times Hardcover Nonfiction bestsellers list. The photo slideshow was grouped into categories that included best and worst moments of the presidency, family photos, photos of Obama's interactions with others and images of the final weeks of his presidency.
In his time as Obama's White House photographer, Souza captured 1.9 million photos — sometimes up to 2,000 per day. Souza explained to the audience how he was able to capture so many intimate moments of the presidency.
"With President Obama, I asked to have access to everything he did," Souza said. "I thought that was the only way to really document his presidency for history. I was trying, when I could, to also show the big picture of the presidency. From a photographic standpoint, you're trying to capture candid moments, but you're also trying to do scenes that are everyday. Sometimes those are little moments — they're not at big events, but they're little moments that tell you a lot about him as a person."
After Souza's slideshow presentation, Scott Syphax, the executive producer, head writer and host of "Studio Sacramento," moderated a Q&A session with the audience.
An audience member asked Souza what the most difficult part of photographing the president was, and Souza said it was the grueling daily schedule. In eight years, Souza only took three weeks of vacation and one sick day, mostly because he was worried that he might miss an important moment in history while he was away.
"I was literally with the president from 9:30 in the morning 'til he went home at like 6:30 or 7," Souza said. "The grind of the job, the 24/7 aspect of it, that was the hardest thing. But in terms of these stressful situations that maybe the people in the pictures were experiencing, I wasn't under the same kind of stress they were. Over time, people came to appreciate what I was doing, and they took it seriously."
Syphax was curious about Souza's observations of President Obama as a figurehead.
"One of the things that's interesting as you go through the book is that it's a wide cross-section of people," Syphax said. "But when I look at, for instance, the entertainers, the celebrities and the athletes, it almost seems more like they're the fans and he's the star rather than the other way around."
Souza explained that people gravitated toward Obama in a way that he had rarely seen.
"I think people just saw hope when they saw him," Souza said. "I don't mean to sound cliché, but they saw a man who was genuine, who truly was thinking long-term, thinking about what was best for the country."
Reflecting on his time with Obama, Souza said that historical documentation was the most important aspect of his job. Although there were boring and tiresome meetings, he said that the Osama Bin Laden raids, the success of the Affordable Care Act and the debt ceiling crisis were some of the most rewarding moments to photograph.
"Hopefully I captured what the Obama administration was like, what he was like as a president, what he was like as a person [and] what he was like as a dad," Souza said. "Hopefully people think that I presented a well-rounded view of his presidency."
Written by: Olivia Rockeman — campus@theaggie.org