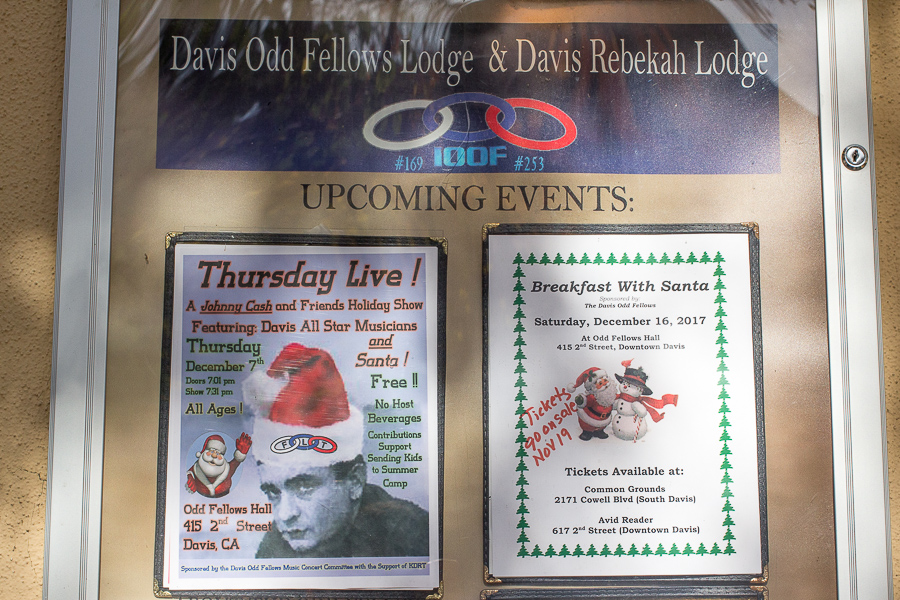 A night of giving and music by Johnny Cash
This holiday season, give back to your community with friends and family. Odd Fellows Lodge Hall in downtown Davis is hosting their Thursday Live event with covers by local musicians.
Juelie and Kurt Roggli started Thursday Live nine years ago and have continued the tradition ever since.
"My husband and I joined Odd Fellows about 10 years ago, and he's a musician here," Juelie said. "Music has always been a big part of our lives, and there was no music committee at the time. We thought if we could start something it would not only bring awareness to Odd Fellows, but it would [also] just be a great community event. We try keeping it donation-only. We keep a bucket at the door, and all the money goes to either the musicians or whatever charity we're raising money for."
Kurt Roggli looks forward to Odd Fellows' music events as they are an opportunity to play music that is not typically showcased.
"I think my favorite events are the tribute shows, where we honor people like Bob Dylan, Pete Seeger, the Summer of Love and the Beatles by having a collection of musicians interpret and play their fantastic music," he said.
Odd Fellows is known for giving back. It focuses on giving to nonprofit organizations within Yolo County, whether it's the victims of the recent fires or a student who needs money for textbooks. For this Thursday Live, the goal is to gain funds for kids to attend summer camp in the upcoming months.
With a special appearance from Santa, Odd Fellows hopes that this Christmas show will not only attract its usual audience, but families with children as well. Since this is an all-ages event, the goal is to reach out to everyone — including UC Davis students.
"We'd love to get the word out to UC Davis students," Juelie Roggli said. "First of all, it's only a donation. You know, no one's at the door collecting money. Also, it's music that they might not be hearing lately and might be interested in."
Like most of their events, this Thursday Live will be presenting bluegrass, folk and Americana. Keyboarder for the event Aubrey Jones will be performing songs with other local musicians.
"We're playing a number of covers from different artists from Johnny Cash, Elvis Presley, Merle Haggard and Buck Owens," Jones said.
Perhaps the season of giving doesn't come in bows and wrapping after all. The event is free and will start at 7:30 p.m. on Dec. 7 at Odd Fellows Hall in downtown Davis.
Written by: Becky Lee — arts@theaggie.org