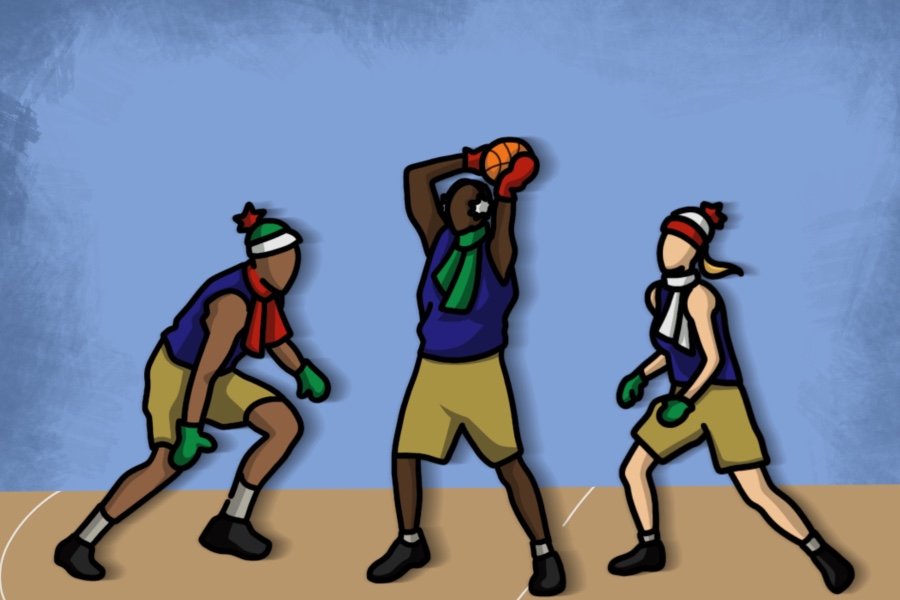 No ski vacations for in-season UC Davis athletic teams
While most students pack their bags and head home after finals, UC Davis student-athletes continue to train and compete throughout December and January. Men's and women's basketball are right in the swing of their seasons.
"The teams in season certainly practice during the winter break," said Mark Honbo, the assistant director of athletic communications, via email. "They do generally take a few days off for the holidays, but they will certainly be back in the gym by December 26. Bear in mind, the men's basketball team has four games from December 19 through 30. Women's basketball has a home game on the Sunday immediately after finals week, then a road game that Wednesday, plus two games in New York on December 28-29. So those two teams are very much in season."
While they don't get to spend a lot of time at home or hit the slopes in Tahoe, a few UC Davis men's basketball players are looking forward to winter break because it's an opportunity to log a lot of hours in the gym.
"Personally, I like winter break a lot," said junior guard Siler Schneider. "You don't have to worry about school and it's just straight basketball and time to take care of your body and kind of relax."
Senior forward Chima Moneke agrees.
"It's just a lot of free time in terms of practice and shooting free throws, but not worrying about school is always a good thing," Moneke said. "It gives us more time to stay in the gym."
Women's gymnastics trains a little lighter during the break, but because the season starts on Jan. 8, the team will be back in the gym right after the holidays. Women's swimming and diving is also in season but will enjoy a break from training.
"That team has an unusual year: a bunch of meets in the fall, a championship-style meet in November, a long break, then meets in January and February (including the conference and NCAA championships)," Honbo said via email.
Winter break for student-athletes may be a break from classes, but it certainly isn't a break from working toward their goals. UC Davis women's basketball will be using its break to hone in on and focus on what they feel needs improving.
"[We will be] fine-tuning our habits and just making sure that we are going back and kind of focusing on the details," said head coach Jennifer Gross. "And the fun thing about this team is we're 7-0, but we're still hungry and we still want to get better and have a lot of areas where we feel like we can improve, so this week is about improvement."
Written by: Liz Jacobson — sports@theaggie.org