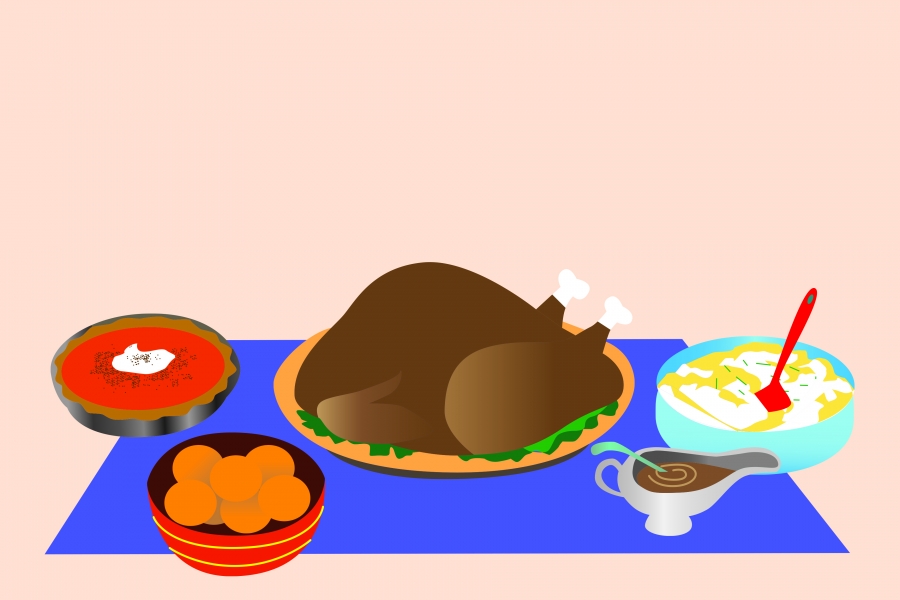 Recipes served at Christmas, Hanukkah, Kwanzaa
And just like that, Thanksgiving is over. Thus, the inevitable emptiness of a past holiday has taken hold. But don't worry, the holidays are still in full force. As we move into December, a whole host of new holidays are coming our way. That means there will be more delicious food recipes to pair with the upcoming festivities.
To begin, we will start with a holiday classic: peppermint bark. Synonymous around the world with the Christmas season, these delectable shattered pieces of chocolate and peppermint are beloved by many. The New York Times featured a recipe by New Jersey native Tom Faglon, in which he pushes the boundaries of peppermint bark to incorporate seasonal fruit. Faglon's dark chocolate and pomegranate bark is a must this holiday season. His use of fresh in-season pomegranate seeds elevates the bark to a new a level of flavor. He also adds candied ginger and sea salt, culminating in a delicious combination of sweet pomegranates, salty flecks and spicy ginger. Above all else, this recipe is simple and can be whipped up in minutes.
Next up we have another Christmas dessert: Bûche de Noël, aka Yule Log. A famous French Christmas dish, this dessert consists of a cake, rolled up, frosted and adorned to look like a wood log. The cake is traditional in many northern European cultures. The New York Times featured a recipe by famed baker Dorie Greenspan for a nuanced gingerbread bûche de Noël. While this cake is exceedingly complex, Greenspan's version seeks to simplify the procedure while maintaining all the delicious taste. She implements new gingerbread-style flavors and a sweet texture, with a showering of candied pecans when finished. If you're feeling up for it, this cake will be a showstopper for any holiday parties.
Whether you celebrate Hanukkah or not, odds are you've tried a delicious potato latke in your life. The famous potato patties are shredded, then mixed with onion, egg and spices all before frying in a hot oil. The result is a delicious fried patty that is crispy on the outside and soft on the inside. Martha Stewart's recipe for sweet potato latkes is a new take on the potato latke. She uses both yukon gold and sweet potatoes, ensuring you don't miss your original latkes too much. If you make these at your next holiday get together, they're sure to please.
For a sweet dessert at Hanukkah, look no further than the traditional sufganiyot, similar to jelly donuts. These delicious treats are consumed every year during the holidays. Deep-fried and filled with jelly or custard, the donuts will leave a lasting impression on any guest lucky enough to try one fresh. Chowhounds has compiled a recipe for sufganiyot that is straightforward and beginner-friendly, so there is no need for big deep fryers. If you are looking for a challenge, you can always up the ante by making your own jelly for the donuts. Regardless, this recipe will have guests begging for more.
During Kwanzaa, a series of African recipes are eaten. Senegalese chef Pierre Tham provides us with a recipe from his own cookbook. The recipe for sweet potato mango spice cake implements many of the popular ingredients utilized during celebrations of Kwanzaa. Your guests will leave in a trance from the mangoes that impart a moistness to the cake — along with a spicy bite from the ginger.
Lastly, a more savory approach to African recipes is provided by Sanura Weathers. Her recipe for roasted sweet potatoes stuffed with spiced couscous and yogurt is a testament to the incredible flavors present in African culture. Couscous and yogurt brings to mind Moroccan and Egyptian tastes, while sweet potatoes round out the dish with a traditional starch. Weathers' recipe is a delicious savory option to serve prior to a slice of Tham's sweet potato mango spice cake.
Happy Holidays!
Written by: Rowan O'Connell-Gates — arts@theaggie.org