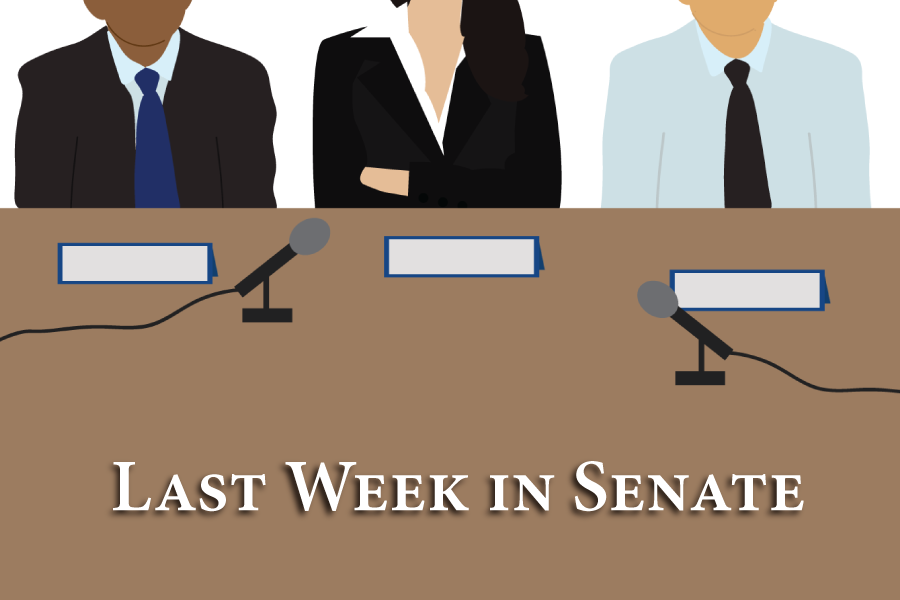 Senate resolution recognizing "It's Okay to be White" fliers as hate crime passes 11-1
On Thursday, Nov. 30 at 6:09 p.m., the ASUCD Senate meeting was called to order by Vice President Adilla Jamaludin. Senators Michael Gofman and Matthew Yamaguchi were absent. Internal Affairs Commissioner Jacob Ganz was also absent.
The meeting began with the Bike Barn's quarterly report. The Bike Barn's business manager, Lizzie Hall, a third-year design major, and its inventory manager, Vanessa Leedy, a third-year civil engineering major, spoke about recent developments.
Hall and Leedy said they are optimistic that the Bike Barn will see more profits this year, compared to the the $17 profit the unit made last year. So far this year, the Bike Barn has already provided students with 2,336 tire tube repairs and 3,915 other repairs.
Next, Aiden Ramey, a second-year electrical engineering major, spoke during public comments about his efforts to spearhead and design a city flag for Davis. Davis currently does not have a city flag and Ramey is hoping to encourage citizen involvement through a poll posted online at votedavisflag.com.
Following Ramey's presentation, third-year electrical and computer engineering major Stacey Wong delivered the Xperimental College's quarterly report. Wong is the director of the Xperimental College. Along with the addition of a new banner in front of the unit's space near the South Silo, the Xperimental College is planning to refurbish the dance room in the coming year. The Xperimental College has also added new meditation and breathing classes for students.
ASUCD President Josh Dalavai spoke about how the UC Davis Athletics Department is looking to add a new women's Division I athletics team. Due to UC Davis' female-to-male student ratio becoming increasingly disproportionate this year, UC Davis must add one more women's team to ensure equal opportunity for students and to abide by Title IX and NCAA requirements.
Students can expect a new women's athletic team at the beginning of the 2018-19 school year. All current club sport teams and intramural sports teams at Davis are being considered. Furthermore, because this new team is required under Title IX, funding for the additional team will not be financed by students because it is the campus' responsibility to fund.
Next, the Club Finance Council presented to the Senate. The CFC works with Pepsi to provide grants "to help pay for educational programs, guest speakers, conferences, performances, cultural shows, publications and other events that enrich campus life," according to its website.
The Senate then moved on to Elections Committee confirmations. Rodney Tompkins, a second-year neurobiology, physiology and behavior major, was confirmed as vice chair of the Elections Committee. Tompkins, a former staff writer at The California Aggie and a former staffer for Senator Anastasia Ruttkay, spoke about utilizing The California Aggie to communicate more about what senators are currently doing for students on campus and what ASUCD Senate has the potential to do for students.
Justin Yap, a second-year biological sciences major, was also confirmed as a member of the Elections Committee. A current member of five other clubs and with three minors, Yap's confirmation was widely confirmed by the Senate. Mahssa Rezaei, a second-year biological sciences major and a current a staffer for the executive office of ASUCD, was also confirmed as a member of the committee.
All three candidates touched on the current bias that has labeled the ASUCD Senate as a "political science majors club" and said they hope to begin working to combat that notion.
Naeema Kaleem, a fourth-year sociology major and the Elections Committee chair, delivered the Elections Committee's quarterly report. In light of the uncontested Fall Election, Kaleem said she is looking forward to rebranding during Winter Quarter.
"If senators do their job and properly advertise and recruit folks, it truly will take two minutes to go online and read those platforms and vote," Kaleem said.
Kaleem said the Elections Committee expects a much higher voter turnout next quarter.
"Each senator will reach out to three communities they represent or they ran to represent," Kaleem said.
Next, the Mental Health Initiative gave its quarterly report. Events coming up include Mental Health Awareness Month as well as the Mental Health Conference. Students can attend the latter event in January where they can hear professionals as well as student panelists speak. Workshops will be available for students as well.
Nine new Mental Health committee members were confirmed.
The Senate took a 10-minute break at 8:44 p.m. After the break, students from the Whole Earth Festival gave their quarterly report.
Lauren Cabantac, a third-year psychology major, is the new unit director for Housing Advising for Undergraduate Students. Cabantac delivered the quarterly report to the Senate.
The Senate then discussed ASUCD Senate Resolution #2. The resolution was authored by Ethnic and Cultural Affairs Commissioner Julienne Correa and co-authored by more than 24 students.
SR #2 "recognizes the 'It's Ok To Be White' posters as a hate crime, committed against students of color and [calls for] more transparency between administration, UC Davis Police Department, and ASUCD when hate crimes or hate incidents occur on campus."
Senators hope to build on the resolution to systematically deal with hate crimes when they occur on campus. The resolution was passed by the Senate 11-1 — Senator Yamaguchi voted no. Following the report, the Senate then discussed newly-introduced resolutions.
The Senate brought up the previously-passed ASUCD Senate Bill #16 that was presented to the Senate floor on Nov. 16. SB #16 amends ASUCD Bylaw Section 616 to "strike out the requirement of cutting the number of stipend positions within the budget by 12.5 percent while maintaining the 12.5 percent increase to stipends," according to the Senate minutes.
The Senate addressed new legislation. Senate Bill #17 will require "senators to report their adopted units on all events that occur at Senate," according to the Senate agenda.
The meeting adjourned around 11:30 p.m.
Written by: Ally Russell — campus@theaggie.org