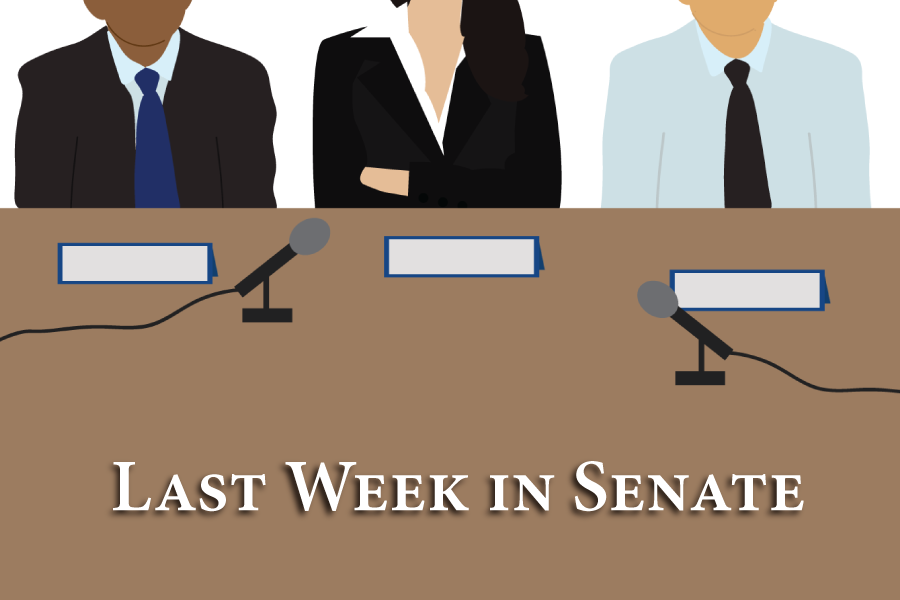 Six senators said goodbye, six newly-elected senators sworn in
On Dec. 7 at 6:12 p.m., Vice President Adilla Jamaludin called the ASUCD Senate meeting to order in the Mee Room of the Memorial Union. The first order of business was bidding farewell to outgoing senators — each senator was given a chance to deliver expressions of gratitude and offer advice to incoming senators. Business and Finance Commission Chair Alex Mirov also said his goodbyes, after giving his notice of resignation from his position at the Nov. 9 Senate meeting.
Senators Simran Grewal, Julie Jung, Jose Meneses and Matthew Yamaguchi ended their Senate terms, as did interim senators Michael Swalberg and Manasa Gogineni.
Friends and loved ones were present at the meeting with flowers and cell phones in hand to capture the tearful goodbyes of the senators leaving office.
Swalberg and Jung both advised incoming senators to remember that ASUCD is a place to listen to one another.
"Whichever choices you make, be ready to answer why," Jung said.
After the last of the outgoing members gave their farewells and the table took a final group picture, the six newly-elected senators all raised their right hands before the table and recited their oath into office.
The six newly-elected senators are second-year computer science major Danny Halawi, second-year economics and environmental policy analysis double major Jake Sedgley, second-year managerial economics and political science double major Bryan Perez, second-year chemical engineering major Jesse Kullar, second-year economics major Andreas Godderis and second-year communication and psychology double major Gaven Kaur.
Roll call was taken at 8:55 p.m. There was full attendance.
A vote for a new pro tempore was held and newly-elected Senator Kaur was nominated and voted into office.
Controller Jin Zhang led ASUCD Committee Reports.
The Technology, Internet and Network Committee's goals are to purchase new technology, create a reserve to afford present and future purchases and update their website.
The Unit Relocation Space Allocation Committee's goals are to reallocate the space in Lower Freeborn. The new floor plan would allocate the space currently being used by The California Aggie and Aggie TV to the Pantry. What used to be the Pantry would be used as space for a new Student Services desk. KDVS would move out of Lower Freeborn
The third floor of the Memorial Union will be remodeled to install more windows.
Units and committees with open positions were read aloud so that interested senators could choose to adopt an available unit or become involved with a committee. The assignment of senators to units and committees with available positions will be decided the first week of Winter Quarter.
The Aggie Public Arts Committee delivered a report on its goals to promote outreach and collaboration with the Aggie Reuse Store and mental health groups on campus for future projects. Two new members were confirmed to the committee without objection.
Jacob Ganz, the chair of the Internal Affairs Commission (IAC), introduced Senate Bill #20. The bill calls for online documentation of all ASUCD activities.
The DREAM Committee reported its efforts to collect donations for the campus' lending library and cap and gown rentals.
The Experimental Community Gardens reported a good number of student farmers. Its shed needs reconstruction and new tools need to be purchased after a robbery occurred.
There was a break at 9:01 p.m. The meeting reconvened at 9:14 p.m.
Ganz, under the IAC, proposed new legislation which would require Senators to dedicate a portion of their mandatory office hours to setting up meetings with clubs and committees. The bill will come to the table the first week of Winter Quarter.
Senator Yajaira Sigala made a plea to the Senate table to call local congressional members in the following two weeks to support the DREAM Act in which thousands of immigrant youth are at risk of deportation.
Ex-officio and elected officer reports were then delivered.
A bill regarding Housing Advising for Undergraduate Students was passed without objection.
Senator Rahi Suryawanshi then motioned for a closed session.
Senator Marcos Rodriguez motioned for a closed session asking for testimony from Controller Jin Zhang, the interim business manager and Judicial Council Chair Ryan Gardiner. The motion passed, and everyone present except the three specified individuals were asked to leave at 10:29 p.m.
Written by: Elizabeth Mercado — campus@theaggie.org