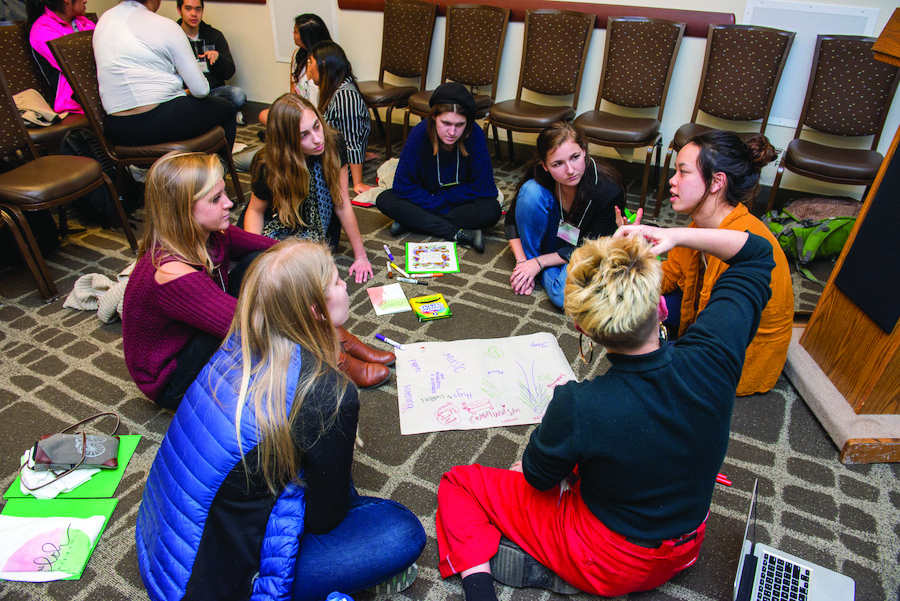 Conference to be held Jan. 20 to 21 will include professionally-led workshops, keynotes, resource fair
Content warning: This piece contains references to mental illness and suicide.
From Jan. 20 to 21, the UC Davis Conference Center will host UC Davis' second Mental Health Conference. The conference — bolstered by experts offering keynotes and workshops — is run by an "entirely student-led initiative that aims to engage students in destigmatization and education efforts, prompt attendees to organize around mental health issues and offer them the opportunity for self-reflection and healing through mental health discourse," according to the event page.
A Mental Health Initiative that started as a ASUCD Senate project has grown into a platform for a two-day conference and other events such as performances, panels and a resource fair. Attendees will be given access to diverse therapeutic techniques such as coloring activities and digitally-guided meditation in a "healing space." All activities are administered by volunteers who have received the national certification for mental health first aid.
This year, the event's closing keynote will be given by Sacramento Mayor Darrell Steinberg, who was a driving force behind Prop. 63 — which was created to fund mental health services — and who also founded the Steinberg Institute. The Institute, according to its website, "was created to upend the status quo and dramatically raise the profile and increase the effectiveness of mental health policy-making in California."
To Samantha Chiang, a fourth-year English major and the director of the initiative, the initiative and conference may not be groundbreaking, but she saw exceeding necessity within underrepresented communities where approaching mental health can be stigmatized, silenced or forgotten. Chiang said she understands the complexity — and individuality — of unpacking mental health concerns in regards to both the cause and the cure. She said she views this conference as a specific way to provide immediate mental health assistance and resources to those who cannot afford or access individual professional mental health care.
"Is this revolutionary?" Chiang asked. "Not by any means. I don't think it can tackle the root of the problem. Yet, there are material needs of underrepresented communities that need more immediate assistance and the mental health community has historically been silenced and discriminated against."
The Mental Health Initiative comprises 15 board members who coordinated and programmed the conference with the help of over 55 volunteers. Chiang said that exploring mental health concerns is a passion for these members, all of whom have been affected by mental health issues. Following the first conference's popularity, the initiative received an overwhelming amount of board applicants in 2018 — only a quarter of interested applicants were able to be accepted.
Chiang explained how an ASUCD Senate project of a mental health initiative became a programmatic committee, responsible for coordinating campus outreach and events that culminated in an annual conference.
"The board members applied through vacancy.ucdavis.edu and went through interviews, in which ASUCD leadership was courteous enough to give us relative autonomy in this process," Chiang said.
The popularity of the 2017 Mental Health Conference prompted Chiang and other team members to expand this year's event.
"Last year, we didn't know how to use the venue to its fullest capacity, but this year, we've worked with Conference and Event Services to create a setup best suited to our need," Chiang said. "As such, we are now proud to offer a full healing space, as opposed to one stuck in a back room. Additionally, we hope that our art display and photo booth will truly cement the nurturing, compassionate atmosphere that we strive to create in our conference and overall initiative."
Since last year, the conference has tripled in size due to increased funding by UC Davis — registration increased from 150 to 420. But some students who want to attend will not be able to. Tickets have already sold out online, and Chiang says the event's physical capacity does not allow for any admission exceptions. She sees this unfortunate situation as a meeting point of extraordinary demand for mental healthcare with UC Davis' lack of support for such student services on campus.
"With 125 people already on the waitlist, it is simply impractical and irresponsible of us to accept more attendees," Chiang said. "I hope that the initiative can eventually come to a point where we can accept anyone who wants to attend; there's such a high demand for educational mental health events and healing spaces. Yet due to inadequate funding for both counseling services, psychiatric services and student-led programming, our capacity to help students and community members simply cannot keep up with the university demand."
According to Chiang, feedback from last year's conference resulted in an increase in activities and programs led by non-student professionals and experts.
"We have mental health professionals coming to UC Davis from all over the state," Chiang said. "We are incredibly excited to offer suicide prevention training and certifications, […] community-based programming regarding masculinity [and] the prison justice system as well as ethnicity and culture. In addition to modules centered on education, we also have ones touching on personal healing and growth, with topics such as yoga, anxiety management and compassionate communication."
The conferences' panel coordinator Katrina Manrique, a fourth-year English major, discussed how the conference harnesses cost-free and destigmatized resources for students.  
"The Mental Health Conference is important because it gives students with mental illness space and freedom," Manrique said via email. "Attendees with mental illness are able to freely and safely engage in workshops and resources which can benefit them. It is important for folx to realize that there are many different constraints which prevent a person with mental illness from understanding or confronting their illness within their day-to-day life. There are cultural, professional, social, and socioeconomic barriers which make it nearly impossible for someone with mental illness to express or confront their illness. This conference, for many, is one of the few spaces they can safely face their mental illness."
Chiang talked about the conference's need-based roots — prior to the creation of the Initiative and Conference, UC Davis students were disappointed in the campus' lack of mental health conferences and support that other campuses have.
"Twelve [UC Davis] undergraduates attended the UC Irvine Mental Health Conference and realized the need for similar programming catered to the UC Davis community," Chiang said. "They decided to go about working with an ASUCD Senate staff and from there, the UC Davis Mental Health Conference was born."
For Chiang, championing the initiative and the conference intersected with her own mental health and identity. She said she seeks to unite the UC Davis community, composed of a diverse range of identities, especially those underrepresented, and strives for every individual to be recognized and validated as deserving mental health care.
"I am involved with the initiative due to my positionality in society as a Taiwanese American womxn with a complicated relationship to immigration that intersects with my bipolar disorder, PTSD, anxiety, panic disorder and substance abuse disorder," Chiang said. "At the same time, I try to bear in mind that my mental health is not adversely affected by my sexual orientation, gender, physical ability, or socioeconomic status. No one person can fully understand all the intersections of mental health — our initiative tries to suture that divide in the mental health community by creating one space where people interested in mental health can convene on our campus."
Written by: Aaron Liss — campus@theaggie.org