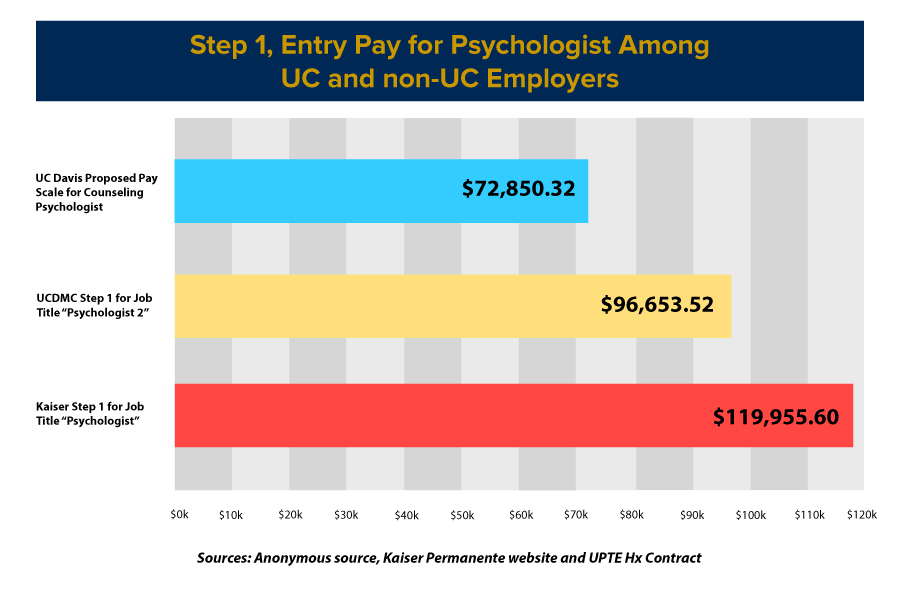 UC Office of the President's most recent salary proposal effective wage reduction
This article is the first in a three-part series examining issues that counseling psychologists in the UC system are currently facing, including under-market wages, understaffing and high demand leading to systemwide recruitment and retention issues.
Bargaining negotiations are currently taking place between the UC Office of the President (UCOP) and University Professional and Technical Employees (UPTE) over terms relating to employment under the job titles Counseling Psychologist 2 and 3 in the UC system, including and perhaps most notably relating to the under-market pay scale these employees receive at the UC.
When asked why several, if not all, UC campuses are severely understaffed in terms of counseling psychologists, Aron Katz, a psychologist at UC Davis' Student Health and Counseling Services said "it comes down to money."
"I love my work, I love being here, but you can go ten miles down the road in either direction and make 20 to 50 percent more," Katz said. "It's a tough sell."
According to Jamie McDole, the vice president of UPTE, the below-market salaries counseling psychologists currently receive, in addition to heavy workloads, are the main factor behind the retention and recruitment issues UC campuses struggle with. McDole said counselors are "stressed, overworked and overburdened."
"The only way to achieve adequate staffing is to have adequate salary to recruit competent therapists and then retain them," McDole said.
_______________________________________________
In January, UPTE successfully petitioned the Public Employment Relations Board, a state agency, to add the job titles Counseling Psychologist (CP) 2 and 3 into union membership. Previously, counseling psychologists were not unionized. According to Katz, the distinction between CP2s and CP3s is not "meaningful" — currently, the title of CP3 is used to denote "semi-management positions."
Two separate processes between UPTE and UCOP are now occurring. Accretion is the process of adding counseling psychologists to the pre-existing healthcare contract (Hx). Since accretion negotiations began, the pre-existing Hx contract counseling psychologists are being added to expired on Oct. 31.
"Accretion negotiation began in January," said Katz, who is also the UC Davis counseling psychologist representative for bargaining in the accretion process. "In the time it's taken to negotiate this, the Hx contract has expired, so that also needs to be negotiated. We are fighting to keep those two negotiations separate, because if they were combined, counseling psychologist staff would have next to no influence on our terms because we would make up such a small proportion of Hx members."
According to Katz, salary negotiations are the "major sticking point to resolving accretion." The current pay range for CP2s is $66,214 to $119,186 — "but no one is at either end" of the scale, Katz said, "so it's terribly misleading." Using the list of counselors posted on the SHCS website, The Sacramento Bee's 2016 state worker salary database shows most of these full-time counselors received salaries in a range between $86,000 to $98,000.
At a local healthcare provider such as Kaiser, the job title "psychologist" has a pay range of $119,955 to $155,764. UPTE has presented UCOP with a step scale structure of pay ranges for counseling psychologists reflective of local markets. Each UC campus has a different salary structure it is presenting.
"The current step that has been presented to represent UCR is pretty much indicative of other community colleges [and] it also […] takes all those different local pieces into consideration," said a source from UC Riverside who wished to remain anonymous. "I think the biggest issue that UCOP has with the step salary is that it requires them to pay us more, basically comparable to what people are leaving the UC system for — people are leaving the UC system for higher paying jobs. The only argument is that they have no money or that there's no funding for it, that it would require too much stretching of the budget to give us comparable pay."
During negotiations, UCOP presented UPTE with three offers. UCOP has proposed a step 1 entry pay of $72,850.32, according to a source who wished to remain anonymous; for comparison, the UC Davis Medical Center's entry pay for the job title "Psychologist 2" is $96,653.52 and the entry pay at Kaiser for the job title "Psychologist" is $119,955.60. Both UPTE and UCOP are proposing a step scale for salaries — UCOP's salary proposition would place existing counseling psychologists on a salary step corresponding with the salary range they currently receive.
According to Katz, UCOP's salary proposals are effective wage reductions. Although counseling psychologists could potentially receive a small raise, when union dues and an increased contribution to the UC Retirement Plan are taken into account, there is "a reduction in the take home pay."
According to UC spokesperson Stephanie Beechem in an email interview, the UC has, since March, "offered multiple fair and reasonable proposals on wages, benefits and other employment matters in order to reach a settlement."
In 2016, the UC Office of the President publicized and promoted a mandate which stated that, by 2018-19, an additional $18 million would be allocated to the mental health budget to "support hiring 85 mental health clinicians" UC-wide. Counseling psychologists in the UC system are funded by student fees. The additional $18 million allocated to the UC's student mental health budget is comprised of "an increase in the annual student services fees," according to the UCOP website.
"UC states that salary funding is limited to student fees (which students recently voted to increase for additional availability of services)," McDole said via email. "That limit is set by the university and there is no reason, other than an arbitrary university decision, that mandates the limited funding source. We have brought this up many times in bargaining, but the University continues to limit funding."
Beechem did not respond specifically to the question: "If there is an additional $18 million in the mental health budget, why is UCOP's most recent salary proposal for counseling psychologists unreflective of local markets?" Beechem did say that the UC "continues to negotiate in good faith."
McDole and Rodolfo Victoria, a senior staff psychologist and the bargaining representative from UC Irvine, however, both allege that UCOP has engaged in bad faith bargaining.
"We thought, coming into this, that we would be negotiating in good faith and that has not been the case," Victoria said. "There seems to be a very strong reluctance to negotiate with us in any kind of meaningful way. They initially had offered to lower our salary and then now they're at a place where they're trying to present themselves as very generous and offering to give us a raise that we would have been entitled to under the […] system that we were under. They're trying to say that we are a valuable resource on campus, but yet, when we ask them to […] at least give us fair and competitive market wages, they have been incredibly reluctant to do so."
In a memo from June 1, composed and sent by Dwaine Duckett, the vice president of human resources for UCOP, he claimed "UPTE has presented a wage demand UC believes is unrealistic that would almost double costs for our Counseling and Psychology Services and Student Health Centers."
"That is false," McDole said about Duckett's claim. "I think if we did all the full calculations of what we are proposing, [it] is overall approximately a 30 percent increase in total costs. We did the math, they didn't."
Duckett was unavailable for comment.
An online petition titled "Petition for Good Faith Bargaining With Campus Counseling Psychologists" states that the "UC has lost staff due to the lack of competitive campus wages, which has substantially decreased the availability of mental health staff for students. The intensity of student needs is increasing to the point that we, the staff, fear for our safety and that of the students and campus community."
A counseling psychologist from UCLA, who wished to remain anonymous, said they signed the online petition, which has over 200 signatures, because, after working "at a number of different counseling centers, […] there's something about the fear and dispirited, disjunctive culture that is palpable here."
Several counselors at multiple UC campuses said both they and their colleagues feel that the UCOP sees counseling psychologists as replaceable. Victoria said, at UC Irvine, "there's already a huge morale burnout issue on our campus."
According to Katz, a UC employee asked UCOP's Chief Negotiator Patty Donnelly at a meeting during negotiations "if recruitment and retention of counseling psychologists is a bargaining interest of UCOP" and Donnelly said "no."
Donnelly was not available for comment. Beechem did not respond to the specific question: "Is the recruitment and retention of counseling psychologists a bargaining interest of UCOP?"
"We get the message that we should be grateful to work for UC and that if we're not happy here for any reason, that we should just consider leaving," said a counseling psychologist from UC San Diego who wished to remain anonymous.
The same UCSD counseling psychologist said, as negotiations drag, there is the risk of losing more staff — "I've already heard murmurings about people looking elsewhere and feeling frustrated."
Another meeting for accretion negotiations is pending scheduling for Jan. 12. Asked how hopeful he was that negotiations would be completed within the next month or two, Victoria said "not very." McDole said, most recently, "the university has proposed scant increases that in no way moves therapists toward market wages."
At this point, there has been informal discussion of a strike among several individual campuses.
"I can say that […] we are quite frustrated with how things are going and the lack of progress on UCOP's end," Victoria said. "There has been talk about [striking]. We obviously would like to avoid that at all costs — we don't want the students and the campus community to be impacted by this. But at some point, if this continues like it has been, that's obviously an option we'll have to consider."
Written by: Hannah Holzer — campus@theaggie.org