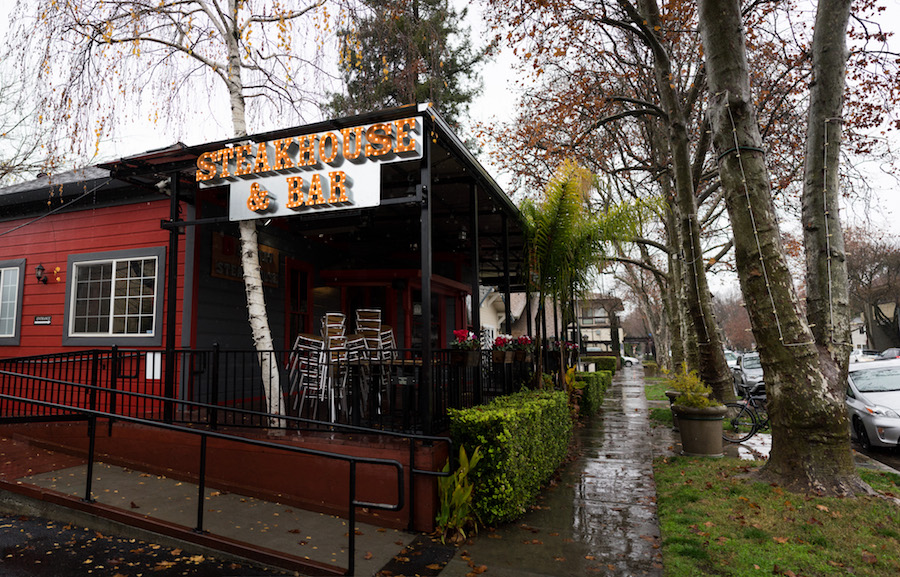 New downtown steakhouse provides variety, struggles to excite
Davis welcomed its first steakhouse to the downtown area this fall. As many would guess, D Street Steakhouse is located at the junction of D and 1st street. You'll know you've found the spot when you turn the corner and spy the outdoor patio adorned with a large, beaming "Steakhouse & Bar" sign. The Aggie stopped by to see what D Street Steakhouse offers.
The moment you enter the steakhouse, you're struck by the sweeping bar to the right and the intimate environment of the dimly lit tables just down the hall. At times, D Street Steakhouse has had live music, and upon my arrival, there was a small jazz band playing in the corner of the bar area. Even after being seated in the back of the restaurant I could still hear the music throughout my meal. With live music in restaurants becoming an increasingly rare phenomenon, it was a lovely addition to the dining environment.
That being said, it quickly became apparent that D Street Steakhouse is understaffed. There were seemingly two employees with the responsibility of hosting, waiting and running the bar. It simply wasn't enough. The wait for a table was long even with a reservation, service was slow and the employees were clearly (and understandably) stressed. While this is an easily fixable trait of the restaurant, it will negatively impact the entire D Street Steakhouse experience until addressed.
Given the nature of the restaurant, I ordered the "D Street Sirloin" steak. However, there are many options on the menu including several other steak options, seafood, burgers, poultry, salad and more. The steaks come with a side of fries and a house salad. The fries were delicious and the salad, while small, was fine. The steak was quite good, slightly overcooked for the rare that I ordered, but nevertheless I could tell that the quality of meat was top notch, and I enjoyed the main course.
To round out the meal, I tried the tres leches cake. The slice of cake arrived on its side in a bowl full of sweet milk. I was skeptical and rightfully so. While the taste was fine, the texture left much to be desired. I felt as though I was eating a bowl of cereal. To put it simply, the dish needs work.
Ultimately, my time at the D Street Steakhouse was positive. While my meal was not perfect, the steak was good and the atmosphere was nice. As a restaurant in its infancy, I see potential in the D Street Steakhouse. The space achieves elegance in a simple way that Davis residents will appreciate, and the restaurant's cuisine and staff have plenty of time to grow. If you're looking for a slightly upscale night in the downtown area, this can be your destination. However, be sure to temper your expectations, as this restaurant is a serious work in progress.
Written by: Rowan O'Connell-Gates — arts@theaggie.org