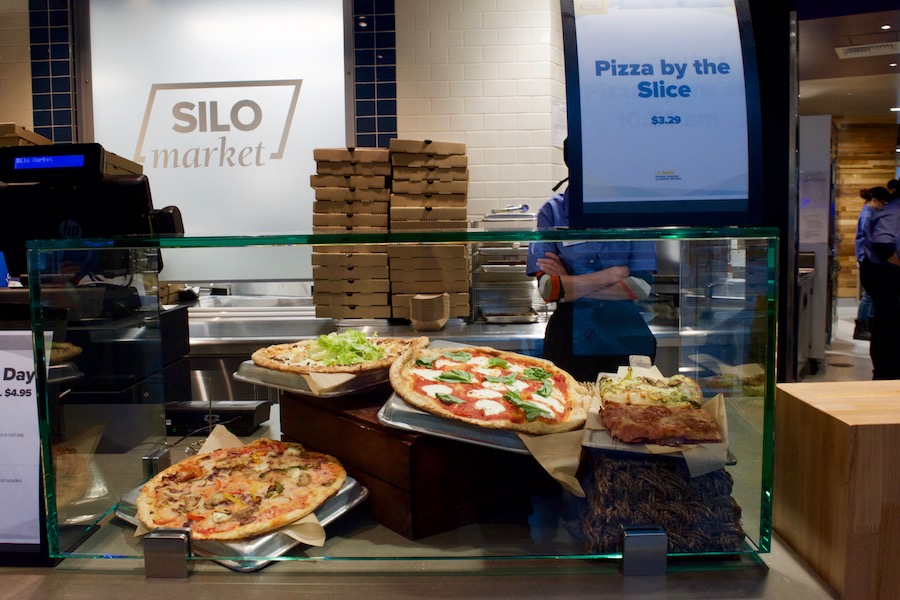 UC Davis' attempts to bring diversified food options to south campus
As students slowly acclimated themselves to the 2017-2018 school year during Fall Quarter, many discovered drastic changes since the last time they stepped foot on campus. Toward the end of last spring and into the beginning of summer, UC Davis launched multiple construction projects, one of which was the complete renovation of the Silo area and its accompanying restaurants. With the anticipation of these new restaurants resonating throughout the summer, eager students rejoiced when they finally got the chance to try out these new eateries as they opened their doors for fall 2017.
The newly renovated south campus dining joints include Spokes Grill, Crepe Bistro, The Gunrock and the Silo Market. UC Davis' Student Housing and Dining Services carefully selected these restaurants in accordance with its ultimate goal of delivering a varied array of dining options to students.
"We launched a new program here at UC Davis and created all the concepts from scratch," said Charles Irvin, the retail supervisor of Spokes Grill. "Spokes Grill was our quick-burger concept. With Spokes Grill, we try to get people in and out as fast as possible with simple but still quality food."
Spokes Grill tries to cater to students' increasingly hectic schedules by offering a wide range of quick, hassle-free food options that can be eaten on the go. Starting this quarter, the restaurant will launch a breakfast extension to its menu.
"Throughout the returning week into Winter Quarter, we're going to be handing out coupons for $1 off our breakfast items," Irvin said. "We have a fun breakfast menu that includes chicken and waffle sandwiches and other delicious ideas."
All these efforts are made to ensure that students have stress-free dining experiences, especially taking into account the already mountainous pile of stress students handle on a daily basis.
"We understand that students have busy school schedules," Irvin said. "We're just trying to create a welcoming environment where students can come in, relax and enjoy their study time. Our primary goal is to make the Silo area feel more student-friendly and student-personalized."
In addition to the opening of the brand new Spokes Grill, UC Davis also revamped one of its most well-loved restaurants, The Gunrock. Formerly known as The Gunrock Pub, The Gunrock has undergone several major changes, including its interior design and overall ambience, menu variety and hours of operation.
"We had our wood floors refurbished, we got new carpeting, new tables, new lighting," said Keith Luke, the manager of UC Davis Retail Dining. "We are working on new artwork — our design team is working on new interior design concepts to make [the restaurant] a little bit more new-aged and modern."
Alongside changes to its interior design and decor, The Gunrock has altered its menu to focus on more local and seasonal flavors.
"Our menu has definitely changed," Luke said. "We're very focused on using our student farms here on campus and utilizing as much fresh produce from those student farms as possible. We've definitely focused in on the sustainability aspect as a whole, kind of moving in the direction that the entire campus is moving in. Rather than having the fast food chains that aren't necessarily offering the healthiest food options, we wanted to focus on health-oriented, better-quality food."
Having The Gunrock be a student-staffed, student-friendly eatery is imperative to Luke and his team, which is why they made it a priority to create a no-stress environment when they renovated The Gunrock.
"In the past, there has been a lot of staff and faculty, which is fine because we love our faculty members," Luke said. "But a lot of students didn't know we were here, and if they did know that we were here, they didn't really feel welcome. We changed our service style to be a lot more casual. We want to get more students coming in."
In past years, Gunrock Pub has received critique, from both staff and students, for its brief hours of operation, 11 a.m. to 3 p.m. from Monday to Thursday, and then 11 a.m. to 2 p.m. on Friday. Taking this concern into consideration, The Gunrock management team extended the restaurant's hours to accommodate to its customers' requests.
"From 11 to 2 we are going to be [providing] full service, where servers will come to your table, take your order, and provide the full dining experience," Luke said. "From 2 to 5, we're going to be changing our dynamics [to create] more of a casual feel. We want [The Gunrock] to be a place where people can hang out and enjoy the afternoon, kind of creating a happy-hour feel."
The Silo's close proximity to Bainer and Kemper halls makes it a prime dining location for students who have class in either halls, especially engineering students. Max Herrenbruck, a fifth-year mechanical engineering major, spends much of his time on campus in or around Bainer Hall and appreciates the convenience of the Silo restaurants.
"I probably go to the Silo around two to three times a week for food," Herrenbruck said. "I go [to the Silo] so often because of the convenience, and also because it's got variety. If I want to grab something [to eat] around lunchtime, I have something."
Herrenbruck especially finds himself gravitating toward Spokes Grill
"Especially for Spokes Grill, I would say that the cost-for-quality ratio is great," Herrenbruck said.
Written by: Emily Nguyen — features@theaggie.org