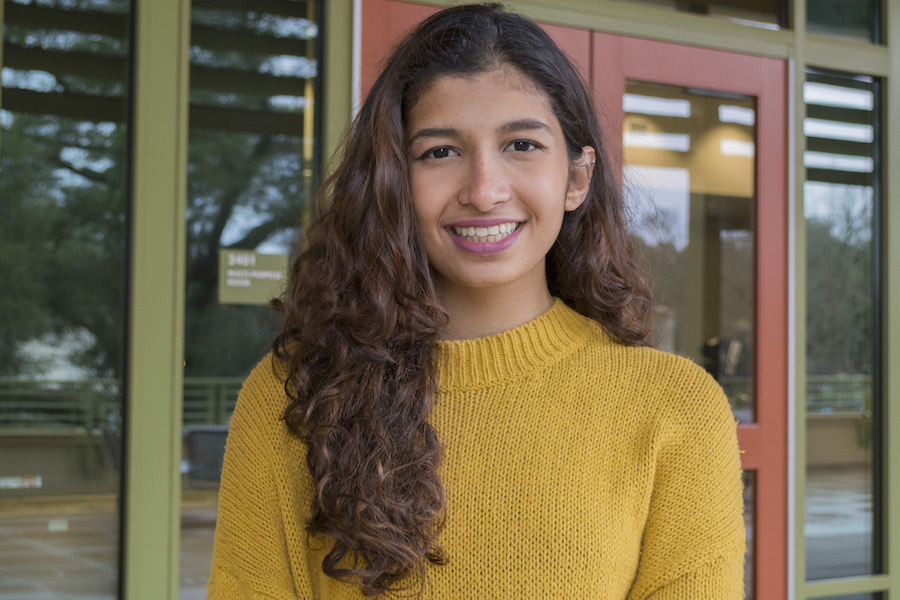 Reflecting on her time in office, Senator Suryawanshi discusses original platforms, successes, struggles
Senator Rahi Suryawanshi, a fourth-year international relations major, was elected as the fourth vote-getter during the 2017 ASUCD Winter Elections. Suryawanshi received an endorsement from The California Aggie for her experience with ASUCD as well as for her tangible platform.
As part of her platforms, Suryawanshi aimed to develop allyship workshops in first-year dorms and host free self-defense classes on campus. Suryawanshi also hoped to establish a scholarship for other international students, like herself.
During her time in office, as Suryawanshi learned more about her reach and tangible capabilities as a senator and her original platform has adapted — something she said she is proud of.
"What I came in with, my ideas, have really evolved," Suryawanshi said.
Suryawanshi shifted her focus toward tackling larger institutional issues working against students during her time as senator.
"When you're running for Senate, the easiest thing to do is look at campus and ask, 'How can I make it better?,'" Suryawanshi said. "But when you work a little longer, you realize if you add microwaves or something like that, how many people will it really impact? And you start thinking, 'What can I really do that will truly impact even ten people?'"
With regard to her original platforms, Suryawanshi said she encountered many setbacks.
"[Allyship workshops are] something that has been installed in orientation now, which is good, but I think I obviously wanted to go beyond that," Suryawanshi said.
Suryawanshi worked with Brandon Pettit, the director of the Office of Student Development, but the two could not feasibly figure out a way to make the workshops mandated events.
Similarly, Suryawanshi encountered issues working to implement her free self-defense workshops at the Experimental College. Issues of liability prohibited the Experimental College from offering classes without paid instructors. In the future, Suryawanshi mentioned that if funds were allocated to pay instructors, but keep classes free for students, the classes could still become a reality.
"I started working on other stuff, but I made sure I was working," Suryawanshi said. "It's very easy to get discouraged and not work on things."
Suryawanshi said she hoped to foster a more transparent relationship between students and administration.
When asked what she felt her biggest accomplishment has been during her time as a senator, Suryawanshi immediately spoke about her long-term goal to add 115 blue emergency lights to UC Davis' campus.
Currently, UC Davis, despite being the largest UC campus, has the fewest number of blue emergency lights — currently, the number of lights on campus is eight.
Beyond this, true to UC Davis' commitment to environmental sustainability, Suryawanshi has created a tangible plan to ensure the blue emergency lights added to campus are sustainable. Working with Vice President Adilla Jamaludin and the Davis Police chief, Suryawanshi has given the administration a clear plan of action to add blue emergency lights to campus by the end of the 2017-2018 school year.
Furthermore, through her capacity as senator, Suryawanshi held an event last year titled "Decolonizing the Arts." Suryawanshi, who is Indian, spoke about how hurtful it is to see people do Henna tattoos or other culturally symbolic art forms and who fail to recognize the significance of these art forms to Indian culture.
This year, Suryawanshi is working alongside the student directors of the Whole Earth Festival.
"We are really working on making Whole Earth Festival more inclusive this year," Suryawanshi said. "If we do that, we will make that space open for so many more people."
Additionally, Suryawanshi was one of 24 co-authors of Senate Resolution #2, which was presented and passed at the Senate meeting on Nov. 30. The resolution addressed the "It's Okay to be White" posters left around campus, labeling the act a hate crime. SR #2 also works to establish consequences for instances of hate crimes at UC Davis in the future. The involvement from members of the student body outside of ASUCD in the creation of SR #2 made the resolution distinct.
"I think it was beautiful, because we really tried to get more community support and I think this is how we should write every resolution," Suryawanshi said. "We, ASUCD, represent students, but we do not represent their thoughts, their voices and their styles. We don't, we can't, we don't have that capacity. And so I think one thing we should always do when we're writing resolutions is truly to go up to the SCC centers and actually make an effort to have community workshops like we did."
Suryawanshi also worked with the StartupHub to hold a startup panel for students last quarter. This upcoming Spring Quarter, Suryawanshi said she is looking forward to holding a second Startup Summit aimed specifically at giving marginalized communities a platform for their ideas.
"The Startup culture I think is really important," Suryawanshi said. "We need to benefit marginalized communities as best as we can. Last year, we didn't market it solely to marginalized communities, but they will this year."
Looking back on the year, Suryawanshi reflected on the highs and lows during her time in office.
"I had so much on my plate," Suryawanshi said. "My hands were overflowing."
At the beginning of her term, Suryawanshi was juggling her roles as the Artistic Director of a Japanese drumming group, Bakuhatsu Taiko Dan, organizing the first Startup panel in addition to accepting a fellowship to present her social entrepreneurship at the Youth United Nations in Europe.
Despite Suryawanshi's critical view of her own performance as a senator, her ASUCD peers hold her in high regard.
ASUCD Vice President Adilla Jamaludin worked closely with Suryawanshi on many of her platforms, including plans to add blue lights to campus.
"[Suryawanshi] has yet to deliver on some of her original platforms due to institutional changes," Jamaludin said. "Something to keep in mind: [Suryawanshi] has been instrumental in initiatives outside of her platforms. Much of this work involves building coalitions, a skill that many senators have yet to nurture. I definitely think she is one of the most competent and hard-working senators of her cohort."
ASUCD President Josh Dalavai also spoke very highly of Suryawanshi.
"Senator Suryawanshi was a warm, inviting presence to all visitors of the Senate and was extremely efficient in her pursuit of her student advocacy and outreach," Dalavai said.
Dalavai also commented on Senator Suryawanshi's ability to reach communities on campus otherwise left out of ASUCD.
"She has been a valuable member of ASUCD in regards [to] international student outreach," Dalavai said.
With her time in the Senate coming to an end this quarter, Suryawanshi plans to continue many of her projects she began with in her capacity as a senator. When asked what she would like to be remembered for accomplishing, Suryawanshi pushed back.
"This whole perspective that we should do things to be remembered, that's not the point," Suryawanshi said. "It doesn't matter what people remember you for. Your work matters. Your passion matters."
Written by: Ally Russell — campus@theaggie.org