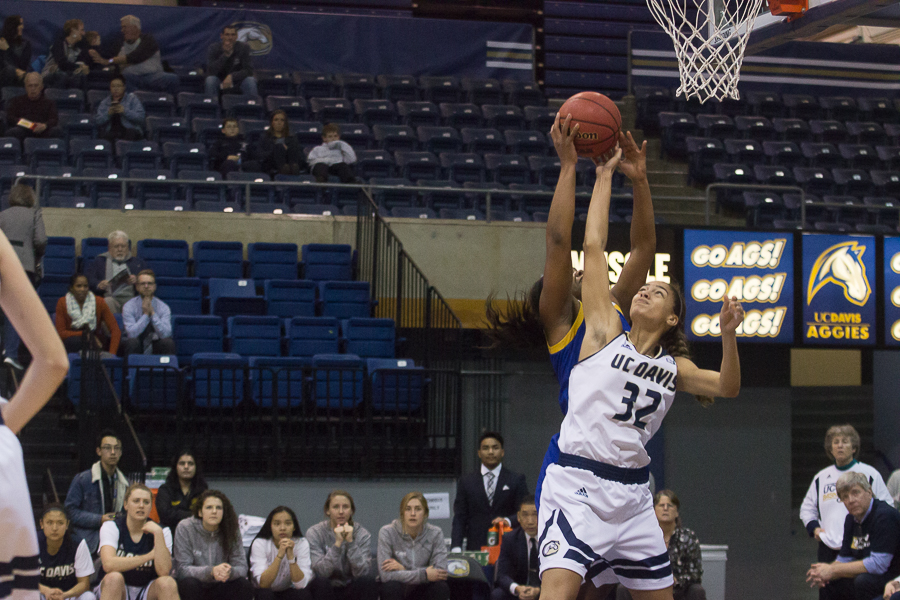 Aggies now 3-0 in conference, 7-1 at home
On Thursday, Jan. 11., the UC Davis Aggies beat the UC Riverside Highlanders 74-63. The Aggies entered the Pavilion coming off a 76-52 win against Hawaii. This triumph over the Highlanders gave the Aggies their 13th consecutive Big West Conference win.
After a rough first quarter and a notable absence from junior point guard Kourtney Eaton, who was caring for a pulled hamstring, the Aggies were down 13-8, only having shot three for 18, but a comeback in the second and third quarters secured the win. The third quarter saw five straight three throws from four different players.
"The good news is, we can't play much worse," said head coach Jennifer Gross. "That's the thing about a veteran team […] you're going to have some days where things aren't going to go your way […] I was really proud of our composure and how we just kind of stuck with it. We relaxed a little bit and knocked down a couple of shots."
At half-time, senior guard Dani Nafekh lead the team with 10 points and finished with a season-high 18 points. Breakout freshman forward Cierra Hall had already earned herself a career-high rebounds, totaling 12 by the final buzzer. Hall now has the most number of rebounds by a player this season.
"I think it's incredible," Hall said of her current record. "I feel like when I came here I needed to find my place on the team and if rebounding is it, then that's it and I'm just happy to be able to do whatever I can to help the team."
Gross also made sure to comment on the freshman's performance.
"I thought Cierra was remarkable […] really playing the point-forward for us," Gross said. "In a game like this, she's able to bring the ball up under pressure and the composure she has as a freshman is pretty unbelievable."
Leading by just three points, the Aggies hit their stride in the second half and shots really started falling. Senior guard Rachel Nagel scored the first trey, quickly followed by senior forward Pele Gianotti with an assist by junior guard Karley Eaton. Redshirt junior forward Morgan Bertsch scored a field goal assisted by Nafekh, and a three-pointer by Eaton forced a timeout by the Highlanders. The clock started again and Nagel secured a 14-point lead with back-to-back threes.
"That was the first time, that I can remember, that we've been doubled really hard, almost every possession," Nafekh said of the game. "It was awesome seeing our post be so calm and collected […] passing out and getting us open shots. And it was exciting to see us hit all those threes again. It's been a while since we've hit a bunch."
The Highlanders didn't let the Aggies keep that lead so easily. Twice the Highlanders managed to get their score within five points of the Aggies', but another lengthy run of consecutive points by the Aggies in the final quarter secured their victory. In the final seconds of the fourth quarter, the fans began chanting for one more basket at the hopes of winning free pizza, but the bench who had just come in couldn't quite get a handle on the ball.
"We talked about how this was the ultimate team win," Gross said. "I thought every single person contributed."
The Aggies will hit the road this week in hopes to keep their winning streak alive with games against UC Santa Barbara and Cal Poly. Gianotti, in particular, will be looking to score just four points in order to reach a career 1,000 points.
Written by: Liz Jacobson — sports@theaggie.org