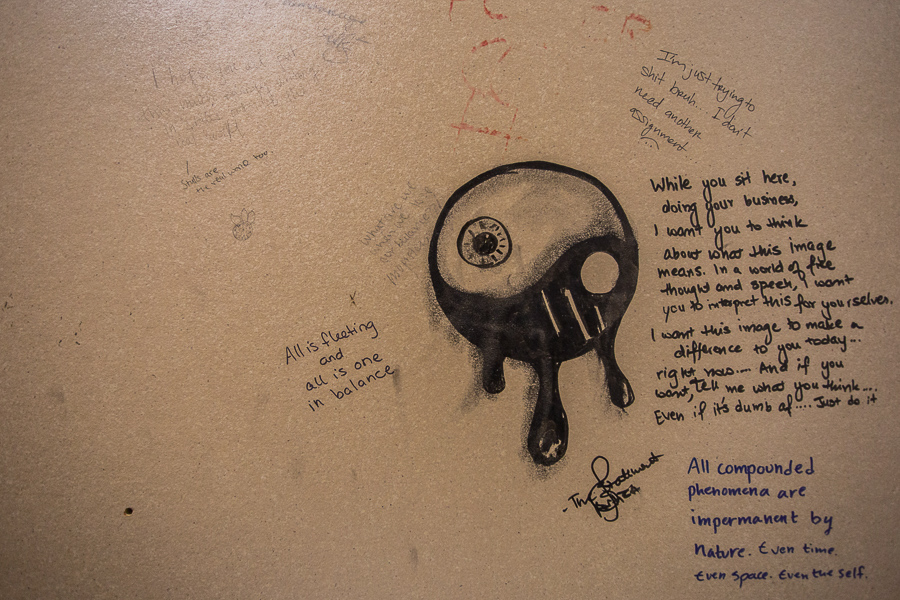 Putting actions into perspective
Writings and drawings splattered across restroom stalls are to be expected of high school bathrooms. Crowd a giant group of angsty teens into one building and out pop scribbles of mini rebellion in the confines of a stall. However, finding it on a college campus was a surprise. Retrospectively, it shouldn't have been.
After all, most of the strangers on this campus hail straight from high school. Many are also still figuring their lives out and learning to grow up, encountering their own struggles on the way. Provided the pure anonymity that a toilet cubicle wall brings and the guarantee of an audience, it shouldn't have been a surprise that a lot of them on this campus are decorated with jokes, drawings, supportive words, relatable frustrations, theological debates and spontaneous ramblings.
For example, in the men's restroom on the first floor of Bainer Hall, the message "Until you check, the toilet is simultaneously flushed and filled with a log of yesterday's Shah's" is written with a bubble around it labled "Schrodinger's crap."
The women's restroom in the CoHo showcases a lot. In one stall, political opinions are discussed in a small upper corner of one wall. In the same stall, others fuss over navigating a large campus, the patriarchy, an existential crisis and people slamming the doors. Among these are more excited messages written in colors and fonts shouting for attention, and some humble ones are mixed in as well. For instance, "A kite flies highest against the wind" is displayed, but in pencil and in small letters. "Sweetie, You Deserve Better. Love Yourself" is almost unnoticeable. In another stall, a positive message shaded by poor lighting sits below where most messages tend to get written: "I don't know you. I've never met you. But I'm thinking of you, reading this. Sending some love & good vibes. Have a beautiful day, darling." Drawings of a cow, a yin and yang symbol, a bat and a potato turning into fries are also scattered between messages.
In Rock Hall, a stall in the women's restroom features discourse mainly stemming from a quoted Bible verse. Another questions, "Wouldn't it be more enjoyable for everyone if we all were able to release our bladders in peace?" Most of the other responses to it are hard to make sense of — faded, blocked out by black permanent marker or written over by other unintelligible writing.
This past Fall Quarter, Wellman, Olson and Haring halls' women's restrooms all had a lot of vandalism as well. However, during breaks, the custodial department uses the time to do more in-depth cleaning across campus, so all of it has since been removed.
Yet this is not to say that the UC Davis campus and its workers don't experience negative repercussions from this graffiti. On Jan. 30 last year, UC Davis police sent out a timely warning regarding a "suspicious circumstances vandalism/hate incident." The letters "KKK" had been written in the same aforementioned CoHo women's restroom. Ricky Flores, a custodial supervisor, has also seen other negative vandalism.
"There was another [instance of hateful vandalism] that had come out and it was in this area [the Memorial Union] by the coffee [Swirlz] in the males' restroom," Flores said. "[A student] had drawn Bin Laden carrying a bomb. And I can see where some of the other students that come in would take offense to it."
Finis Jones, the director of custodial services, recommends sending in a "work task" to deal with offensive graffiti.
"We want to keep all restrooms suitable for use at all times. However, there are times when the staff may miss graffiti and/or vandalism which may be the reason you might see some delay in its removal," Jones said. "A work task can be submitted via our website if you notice graffiti or vandalism that hasn't been addressed in a timely manner."
According to Jasmine Aranda, a principle custodial supervisor, removing all the graffiti is more difficult than it seems.
"The products we have to use are expensive, and it is a very time-consuming job to remove the graffiti," Aranda said. "Because of all the scrubbing we do, we sometimes take paint off the walls, and then we have to get the paint shop involved to patch up the area. It is a complete inconvenience to everyone involved in the cleanup process."
Flores, too, voiced concerns about combating this problem.
"I've been out there doing it. I know they [the custodians] get stuck there doing it," Flores said. "Yeah, it is a struggle, frustrating. I see their frustration because they're trying their best to get it off. And again it's really the offensive ones [that make it harder]."
One might see a joke written on a restroom wall as an unexpected opportunity to laugh, a kind message as a lifting of their spirits and arguments over controversial or trivial topics as a nonsensical waste of time. Nowhere in these lines of thought does vandalism really come into play. Interest in the subject matter of the messages and drawings themselves overrides the core of what is truly being observed — displays of graffiti. Furthermore, it makes it easy to overlook the effort and frustration that goes into cleaning it up. For now, though, it might at least help to be informed of the trouble custodial staffs goes through in dealing with vandalism and how their lives would be made a little bit easier if the problem were to occur less.
Written by: Cecilia Morales — arts@theaggie.org