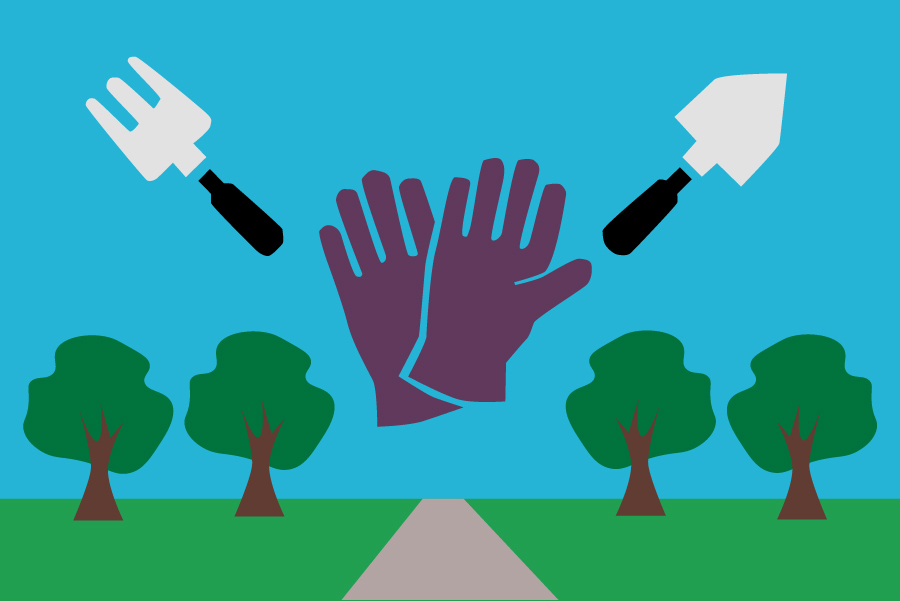 Community planting days established for regional park restoration
Capay Open Space Park, a regional park northwest of Davis, is no longer merely an open space, as volunteers have come together to beautify the area. In an effort to restore regional parks, the Yolo County Resource Conservation District partnered with the Cache Creek Conservancy.
Tanya Meyer, a project manager of the YCRCD, explained how the organizations came together to give life back to Capay Open Space Park.
"About two years ago, the Resource Conservation District wrote a grant to the Natural Resource Agency, and we worked with the Cache Creek Conservancy," Meyer said. "The grant was to improve the Capay Open Space Park."
Meyer noted that the soil of the park was in need of improvement.
"It's been around for about 10 years," Meyer said. "It's a pretty rough site because it wasn't actively a gravel mine but it was used for staging. The soil is very tough and doesn't take plants very well and it's barren, so we're trying to improve it."
Meyer then worked with the conservancy to coordinate planting days for volunteers to help out from Jan. 6 to 7.
"It's a small community," Meyer said. "We had eight adults and two children on Saturday and five adults and three children on Sunday."
While the group was small, Meyer noted how much the volunteers cared by coming out to help.
"It's always great to see people volunteer, especially since everyone is busy these days and people come out because they want to improve the park and be outside and plant native plants," Meyer said.
Nancy Ullrey, the executive director of the CCC, praised the volunteers.
"People who are interested in helping with restoring native grasses are marvelous," Ullrey said.
Ullrey also compared the restoration procedures to historical influence.
"It combines the whole historical stream in my mind — it's the past, present and the future," Ullrey said. "We are honoring what used to be and what thrives in a particular ecosystem region, and we are making a difference in the present, and it is for the future to benefit from. To me, it's just part of that great march of history."
Ullrey explained that the goal of the CCC is to assist in restoration of these regional parks.
"We get restoration funding from various sources, and we help restore those parks," Ullrey said. "The aggregate companies do the initial restoration. We come in and we enhance and we make sure that their initial restoration work continues to thrive, and that's what we're doing with Capay Open Space right now."
James Mizoguchi, a habitat restoration program manager for the CCC, described how the dates were set for planting.
"The dates were set to capitalize on seasonality," Mizoguchi said. "We have plants that have been in the ground for a certain time. We had community volunteers come out to help us plant native wildflowers and create a pollinator habitat."
The community's involvement along with the restoration plans are a start to restoring Capay Open Space Park.
"The project itself is most inspiring to me because Capay Open Space Park is perhaps an overlooked parcel of land," Mizoguchi said. "It has had significant soil compaction and other challenges to habitat restoration, yet the community is interested and engaged. Restoration staff at the Yolo County Resource Conservation District have done a great job of preparing planting areas and sites with novel approaches to restoration."
Mizoguchi recounted the mood surrounding the planting days.
"On an emotional level, the activity itself is so tranquil and gratifying at the same time," Mizoguchi said.
Mizoguchi also emphasized that there will be more projects to come as the movement shifts forward to bring the community together and make a difference with wildlife habitats.
"We're all dedicated toward enhancing and restoring high-quality wildlife habitats and outdoor space within Yolo County and the Cache Creek Watershed," Mizoguchi said. "This is one of many projects that the Yolo Resource Conservation District, Cache Creek Conservancy and Yolo County have embarked upon. There will be more in the future, and we invite everybody to join in on it."
The next planting date is set on Jan. 27, and others are welcomed to join and volunteer to help revive Capay Open Space Park.
Written by: Stella Tran — city@theaggie.org