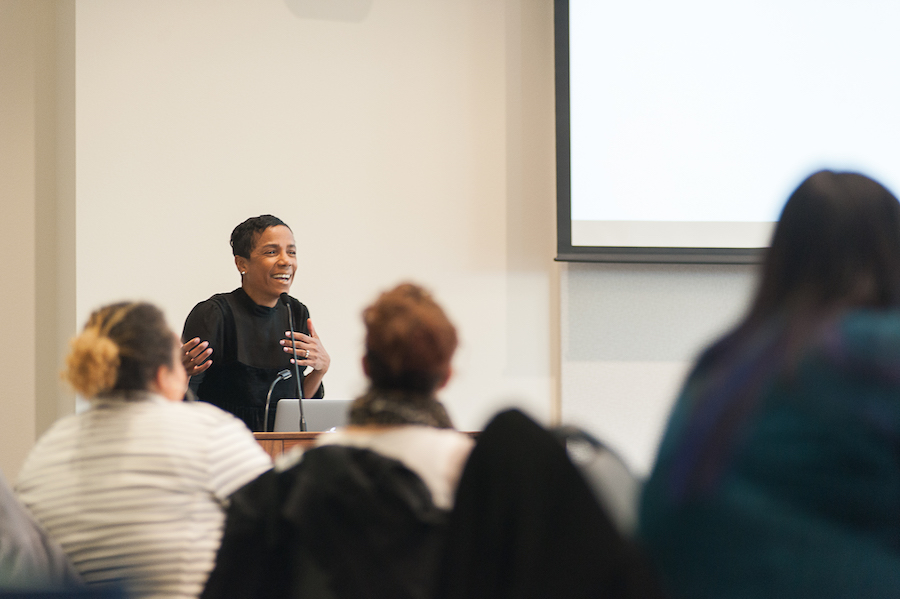 WiSE kick-off event included speech from LeShelle May
On Jan. 11, the kick-off event for the UC Davis Women in Science and Engineering program took place at the Student Community Center.
According to Sara Blair-Medeiros, the assistant director of outreach at the WRRC, "The WiSE Program at the WRRC was established in an effort to promote a mentorship opportunity centered on those with marginalized gender identities in the fields of science, technology, engineering and mathematics."
"WiSE aims to provide a supportive, gender positive environment in which mentees work together with their mentors to achieve their academic and professional goals," Blair-Medeiros said. "In doing so, the program aspires to help improve gender equity in these fields. We believe that the recruitment and retention of students of underrepresented gender identities is essential to promoting gender equity in STEM and is a pillar of the gender equity work we engage in at the WRRC."
Through the program, female students in STEM are paired with experienced mentors with whom they can meet up periodically for advice on such topics as job-finding and resume preparation.
The event started off with a speech by LeShelle May, a highly-accomplished computer engineer recognized for her leadership and innovation in the development of software and web applications.
According to May's biography on the UC Davis website, her "projects include the 2014 launch of the CNNgo app that offers live news coverage to online viewers and enables them to scroll back to see what they missed" as well as "the development of a video content management system that instantaneously delivers stories to hundreds of newsrooms worldwide."
May started off by talking about her beginnings in science, where she was the only female student in many of her AP classes. She then presented several slides on how social media is changing the landscape and how biotech and engineering are coming together — showing the abundance of opportunities in STEM fields.
"Remain steadfast. You can do it," May said to attendees at the kick-off event.
In the next part of the conference, the attendees were asked to break into small groups to discuss what gender equity means to them and how their social identities affect their careers in STEM.
May summarized the points brought up in her group, including lack of equal pay for women, lack of encouragement that women have in STEM, stricter assessment for women and the fact that women are often not trusted on high-profile projects.
Other points brought up were bias and the patronization of female graduate students as well as women not receiving credit for their work.
In the next segment of the event, WRRC staff presented the definitions of common social justice terms such as genderism, privilege, intersectionality and mansplaining. They also introduced a number of other programs and events offered by the WRRC, including the Davis Feminist Film Festival, Black Futures Month and the Janet Mock Book Club.
Marisol Wolf-Ochoa, a second-year neuroscience graduate student in attendance at the WiSE event, found it to be worthwhile.
"There are a lot of lessons to be learned from other people's journeys," Wolf-Ochoa said. "It makes you feel you're not alone."
Written by: Clara Zhao — campus@theaggie.org