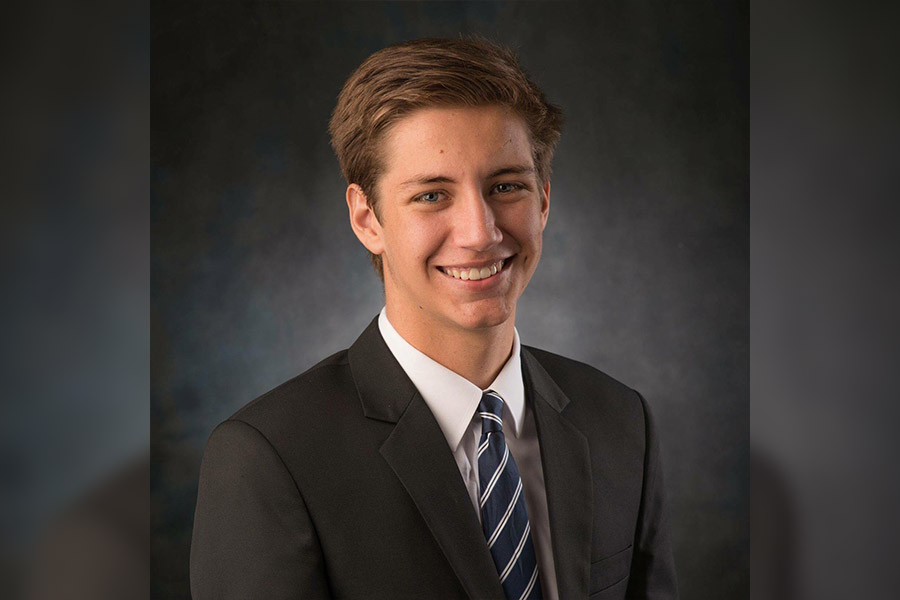 Second-year student remembered as charismatic, joyful, dedicated
Blair Fox, a second-year UC Davis student, recently passed away in a skiing accident in Lake Tahoe. An economics major, Fox was a brother in the Sigma Nu fraternity and a member of Model United Nations. Involved in numerous ways both at UC Davis and within the Davis community, Fox touched the lives of many people.
"Blair was the type of person who would make anything really fun and who was just friends with everyone," said fourth-year psychology major Jade Mawhinney, who was a good friend of Fox's.
Mawhinney fondly described some of the memories she shared with Fox in the time that she knew him.
"One night, we ended up at Burgers and Brew at 2 a.m. and Blair got these disgusting fries and he was obsessed with trying to get me to try them," Mawhinney said. "I always tagged him in memes on Facebook, and it turned into a tagging spree. He would respond and tag half of his chapter. It sounds so 21st-century millennial, but we were trying to just out-meme each other and it was just really funny."
Andrew Isaac, a second-year community and regional development major and member of Sigma Nu, spoke about a few of the ways Fox's presence in his life affected him.
"I met Blair when we were rushing Sigma Nu together [in the fall of 2016] and we were also living in Cuarto," Isaac said. "I will never forget the image of Blair smiling because that is all he did. I have never seen him not happy or at least he didn't show it. He was also really into political science and we would have our debates and that's how I got to know him and really understood what a great person he was. He changed all of our lives."
Colton McHugh, a close friend of Fox's, a fourth-year communication major as well as a member of Sigma Nu, mentioned a few of the ways Fox was unique.
"He was extremely social," McHugh said. "Anytime we had some kind of social event on campus, he was always trying to get everyone to go and participate. People say this about people all the time when stuff like this happens, but Blair was genuinely the most excited, positive, happy guy I have ever met. He was always hyping everyone up about everything. It was ridiculous how excited he was just to do the most ordinary stuff as long as he was with his friends. He was so positive and he made everyone else just happy all the time."
Jake Webb, a second-year managerial economics major and Sigma Nu member who was also close to Fox, talked about the way Fox impacted his life and the lives of the rest of the fraternity members.
"One of [Sigma Nu's] big events is going down to Grace Gardens to garden every Saturday morning," Webb said. "Blair would do that with a smile on his face every single time. A lot of us woke up Saturday mornings pretty tired, but he just cheered everybody up and he did some great stuff over there. He put his all into everything."
Many Sigma Nu members who were close to Fox also mentioned his passion for community service and involvement, in addition to his work with the Grace Gardens.
"Blair was probably the most involved person I have ever met at Davis," Isaac said. "He always talked about Model United Nations — he had such a big role in that and he made a lot of friendships and bonds in that club."
Spencer Crist, a second-year electrical engineering major and Sigma Nu member, talked about Fox's other roles on campus.
"Blair did internships with the international department," Crist said. "He helped transition international students and would help the students come in. He made a lot of great friendships there and introduced me to several students who are also engineering majors. He was also interviewing to be in another business and economics club."
Crist also mentioned some of his favorite moments from time spent with Fox.
"All my memories [of Blair] stem from the Grace Gardens because he was the guy who recruited all of us to go out there and do that every morning," Crist said. "That became a usual thing, spending two hours Saturday morning just gardening for the community. He would always make it fun and such a great time. We would always look forward to that event and not think [of it as] another weekend where we have to do community service hours."
The anecdotes that his Sigma Nu brothers shared about him highlighted their admiration and respect for Fox.
"We had our elections in our fraternity and Blair wanted to be treasurer and so he went up to do his speech on it," McHugh said. "At the end, he [pulled] out his Economist magazine and [said], 'Also I have this, so I'm a clear choice.' It was the funniest thing, because everyone was being super serious and Blair just [pulled] out this magazine."
Sigma Nu member and second-year political science major John Salvestrin talked about how meeting Fox impacted his experience as a Sigma Nu member.
"I rushed in Winter Quarter, and Blair was one of my most memorable rush conversations," Salvestrin said. "He just really stuck out — he was so charismatic and just a great guy. Ever since then, I grew closer and closer to him. This year, […] living across the hall from him, he was also definitely one of my closest friends."
Margo Fox, Blair Fox's mother, spoke about Fox's personal attributes.
"Blair was very humble," Margo Fox said. "He was one of those people who had a presence and a strength, but didn't want to use it. He would rather be there to support other people. He wanted to use his other skills to bring people together and wanted those around him to feel good, supported and smart. He worked hard in his own quiet way and was very motivated to do well and get ahead, but he wasn't going to do that at anyone else's expense and he wasn't going to brag about it."
Fox's father, Warren Fox, shared memories of his son.
"I think we remember him like most people as not only warm and loving, but a really true friend to all and very curious about the world and people," Warren Fox said. "He was a really friendly guy. The moment I always remember is when Blair was born. Blair came into the world as a bubbly little baby who seemed to be such a happy kid even in his early days. He was happy and joyful and Blair was genuinely a happy, fun and joyful kid."
According to his parents, Fox was eager to learn as much as he could. Warren Fox said his son was "very curious about the world and people."
"[Blair] really loved to just talk about issues, […] he just wanted to learn about all sides," Margo Fox said. "He really liked being with people and talking."
Friends of Fox said they were willing to do anything for him.
"He was one of those guys where, if he wanted to go do something and he texted you, you would make time because it was better to be with him than with anyone else," Webb said. "If he wanted to get food or do anything, I would probably stop what I was doing just to be around him because he was this vibrant guy who had this sense of humor that is unmatched and I just loved being around him."
Webb said that Fox "was going to change the world" and Isaac said, from his perspective, he already did.
"He changed all of our lives," Isaac said.
The Fox family has set up the Blair Fox Scholarship Fund to support undergraduate students at UC Davis. There will also be a Celebration of Life for Blair Fox on Feb. 10, 2018 at 10 a.m. at the Walter A. Buehler Alumni Center. Margo Fox said that "everyone is welcome to his celebration of life."
"We wanted to do it on campus because Davis was so important to him," she said. "And that is his community."
Written by: Sabrina Habchi — campus@theaggie.org