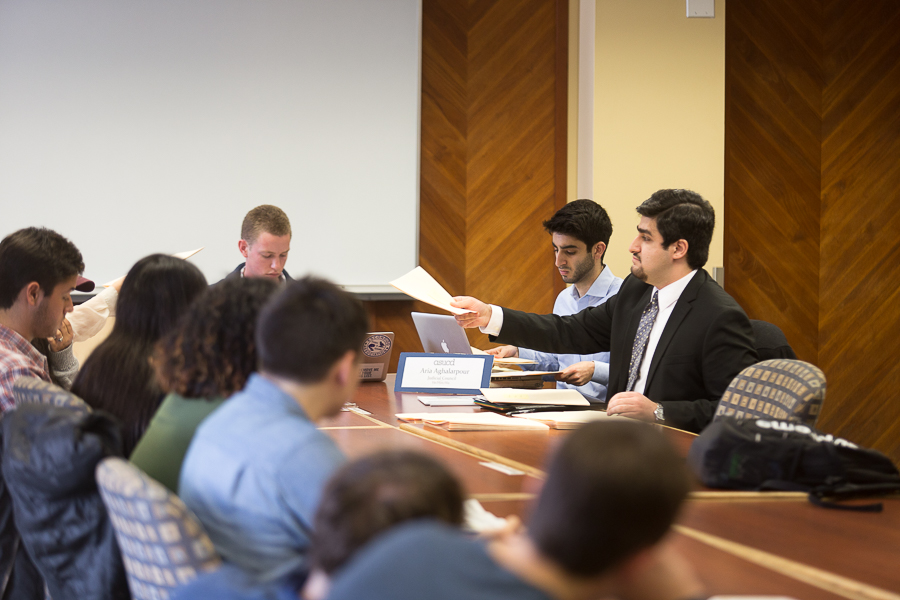 Adam Hatefi received two violation points
On Friday, Jan. 12, the ASUCD Judicial Council held a hearing at 1 p.m. in the Mee Room of the Memorial Union that was called to order at 1:10 p.m. by Judicial Council Chair Ryan Gardiner.
The hearing regarded a complaint submitted by the Elections Committee early in Fall Quarter. Adam Hatefi, a third-year political science major and a prospective ASUCD presidential candidate began raising funds for the upcoming Winter Quarter elections in violation of the ASUCD Bylaws.
The hearing was open to members of the public and began with a petitioner's statement made by Naeema Kaleem, the chair of the Elections Committee and a fourth-year sociology major. Also present were Judicial Council members Sydney Hack, a third-year international relations major, Aria Aghalarpour, a third-year political science major and Elections Committee Vice Chair Rodney Tompkins, a second-year psychology major.
The fundraising in question included a GoFundMe account linked to Hatefi's Facebook page as well as events held at Blaze Pizza and Panda Express. The dates of these fundraisers fell outside of the election cycle, when Hatefi was not qualified as a candidate.
Hatefi's statement justified his actions by drawing attention to SB 18, a bill introduced to the Senate table in Nov. 2016. The bill proposed for a change in text to the ASUCD Bylaws which would specify the permitted types of campaign donations. Hatefi claimed to have heard rumors of a Senate bill about to pass that would have allowed for fewer restrictions on campaign donations, so he moved forward with campaigning. Changes made to the Bylaws after SB 18 changed the text, but not the regulation itself.
The regulation violated is Bylaw 412 (c) (1) which reads: "Donations to a Campaign Executive's Election fund shall only be accepted from ASUCD members. No group donations may be made to a Campaign Executive's Election fund by any registered student organization.  Three (3) campaign violation points shall be assessed for violating this subsection."
Hatefi was ruled to be in violation of the Bylaws for accepting donations from non-ASUCD members through his GoFundMe account. The defendant argued he did not solicit money from anyone and that the donations made by his family members were of their own volitions — offering signed statements from family members.
The prospective ASUCD candidate also argued that the Elections Committee failed to notify him of any complaint made against him, thereby invalidating the claim.
"Due to this being an atypical case in that it was not an official election cycle, the Elections Committee did not have jurisdiction over the case," Kaleem said. "In other words, we were unable to go through the official complaint process outlined in Chapter 4 of the ASUCD Bylaws, as we don't have authority over prospective candidates."
The complaint was brought directly to the Judicial Council, revalidating the claim.
Hatefi provided documents of personal bank statements to the table saying all the money raised had not been transferred from the organizations that raised them into any personal accounts of his own. The money remains with the organizations who raised it and in the GoFundMe account. After repeated attempts to refund the money from the account, it proved impossible, and he speculated donating the money to charity.
A ten minute break began at 1:40 p.m.
After the hearing was reinstated, questioning continued. Hatefi described how he accepted donations under the names of "Logikos Advocacy," a non-UC Davis affiliated group for which Hatefi is the executive director of, and "Aggies Online Network," a student-run organization which he is a member of, to raise money at the restaurants he held events at.
The hearing ended for deliberation at 2:30 p.m.
The council unanimously decided Hatefi was in violation of the ASUCD Bylaws for accepting donations from non-ASUCD members through his GoFundMe account.
The money raised at Hatefi's restaurant fundraisers were not moved to an election fund and once the context of ASUCD Bylaws remained unchanged, Hatefi notified the donors their money would not go to his fund, thereby avoiding another violation. Hatefi's actions merited two violation points of bylaws. A third violation point will result in further assessment and possible ineligibility to run for an ASUCD office position.
"Running for office is one way to [make one's voice heard], and it is the right of any member of the association to run," Gardiner, the Judicial Council chair, said. "However, it is important that all candidates be given a fair and equal opportunity to exercise that right. Candidates should establish dialogue with the committee instead of just brushing them off. This particular situation probably could have been avoided if that dialogue was established."
Written by: Elizabeth Mercado — campus@theaggie.org