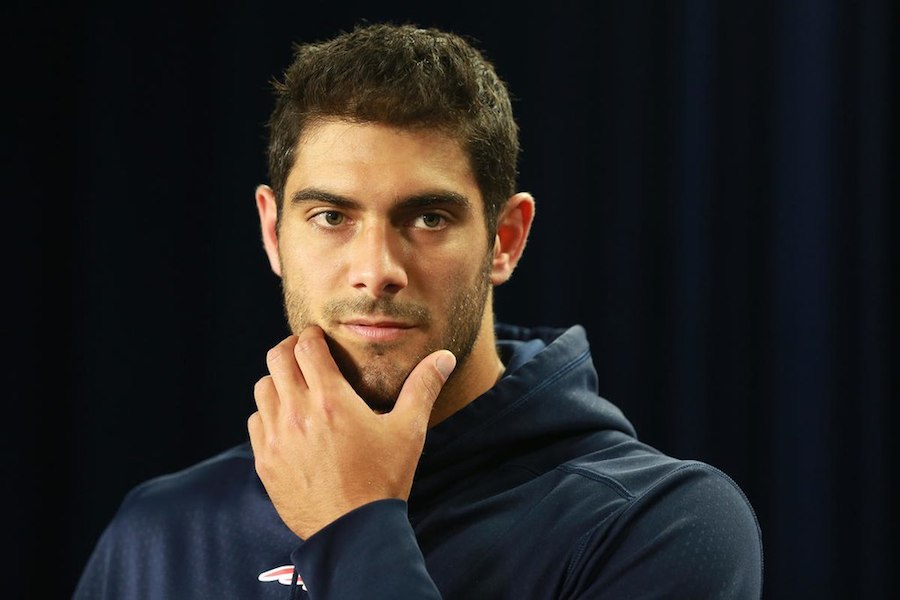 San Francisco 49ers see winning future with hasty trade, young quarterback
Turn on any sports radio talk show in Northern California and the conversation will be focused on Jimmy Garoppolo — for good reason. The San Francisco 49ers' quarterback as of Oct. 30 of the 2017 season has made headlines most notably for his skill and trade from the Patriots, who may have lost their shot at a consecutive Super Bowl win by trading him.
Considered one of the better quarterback prospects in the 2014 NFL Draft, the 26-year-old Eastern Illinois alumnus was originally drafted by the New England Patriots in the second round as the 62nd pick overall. During his time with the Patriots as backup to Tom Brady, Garoppolo saw the field twice during Brady's 2015 Deflategate suspension, earning a single game win under his belt before sustaining a shoulder injury and tearing his ACL.
Garoppolo, or Jimmy G to fans, made his 49ers debut in Week 12 after starter C.J. Beathard suffered an injury. Garoppolo had fans on their feet the second he walked onto the field and his exceptional talent did not leave fans disappointed. In the final minute of the game against the Seattle Seahawks, Garoppolo rushed for six yards in his first play. In the final play of the game, he threw a one-yard touchdown to Louis Murphy, also a new addition to the franchise. This touchdown caused quite a stir within the Niner Nation, with Garoppolo immediately being hailed as a savior to the team, as it was facing a losing season.
Garoppolo was named the starting quarterback for the week 13 game against the Chicago Bears, where he finished with 26-of-37 passing for 293 yards and an interception, helping lead the 49ers to victory. Garoppolo also earned consecutive wins in weeks 14, 15, 16 and 17 against the Houston Texans, Tennessee Titans, Jacksonville Jaguars and Los Angeles Rams, respectively. Garoppolo became the first quarterback to go 6-0 in his first six starts since Pittsburgh Steelers' quarterback Ben Roethlisberger in 2004. Garoppolo's success is a refreshing, exciting change of pace, bringing frustrated 49er fans their first winning streak since 2014.
Even without a top wide-receiver — Garoppolo's currently plays to Marquise Goodwin, who was No. 3 for the Buffalo Bills last year — he's managed to score. Critics are praising Garoppolo for his time management and his ability to throw accurately and quickly. His quick release being compared to veteran players in just his sixth start.
With such a great start as the 49ers' franchise quarterback, it's hard to imagine why the Patriots traded him in the first place. With MVP-favorite Brady now missing practice with an injured right hand just three days before the AFC Championship, that same thought is probably running through their heads right now. The under-the-table trade of Garoppolo had, and still has, a lot of people scratching their heads.
The New England Patriots under the direction of head coach Bill Belichick effectively sold their best insurance for just 50 cents on the dollar — for a second-round draft pick instead of a 2019 third-round compensatory pick. ESPN Magazine recently reported that Belichick wasn't on board with the trade and was "furious and demoralized" when the trade went through, but Pats owner Robert Kraft, who allegedly pushed for the deal, sang another song to MMQB.com website, saying that Belichick was all for the trade.
Belichick and Kraft, who have been to seven Super Bowls together, will surely be kicking themselves if backup quarterback Brian Hoyer, whose only postseason appearance was a disaster, or an injured Brady has to take the field. Even though Brady is a favorite to win MVP even at 40 years old, the Jacksonville Jaguars are on a roll, especially defensively, and Brady's hand injury could even the playing field between himself and Jacksonville Jaguars quarterback Blake Bortles. If the Patriots blow their chance at a consecutive ring, fans will be itching to point their fingers at who is to blame: Kraft, Belichick, or even a possibly jealous Brady himself.
But none of that matters right now to the Niner Nation, who already have their eyes set on Super Bowl LIII. Garoppolo will be a free agent at the end of this season, but if 49er's Head Coach Kyle Shanahan and owner Jed York value the quarterback who changed everything for the 49ers and effectively saved the franchise, then he'll agree to a franchise quarterback-level salary.  
With new general manager John Lynch making serious changes to the roster and creating a supporting cast for Garoppolo that is still just in its infant stages, the 2018 season is sure to be a victorious one.
Written by: Liz Jacobson — sports@theaggie.org