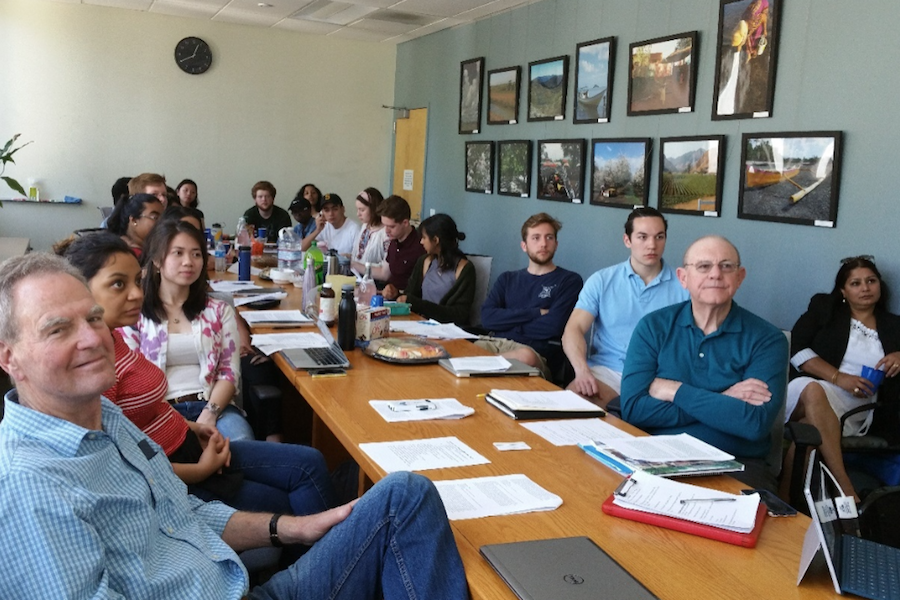 Blum Center for Developing Economics offers grants to undergraduate, graduate students
The Blum Center for Developing Economics at UC Davis offers grants to both undergraduate and graduate students who are focused on alleviating poverty in developing countries and areas. According to its website, the Blum Center's goal is "finding solutions that have a lasting and tangible impact on people living in poverty."
Kausi Raman, a second-year design and economics double major and the outreach coordinator for The Blum Center, discussed the different grants the center offers, including the Poverty Alleviation Through Action (PATA) grant and the Poverty Alleviation through Sustainable Solutions (PASS) grant.
"We offer a couple of different grant programs: PATA is for undergraduate students, and  PASS is for graduate students," Raman said. "The travel grant for undergraduate students is up to $2,000 and allows students to visit other parts of the world for research or service projects. PASS is between $1,000 to $4,000, and it's seed funding for students to find and execute viable solutions for reducing poverty in the developing world."
Raman talked about her own experience with The Blum Center after she received a grant from the group.
"I received the PATA grant last summer to travel to India," Raman said. "The grant allowed me to go over there and work directly with government schools to test out the different things [my nonprofit organization] had been developing. We were also able to work directly with teachers and directors of schools to see exactly what it was that they needed."
Although students who are awarded grants from The Blum Center tend to travel to a different country facing poverty constraints, some students have chosen to direct their efforts toward domestic issues.
"This program actually doesn't have to be abroad — it just happens to be that way because people mostly go to developing areas," Raman said. "It can be a developing area locally as well. A couple of the grants that we funded last year actually stayed in the Sacramento area. For example, one person worked in a clinic locally. It does have to work to alleviate poverty in some way."
Fourth-year global disease biology major Maria Bala received the PATA grant last year and traveled to Nicaragua in hopes of implementing her project.
"My project is a community resource database," Bala said. "The whole idea of it was to connect patients to resources outside of the healthcare settings. Oftentimes doctors make recommendations, give prescriptions and advise patients to do certain things, but when patients leave the hospital or clinic, they don't have the means or the knowledge of where to get those resources from in their communities."
Bala's hope is that, with her database, Nicaraguans in rural areas will be able to utilize the different services available to them.
"There are a lot of non-government organizations in Nicaragua that provide a lot of different resources like water improvement and special education services, and people aren't aware of those services," Bala said. "The goal of my project was to connect people to those external resources, to improve health overall, and to get people to follow doctors' recommendations."
Bala elaborated on a number of unforseen problems that may occur while trying to implement projects to alleviate conditions in developing countries.
"I designed this project as an original idea without seeing the community I was going to serve," Bala said. "I spent the first couple of weeks speaking to different members of the community to get their input on whether this project is something they would actually want and use. After getting their input, I finalized my idea upon tweaking it to serve the community. It took several weeks to hurdle through liability issues and feasibility issues and collecting the needs-based assessment."
According to Bala, The Blum Center is mainly involved in approving the projects of students and awarding them grants — it is up to the student to accomplish the project.
"I was only able to finish taking the needs-based assessment. I wasn't able to finish making the database," Bala said. "Technically, our Blum Center projects are done after the summer because they only gave us enough funding to last for a few weeks. In essence, the Blum Center is done with our projects but it's on us, the students, who had involved ourselves into the projects and into the communities to find a way to continue what we had started. I want to go back to Nicaragua sometime after I graduate from UC Davis and finish doing the project."
Written by: Sabrina Habchi — campus@theaggie.org