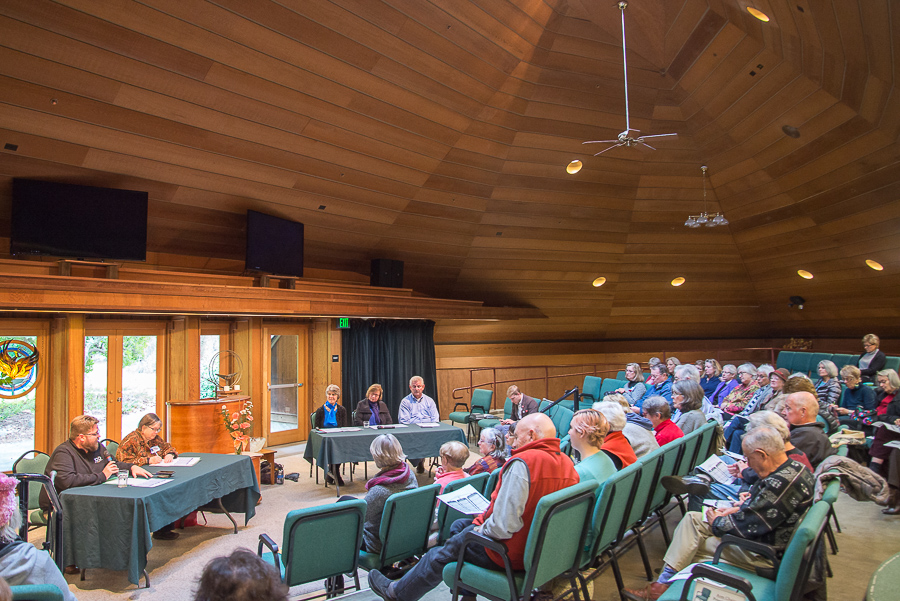 Community-based charity offers place to warm up in winter months
The Interfaith Rotating Winter Shelter (IRWS) was held at Davis' Unitarian Universalist Church from Jan. 25 to 31.
According to the 2017 Yolo County Homeless count, 146 people on a given winter night are in shelters or living on the streets, with as many as 40 percent of those people sleeping outside. Winter nights in Davis can see the temperature drop to 38 degrees in December and January.
From Nov. 30 to Mar. 16, the IRWS offers anywhere from 25 to 50 beds at 16 locations in Woodland and Davis. The project serves individuals and families requiring housing and food from 6 p.m. until 6 a.m., then sends them off with a bagged lunch. Showers and hot beverages are also provided to guests. The IRWS, however, is not a clean and sober program.
During non-winter months, the shelters open some beds for emergency shelter. During the winter months, the shelters focus exclusively on providing transitional housing to encourage upward mobility and care for individuals for up to a week. As many as 83 people reside in shelters in Davis on a given night. The city also offers 1,800 units of affordable housing.
"These individuals want to be productive members of society," said Martha Teeter, of Davis Opportunity Village and Davis Community Church, at a planning proposal meeting.
Mayor Robb Davis explained that caring for people living non-traditionally is a long process. Davis elaborated that, since the IRWS has been operating for more than 10 years, relationships between volunteers and members must be established and maintained.
"We need people that have the skillset and the ability to connect to the community,"  Davis said.
Volunteers are welcomed in November, after which they undergo an orientation that teaches them how to best serve citizens of Davis and Woodland. Positions are open for drivers, night crew, cooks and input volunteers. IRWS also provides internships for college students as well as high school leadership opportunities.
"We call it homelessness but it's a syndrome of so many factors," Davis said. "What you're seeing is the end result."
To combat the disparity between the number of people on the street and the number of beds provided, several social service groups have banded together. H Street housing, a temporary housing shelter, recently introduced Paul's Place, a proposed construction project that would provide up to 90 beds for those in need.
At a homelessness forum on Jan. 21, Teeter expressed her concerns about how renovations to H Street might impact the lives of individuals living in temporary housing.
"We're going to need the IRWS and transitional housing," Teeter said.
Though the homeless count is decreasing in Yolo County as a whole, it is increasing in Davis, prompting IRWS organizers such as Bill Pride, the executive director of Davis Community Meals and Housing, to campaign for affordable housing in the city and county as a preventative measure.
"I cannot emphasize how the lack of affordable housing in Davis and in other communities is a crisis," Pride said.
Written by: Genevieve Murphy-Skilling — city@theaggie.org