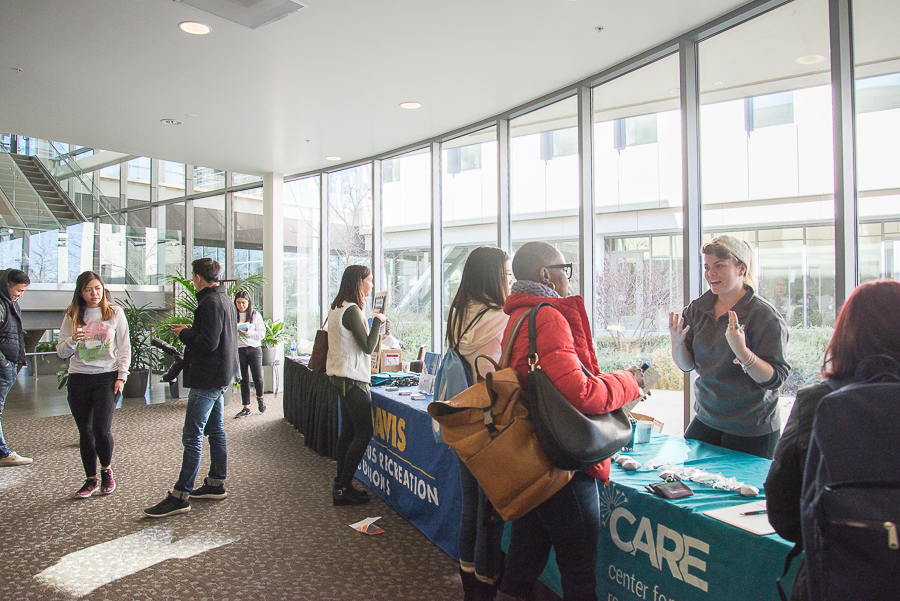 Conference included student panels, expert workshops, resource fair, healing space, art gallery
The second annual UC Davis Mental Health Conference was held at the Conference Center on Jan. 20 and 21. Programming included expert workshops, student and expert panels, a resource fair, a student gallery and a healing space as well as lunch and dinner. The aim of the conference was to promote mental illness de-stigmatization, education, self-reflection and healing through mental health care discourse.
According to the National Alliance on Mental Health, one out of five Americans suffer from mental illness — 43.8 million adults per year. Depression is the leading cause of disability worldwide and suicide is the third leading cause of death in people aged 10 to 24.
Samantha Chiang, the UC Davis Mental Health Initiative director and a fourth-year English major, explained her basis for the Mental Health Initiative, the UC Davis student organization that coordinates the conference. Chiang and other initiative members believe that their conference can be a representation of approachable, easily accessible mental health care information and resources amid rising student demand.
"Our initiative subscribes to the value 'nothing about us without us' — what's really important about that is that our initiative is run by students," Chiang said. "That makes it infinitely harder, but that also means our decisions we make directly apply to our community. It's predominantly lead by folks who struggle with their mental health. I know for myself and for the  directors slated to take over next year, we all deal with mental health issues that interfere with our academics, our social life, with our emotional capacity and just our ability to exist."
The tickets to attend the conference sold out over a month in advance and according to Chiang, there were an enormous amount of applications to the student panel, showing a willingness by students to share their own struggles.
"The student panels are all students and we could only take a third of the applicants," Chiang said. "We didn't have the capacity to take everyone. Because they took the time to apply, we gave everyone who reached out to apply fee waivers for lunch — our way of giving back."
Providing food through food trucks and buffet-style lunch and dinner became an important part of the conference for Chiang. According to the director, food insecurity deeply intersects with mental health care.
"We realized that food insecurity is an issue very much intertwined with mental health, so we had $10 food vouchers for each of the students who needed it," Chiang said. "We got funding for that from the Aggie Food Connection, and they provided us with a $1,000 to purchase food vouchers for students. [On Saturday], our allocation of 50 actually ran out, so we had to spill over into [the next day's] food vouchers."
Chiang was most excited about the opening keynote speaker, Siavash Zohoori, a UC Santa Barbara alumnus who was a survivor of the 2014 Isla Vista shooting. According to Chiang, Zohoori's work provided integral support and inspiration for her own process of creating UC Davis' initiative.
"[Zohoori] currently works as someone who encourages other folks to use storytelling to share their experiences of trauma and marginalization in society," Chiang said. "He developed post traumatic stress disorder — he was talking about how this affected the course of his life. He started the UC-wide mental health campaign that was elected for the UC students association for two years known as 'How Are You.' He was actually one of the people alongside Caroline Nguyen, the UC Irvine conference director, who inspired our community and me to start mental health advocacy work. That's how we all got together and decided this was something that could benefit the Davis community. It's amazing to see how it's come full circle. I can only hope that our initiative inspires someone else the way he inspired me."
Caroline Nguyen, a UC Irvine social ecology major, was one of the main creators of the UC Irvine Mental Health Conference. Two years ago, Nguyen and other Irvine students created the first UC mental health conference, which inspired Chiang to create UC Davis' own conference. Nguyen discussed the direct correlation between the student mental health conference in lightening the burden on clinicians.
"Student demand for clinical services and therapy is outpacing the ability of clinicians to be able to meet that demand," Nguyen said. "[Conferences] are a space where we can be helping hands in continuing to deliver the education and preventative care necessary to supplement the direct services from professional practitioners. It's a very cost-effective way to be able to continue [to] build community and increase awareness without having to place any more strain on already overworked clinicians. It's very supplemental and it's not meant to replace formal therapy, but it provides a different kind of support network. It gives students a space to share, and get insight from like-minded peers and build networks on the basis of shared struggles and victories."
According to Nguyen, while university counseling centers also offer valid help, open spaces providing inter-peer dialogue removed from faculty and administration are invaluable for students.
"Students can speak to each other and be candid in a way that students and administrators can't," Nguyen said. "There is value in that student administrator collaboration, but 'by students for students' is a very different kind of atmosphere that I think is very essential. People always stress the importance of seeking professional care, but they don't think about the fact of students who don't ever feel comfortable enough to take that step. Or what about when a student terminates therapy and they need some network or continuing educations? It's spaces like these."
Sofia Molodanof, the co-leader of the student mental health coalition and a fourth-year English major, also spoke about the power of mental health conferences.
"It is a great way to bring together the different mental health communities on campus who are working toward similar goals," Molodanof said. "I especially appreciate how the conference allows a safe space for self-reflection for those who struggle with mental illnesses or may know someone who does."
Milly Judd, a third-year animal science major and the deputy director of the initiative, will be one of the new deputies replacing Chiang in the next academic year. She spoke about what drew her to the initiative and how she has witnessed the conference open a healthy and necessary dialogue.
"I was initially drawn to the Mental Health Initiative because of my personal experiences with mental health disorders — my hope is to provide others in similar situations with resources, allies and inspiration so that I could help them in their journeys, even a little bit," Judd said. "I feel that the Mental Health Conference is able to not only provide a healing space and resources for students struggling with mental health, but also educate others on mental health disorders and the importance of self-care for all folks. In addition, the Mental Health Conference helps to start the conversation to de-stigmatize mental health and mental health disorders."
Sacramento Mayor Darrell Steinberg delivered a keynote speech that closed the conference on Jan. 21. Steinberg provided anecdotes which indicated America's prioritization of physical health over mental health.
"If you have to miss school, or work, because you suffered from some illness and you come back, you will not hesitate to tell coworkers and supervisors that [you] missed worked because of a physical illness," Steinberg said. "People are compassionate, of course, during the illness, and they will check in and make sure you're ok. If you leave school, or have to leave work because of a psychiatric illness — bipolar, schizophrenia, anxiety, major depression — in most instances, when you come back to work or school, you will not tell people why you missed work or school. In the workplace, you'll be afraid that if you tell somebody that they'll hold that against you when it comes to a promotion or how you're treated at the workplace."
According to Steinberg, the fact that the mentally ill homeless population is categorically ignored further illuminates the tumultuous road ahead to changing accessibility to mental health care.
"[If you] walk down the street and see somebody talking to themselves in ways that make it clear they are not well, more often than not, because we're busy, or because we don't feel like there's much we can do about it, we will walk by," Steinberg said. "These examples are real life examples of how much work we have to do together to make mental health the public health priority that it really is if people are going to have a better chance to live better lives."
Steinberg echoed sentiments heard across the two days of the conference from students: mental health care needs to be prioritized and fully committed to through advocacy-driven policy and money allocation.
"It takes incredible fortitude and incredible strength to tell your story," Steinberg said.  "But that's exactly what the mental health movement needs in our country. Willing to step up, stand up and assure your friends and your classmates and the world at large that they are not alone. In America, we don't talk about it nearly enough. Mental health doesn't have to be a life sentence of disconnection, incarceration [and] unhappiness. But because of the way many cultures look at issues of the brain, too many people suffer needlessly. It does not have to be that way."
Written by: Aaron Liss — campus@theaggie.org