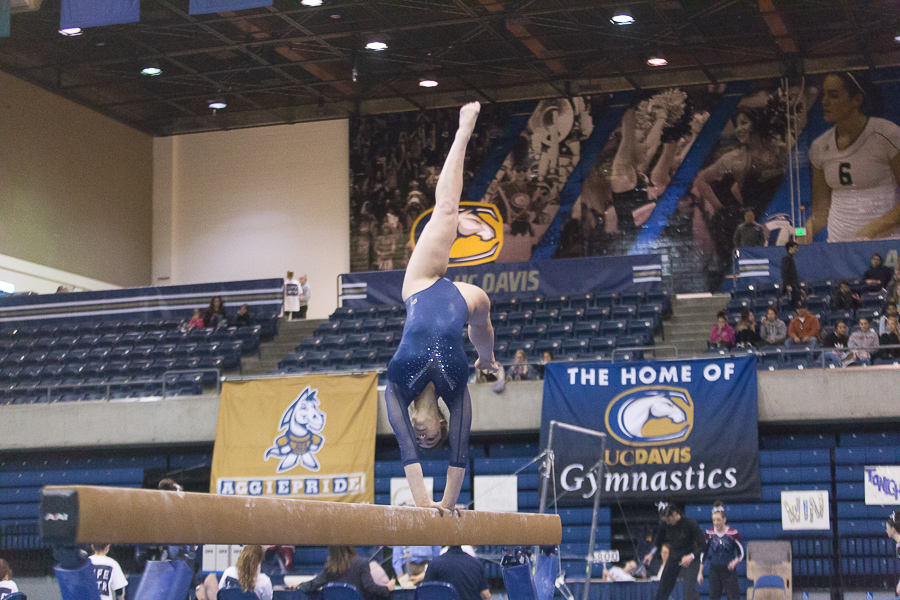 Alexis Brown claims three first-place standings, all-around title
On Friday, Jan. 27, the UC Davis women's gymnastics team resumed play after being on the road at the beginning of the month and enjoying a bye-weekend last week. The team entered its home gym with a 2-3 recording coming off of a first-place victory over Seattle Pacific on Jan. 12.
The Aggies finished second with an overall score of 194.200 right behind West Virginia with 195.050. UIC trailed behind UC Davis with 193.025.
Senior gymnast Alexis Brown performed exceptionally well, placing first on the balance beam with 9.850, tying for first on the uneven bars with 9.850, tying for second on the vault with 9.800 and claiming the all-around first place title with an overall score of 39.250 — breaking the 39-point record for the second time this season.
"I really just want to break as many records as I can," the veteran Aggie from Huntington Beach said of her goals this season. "It's my senior year, and I really want to make it the most memorable."
Freshman gymnast Kelley Hebert also earned spotlight moments. Following a win on the balance beam against Seattle Pacific, she placed second on the balance beam just behind Brown with a score of 9.800 and captured third all-around with a career-high-tying 38.950.
In addition to Hebert, new Aggies make up more than half of the team's spots.
"They're really good, really talented," Head Coach John Lavallee said of the freshmen class. "We know it's going to take some to get this environment under control because it's very different from the club environment they're in when they're in high school."
Junior gymnasts Yasmine Yektaparast and Kara Jones were absent from the meet's lineup.
"Missing [Yetaparast and Jones] in the lineup tonight really made a difference," Lavallee said. "But it was a great opportunity for the freshmen to get some work in, get some experience, and show what the Aggies have to look forward to."
Brown shared the same sentiments as Lavallee, using her experience to identify what she expects the team to accomplish this season.
"As a team, our goal has pretty much stayed the same since I've been here, and that's to make it to regionals and show that we are capable of that," Brown said. "The amount of talent that the freshmen and sophomore classes have brought just makes it so real […] We've only really had three meets so far, and that just means that we have to fix those little details, and, after that, it's easy."
The Aggies will stay in town this week to host San Jose State, Stanford and SPU on Feb. 2 at 7 p.m.
Written by: Kennedy Walker — sports@theaggie.org