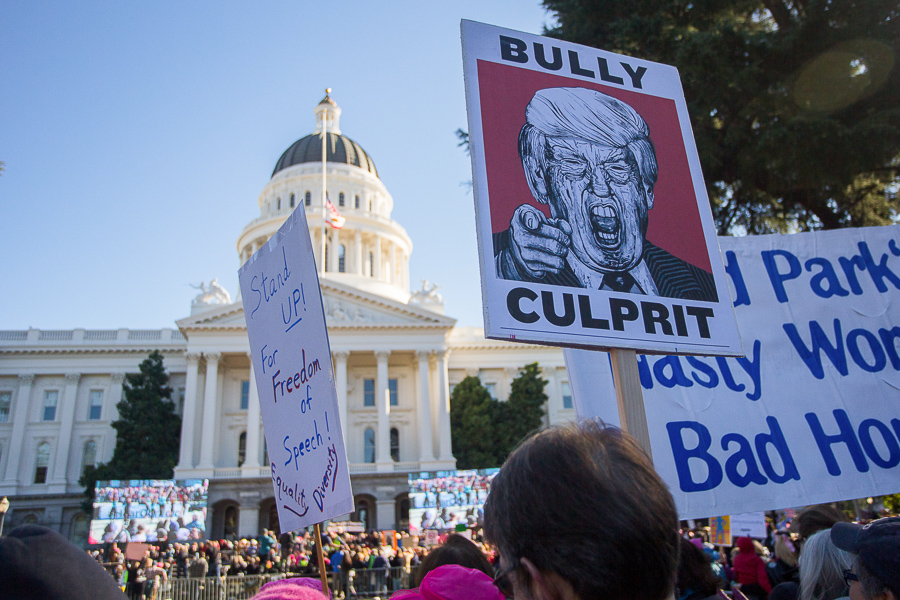 UC Davis students, faculty attend Women's March 2018 in Sacramento
On the morning of Jan. 20, though, there was a substantial change in the usually quiet weekend-morning scenery of downtown Sacramento. Seas of pink inundated the streets. An abundance of signs and posters, with quotes referencing anyone from the revolutionary Malala Yousafzai to the witty Leslie Knope, were held high in the air. Strolling through the streets of downtown Sacramento on the morning of Jan. 20 was the Women's March.
Thousands of people joined the march toward gender equality, including many UC Davis students and faculty members. Savannah Wardle, a fourth-year anthropology major, remembered being overcome with a wave of emotions as she first arrived at the march.
"When I first arrived, we all met at a park, and it was really amazing to see so many people gathered together all in one place," Wardle said. "The magnitude was overwhelming. […] It was just really cool to see everyone come together in solidarity. I felt really humbled and empowered."
Wardle felt motivated to attend this year's march because she feels that, now more than ever, it is crucial for women to empower one another in the pursuit of a common goal: to promote progress within society.
"Given the current political climate and the rise in sexual assault allegations in recent months, I feel like it's important to show our politicians that we have voices, that we aren't accepting the status quo and we are seeking change," Wardle said.
Wardle believes that because she comes from a background of privilege, she must use that privilege to fight for those who have been marginalized by society.
"As a heterosexual white female, I understand that I'm marching not just for other women like me, but [for] all types of women with different sexual orientations, gender identities, race, religion, class, ability, etc.," Wardle said. "I stand for the equality of every individual."
Sevanna Reitter, a third-year political science major, strongly supports fighting for the equity of individuals with intersecting identities. Though Reitter did find empowerment through the march, she was slightly disappointed with the lack of inclusivity present.
"There was no mentioning of trans women or the LGBTQIA community in general," Reitter said. "I think they tried a little bit to talk about women of color, but I don't think it was enough."
Reitter emphasized the need for women to stand together and fight against all inequalities imposed onto them, even ones that don't directly pertain to them, because  according to her, feminism without intersectionality is white supremacy. Reitter believes that the feminist movement encompasses individuals from all walks of life.
"It's important to include everyone," Reitter said. "If you're going to fight for yourself, you have to fight for others as well, otherwise you aren't credible anymore. The march […] is a really good thing in itself, but I think there are [aspects] that can be improved upon."
Negative sentiments regarding the march have also been circulating recently, with proponents arguing that many people decided to march this year only because it became a socially acceptable or "trendy" thing to do.
Francesca Iacono, a first-year gender, sexuality and women's studies major, understands the foothold of this argument, but does not think that it is valid to discredit first-timers for attending the march.
"In a way, I do agree [with these sentiments], because something that I am very against is 'femvertising,' which is basically using feminism as a trend to promote capitalism or to promote product development," Iacono said. "But at the same time, it's not [about] if you didn't march last year but did this year. For me personally, I really wanted to go, but I couldn't. That doesn't mean that my thoughts were not with the people there. And for some of the people who didn't go [to last year's march] but did go this year, I'm sure that's how it worked out for them too."
Iacono emphasized the need for individuals to educate themselves more on feminist principles so that they are truly able to understand the purpose behind attending momentous events like the Women's March.
"There's power in numbers, especially to the politicians that see these crowds — that's what's going to [stimulate] change," Iacono said. "But I feel like a lot of the people that went weren't educated enough to really voice their opinions because they didn't know enough about it. I feel like the push for the 'trend' was more [due to] a lack of education. I'm not saying they have to read feminist theory or anything, but even just [reading] a few articles before the march would help."
Written by: Emily Nguyen — features@theaggie.org