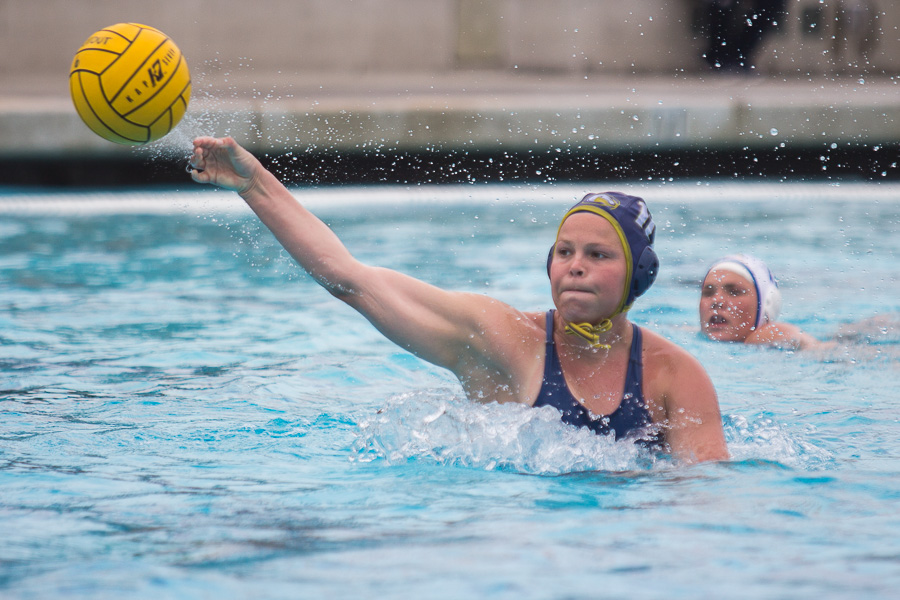 Team looks to use time before conference to fix minor details in play
It is the start of a new women's water polo season in the Big West Conference and the UC Davis Aggies are looking to come out strong and compete. Currently ranked No. 12 by the NCAA, the Aggies had an overall 16-18 and a 2-3 conference record for the 2016-17 season. Currently the Aggies sport a 2-3 overall record. In a tough conference, with half of the six teams in the Big West currently ranked in the top 15 by the NCAA, two of those in the top 10, UC Davis took advantage of the off season and is looking to come into this season strong.
"I thought we had a good younger base [last year] that has now matured," Head Coach Jamey Wright said. "I think our fitness is a lot better and our depth is much better. I really like this year's team."
Wright is not the only member of the organization to express optimism for the new season. Senior centers Carla Tocchini and Greta Kohlmoos are as well.
"I think everyone is really hungry and motivated to make something happen which I haven't seen from our team in a long time," said Tocchini.
Kohlmoos commented on the fact that many players on the team are in their first two years at UC Davis, and their upbeat style of play is making everyone work harder.
"We have a lot of depth in our team this year which maybe in the past we haven't had as much of," Kohlmoos mentioned. "We have a lot of younger girls that are pushing us older players to do better just as much as we are pushing them."
At the Lou Tully Memorial Invitational on the weekend of Jan. 20, the Aggies took a tough loss to first-ranked Stanford 15-3, an 11-8 win against the No. 16 San Jose State and a loss to China's national team 17-5.
"I think that it is really cool to watch them [China's national team]," Kohlmoos said. "I know that when we are playing we have to think this is just another team but at the end of the day they are a national team and playing against them, you can learn from that. You can learn so much that you can then apply when you play your conference opponents."
Wright agrees that there are still some adjustments that UC Davis has to make before conference play begins in about a month and a half.
"I would say it [the goal] is to build strength within our depth because you can't just depend on four of five people," Wright said. "That allows the people who start or begin a game to go all out and not hold back. I think we are in as good a place as I would like us to be with still six weeks to go."
From a player perspective, it is about being able to use these last six weeks to strengthen team relationships to play as one unit.
"I am looking forward to gain more experience as a group," Tocchini said. "During practice we have all been competing against each other so much and now we are having the opportunity to be one and gel together. I think that this team will be successful this season."
On a separate note from their current play and upcoming season, Wright, Kohlmoos and Tocchini are all pleased with the addition of a new women's team being added on the UC Davis campus.
"I am pretty excited," Wright said. "I think I am excited that we are going to get more opportunities for female athletes and I think that is a big push and our society is realizing 'hey, women are good at sports and they want to compete and train hard and it is not just a male thing.'"
Kohlmoos expressed her enjoyment for better recognition for female athletes.
"I just think that an chance to celebrate female athletes is a good one so the fact that we are adding a women's sports team here is really exciting and I am excited to see what sport they bring."
Wright added one final note about the new women's team.
"There is some freshman at some high school somewhere that doesn't even know she is even going to come to UC Davis and play this sport and it is cool to know that it's out there and happening," Wright said.
The Aggies participated in the California Cup on Jan. 27, losing their first game to No. 2 Cal 15-6 and defeating No. 22 Fresno State 19-10. This brings their overall record to 2-3. UC Davis continues its non-conference play on the weekend of Feb. 3 at the Stanford Invitational and opens its conference play March 17 at home against Long Beach State at 12 p.m..
Written by: Ryan Bugsch — sports@theaggie.org