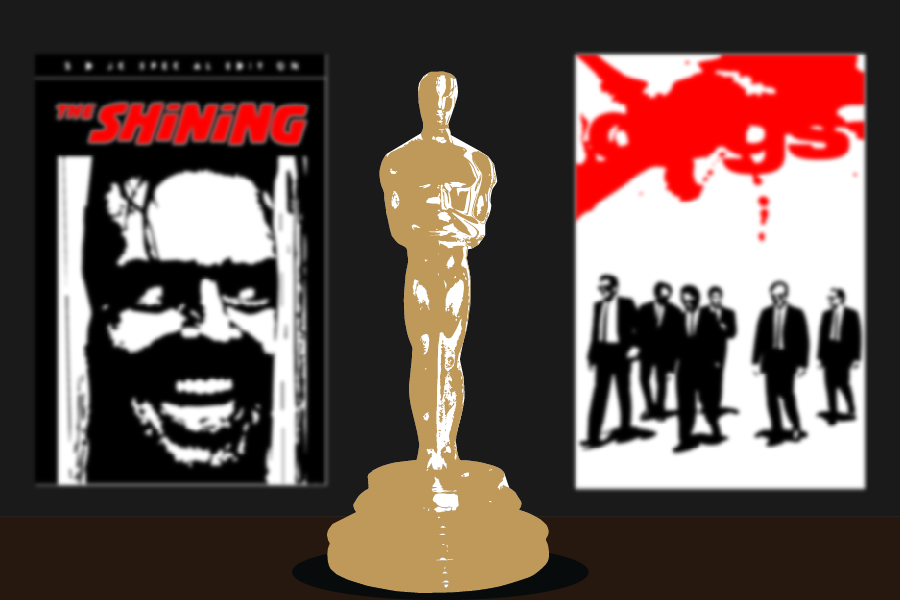 Noteworthy and relevant films cheated of Oscar nominations
Content Warning: The links in this article contain profanity and graphic violence which some readers may find disturbing.
Each year produces too many films to be properly recognized by the various award ceremonies. After 89 Oscar ceremonies, such unfortunate discredit has only built, leaving some incredible films absent in the Dolby Theatre. Here are two critically acclaimed films — with notable longevity — that were left without even a nomination in previous Oscar ceremonies.
Best Original Screenplay (1992):
Snubbed film: "Reservoir Dogs"
Winner: "The Crying Game"
Today, Tarantino's writing is often marked for its quality, earning an Oscar for Best Original Screenplay for both "Pulp Fiction" and "Django Unchained," yet in 1992 the name Tarantino wasn't as common. "Reservoir Dogs," Tarantino's break-out film, doesn't lack his signature wit or long-tongued conversations when compared to his newer films. The largest notable difference is the pacing: action is much quicker to the draw in "Reservoir Dogs" when compared to newer films like "Inglorious Basterds." Yet that isn't necessarily a bad thing.
What Tarantino does well in "Reservoir Dogs," and what deserved him at least a nomination, is characterization. Mr. Orange, played by Tim Roth, is a pivotal character in the overarching plot of the film, yet takes up a noticeable portion of runtime, a few minutes, telling his fabricated commode story. The story itself isn't complicated. Following Orange's almost explosive encounter with police in a bathroom, the story isn't added to influence the plot as most aspects of a script are, but instead highlights a key aspect of Orange's character: his patience.
How Orange keeps a steady head for so long in an unfortunate situation foreshadows his ability to bide time until the desired moment is ripe. The foreshadowed patience truly pays off at the end of the film, when Orange's true goal is revealed, showing the value in a seemingly usual previous scene. Orange's story is reflective of Tarantino's masterful characterization, the ability to highlight unique sides to multifaceted characters. Such characterization provides greater resonance with the audience at the film's climax; it is exactly what Tarantino does well and is exactly why he should have been nominated.
Best Actor in a Leading Role (1980):
Snubbed actor: Jack Nicholson, "The Shining"
Winner: Robert De Niro, "Raging Bull"
Horror films have a snubbed history at the Oscars, and Stanley Kubrick's "The Shining" unfortunately finds itself in that bin. "The Shining" is considered one of the finest horror movies to date, following the main character Jack Torrance's corruption of sanity and the ensuing mayhem in an isolated, snowed-in hotel. While, to Stephen King's dismay, the film differs a lot from the book, Nicholson's performance is nothing short of outstanding.
Every character needs to have a "want," something they will pursue and either fail or achieve to acquire. Torrance's "want" in "The Shining" is to remove his family from The Overlook Hotel through means of axe murder. How he attempts to achieve such a "want" is where Nicholson shines. A particular scene to watch, exhibiting Nicholson's skill, is toward the ending of the film — what could be called the "light of my life" scene. In this scene, Nicholson hopes to deceive Shelley Duvall's character, Wendy Torrance. He starts out as speculative, then throws a smile on his face until the scene climaxes with his anger, followed by him slipping down a staircase, and ultimately into sadness. The notable side to the scene is Nicholson's ability to seamlessly switch between emotions, a testimony to his acting chops and a display impressive enough to warrant an Oscar nomination.
Written by: Nicolas Rago — arts@theaggie.org