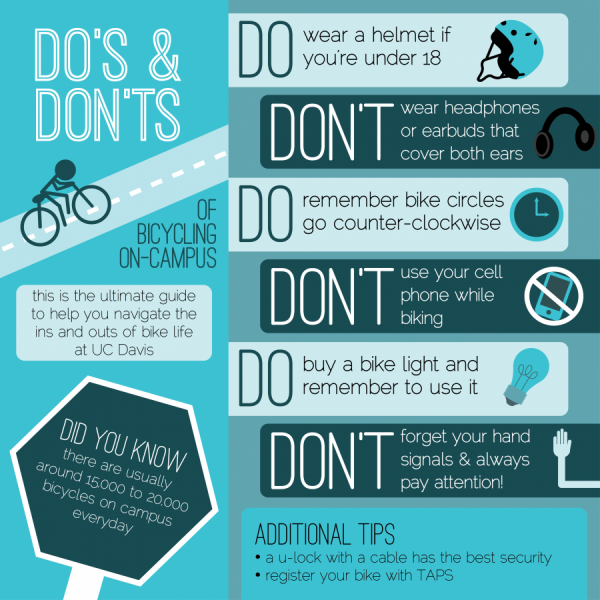 Davis Bike and Pedestrian Program, Safe Routes to School Program provide activities, events to ensure bicycle safety
The Davis Bike and Pedestrian Program and Safe Routes to School Program both seek to prevent bike collisions and other problems by educating the youth on bicycle safety.
Jennifer Donofrio, the bike and pedestrian coordinator for the city of Davis, gave her insight on why she thinks bike education is necessary.
"Many people we meet are not sure of the laws, so we help answer questions about the rules of the road," Donofrio said. "Every year, people from all around the world arrive in Davis, and our goal is to provide them with the skills to safely bike around their new community."
The Davis Bike and Pedestrian Program has many classes, spanning from education to bike assemblies.
"The City provides private and group bike education classes through the City of Davis Park and Recreation Department," Donofrio said. "We also work with all of the DJUSD schools to provide bike education to students by hosting bike rodeos, off-campus bike classes and bike education assemblies."
David Takemoto-Weerts, a retired bicycle program coordinator for UC Davis, explained how the programs came to Davis.
"A gentlemen by the name of Dave Pelz was the city public works director," Takemoto-Weerts said. "He was quite visionary, and he was a fan of bicycling. When he was in college in the '50s, he visited Europe and traveled around by train and by bicycle and saw the potential for a city like Davis to adopt the bicycle facilities that he saw in Europe. He brought those ideas back with him, and he started to implement those things as he could."
The program started around 1994, which changed the game for the city in terms of bicycle policies.
"Davis was the first city in the country to put bicycle lanes in the streets in 1967," Takemoto-Weerts said. "The main reason why Davis became a popular place for bikes is because it's a college town, which is a common place for students to use bicycles."
The city also collaborates with the Safe Routes to School Program to help provide a safer environment for students. Lorretta Moore, the Safe Routes to School program coordinator, noted how the program started.
"The Safe Routes to School Program is an operation since 2007,"  Moore said. "We work with parents — each school has a parent champion and we work with them."
One of the activities this program provides is bike rodeos.
"Bike rodeo is a bike education program that happens on Wednesday afternoons at the schools," Moore said. "There are eight rodeos a year, and we have four in the fall and four in the spring. There are eight stations, and with each station we go over some bike safety, either a skill or we do mechanic checks. We not only check their bikes — we also talk about how they can maintain their bike."
Moore emphasized the importance of knowing safety rules when biking.
"There's a difference between knowing how to ride a bike and knowing how to ride a bike safely," Moore said. "I think that we have a lot of kids on bikes in Davis, so it's important to know the rules on the road, and we like to get kids to schools safely."
The Davis Bike and Pedestrian Program is now planning activities for the upcoming months.
"We also organize a fun casual bike ride called Bike Party Davis," Donofrio said. "This ride occurs from April to October. We light up our bikes, play music and ride around Davis.  Everyone is invited, and the rides start at Ken's Bike Ski Board at 8 p.m. The next ride is on April 27."
The Safe Routes to School Program is also seeking volunteers to help out. Anyone interested in working with kids and assisting in the Bike Rodeos can contact Lorretta Moore.
Written by: Stella Tran — city@theaggie.org