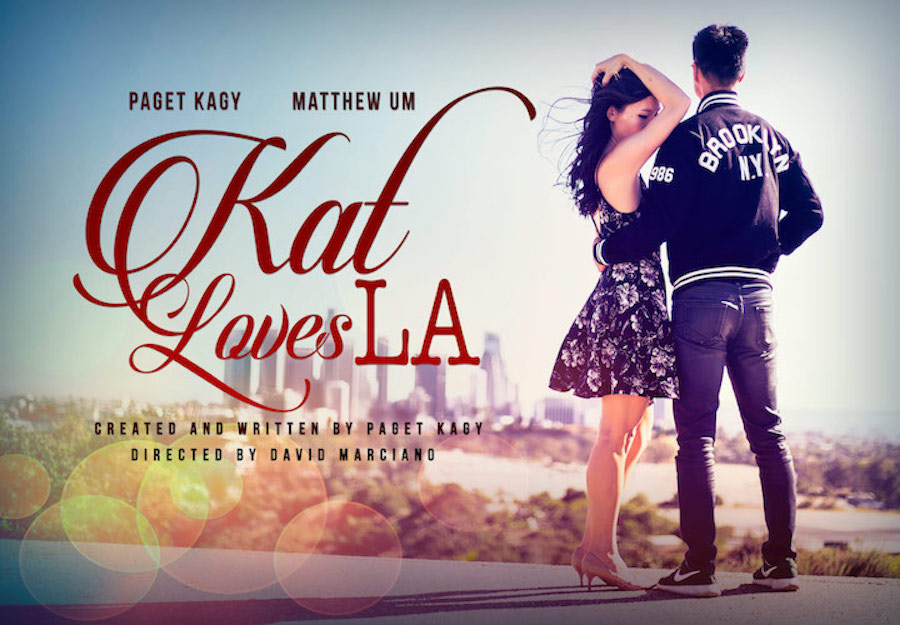 Alumni create web series about love, the acting industry
A new romantic comedy series, "Kat Loves LA," is available on YouTube starring four University of California alumni. Since December, with the exception of the two holiday weekends, episodes have been released every Sunday for viewers to freely watch. The creator and producer of the show, Paget Kagy, is a UC Berkeley alumna. She also plays the character Kat Park whom the audience follows throughout the show. After speaking with Kagy; Ilana Guralnik, a UC Davis alumna who plays Kat's good friend; Natasha Averin and David Marciano, the show's director, their passion was obvious. Their collective dedication to both the project and their crafts were clear.
Something immediately noticeable about the series is its diverse cast compared to others in the entertainment industry. The industry is slowly but surely making its way toward being more representative; individuals like Kagy demonstrate that it might be up to minorities to take the reigns in order to speed up the process.
"Diverse casting was important to me because I wanted to create a multi-dimensional world," Kagy said. "When you have an all-White cast or an all-Asian cast, etc., it misses the textures and dynamics in real life that I think viewers are naturally interested in exploring. It also gave us a chance to highlight the multicultural aspect of Los Angeles that informs how being a minority in a predominantly White culture affects racial identity."
Yet she wanted to make sure the show was relatable to viewers from all backgrounds.
"I also hope that this series will prove that it's possible to make content led by Asian Americans that people from all cultural backgrounds can relate to and engage with. […] My hope was that the challenges the main characters were going through around identity and feeling out of place were universal enough that it wouldn't resonate as a specifically Korean American issue," Kagy said.
The show is Kagy's creation, which she holds very dearly — as Kagy says it, a lot of "heart and soul" was put in. Marciano describes Kagy as "a dream" to work with.
"Paget is an easygoing, intelligent quick learner who is open to what is best for the project," Marciano said in an email interview. "These are qualities that you don't often find in a creative who has written a project for themselves to star in. We also have the same sensibility when it comes to taking the material from the page to the stage. We get each other."
It seems that getting to work with Kagy and the rest of the team was helpful, particularly because it was a show Marciano felt positive about from the start — and especially since this was his first directorial experience after having taken the acting route for more than 30 years.
"I didn't know how much I would have loved/enjoyed directing," Marciano said. "More than I can imagine. It's impacted my life. It has opened the door to a new form of creativity for me. I now know I am a good director. That I can do this, and I can do it well."
When asked what he hopes comes from this series, his constructive time spent on "Kat Loves LA" led him to end on an inspiring note about following what you are passionate about.
"I hope this project opens the eyes of those who hold the key, for all involved, to start making our livings at what we love to do," Marciano said. "Most of us have other jobs or are making just enough money to get by each month. I hope we all start to be valued more for what we do."
At the age of 17, Guralnik started dealing with having this passion for acting while trying to compromise on what her family thought was best. She ended up agreeing to have a back-up plan, getting a degree in a "non-entertainment-related" field at UC Davis in exchange for being able to move to LA after graduating. Guralnik choose a bachelor's degree in psychology and a masters in communication, and was able to complete both by the young age of 22.
"Attending UC Davis gave me business skills and knowledge that I later used to pursue the industry in Los Angeles," Guralnik said. "I also learned to study and memorize very quickly and absorb material easily, which helped me greatly in my craft. ​I ​took ​all the acting classes and drama-related classes available at the school as electives (not as a major), and it gave me a chance to learn and be active in my field while getting an education and a degree."
Her advice for students trying to get into the entertainment industry? Be sure of yourself, what your aspirations are and how essential they are to where you see your future heading.
"The industry (as in the business side, not the craft) is extremely difficult and cutthroat," Guralnik said. "Be 100% sure that this is your passion and you cannot be happy doing anything else. If you can, do that instead, as your life will be easier. But if you cannot live without your passion (which I fully understand, as that is how I am) then go for it with everything you have, and keep that unwavering determination at your core as everybody inside and outside of the industry will try to shake you off of it. Study hard, and apply your learning skills throughout your continuing classes that hone your talent and apply them to your pursuit of the business."
On what drew her into the show "Kat Loves LA," Guralnik praised the writing and noted Kagy's "perfect blend of freedom and direction."
"100% what drew me in to the web series was the writing," Guralnik said. "It makes an actor's job a million times easier when something is well written. I was blown away when I read the script, the subtlety and humor is so perfectly woven into the story. I loved working with Paget. There was more pressure to get her vision right, but it is also more of a gift when the writer is on set as it becomes easier to achieve that."
Guralnik looks back on her time at Davis with fondness, noting that her degree remains helpful even as an actress pursuing a different field.
"Looking back on the beginning years of my career, people regularly ask me if I wish that I would have skipped college to start pursuing acting earlier," Guralnik said. "While extra years are potentially helpful, as time always is, I don't regret my education for a second. I loved the time I spent at UC Davis."
Written by: Cecilia Morales — arts@theaggie.org