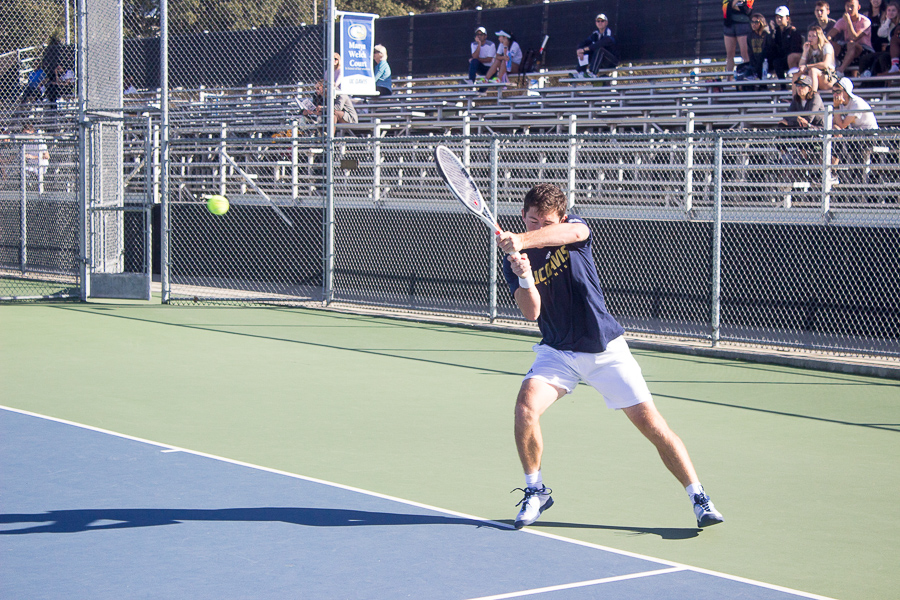 UC Davis men's tennis team defeats USF Dons 5-2 in home opener
The UC Davis men's tennis team defeated the University of San Francisco Dons 5-2 on Feb. 3 in a non-conference match at the Marya Welch Tennis Center.
Beginning the competition in three doubles matches, freshman Ivan Thamma and senior Everett Maltby secured a 6-3 victory for the Aggies. Taking a loss in the second doubles match, an overall one-point lead for UC Davis all came down to a tiebreaker in the third doubles match, where freshman Chethan Swanson and sophomore Jonathan Star were able to pull out a nail-biting 7-6 victory, giving the Aggies two of the three doubles victories and the 1-0 overall lead on the day.
"Both teams had match points before the tiebreaker and that doesn't happen very often but it does happen at times," said Head Coach Eric Steidlmayer about the final doubles match to finish. "Both teams were playing very hard and once we got to the tiebreaker we loosened up, played well, and got the win."
It was then on to six separate singles matches to decide if the Aggies could capitalize on their lead for the overall victory, or if the Dons could produce a comeback from their doubles deficit. Senior Tommy Lam and sophomore Mitchell Iwahiro were the first and second players, respectively, to secure victories in singles, Iwahiro winning in two straight sets 6-3, 6-2, and Lam with an incredible performance, winning each of his sets 6-4 and 6-0, respectively.
"[In] the game I was a little nervous because this is our first home match of my senior year," Lam said. "I am glad I fought through and was playing well in the end."
After two singles victories by the Dons, the overall score came to a close 3-2 margin with the Aggies leading. However, the Aggies kept on rolling, with Maltby defeating his opponent 7-6, 6-2 in straight sets, and Thamma finishing out the day for UC Davis, winning the finals singles match in a dominating first (6-1) and a close second set (7-5), to propel the Aggies to a 5-2 victory. This win pushed the team's overall record to 2-4, and their home record to 1-0.
"I am pretty happy with the way I played," Thamma said about his singles performance. "I played pretty loose in the beginning but just got a little nervous toward the end and luckily I was able to stay mentally tough and pull it out."
The Aggies continue their season play tomorrow, Feb. 9, at the University of Washington, and will surely look to pull out another win.
"I think we have already made a good stride forward," Steidlmayer said. "It has been six weeks of practice this winter and every week we have improved. We are going to get better."
From a player perspective, Thamma agrees that the team will continue to gain experience and get better moving forward.
"I feel we are getting better and better and each match we are learning," Thamma said. "We got a good win here today and we get a little more experience match by match and we are gonna be a good team."
Written by: Ryan Bugsch — sports@theaggie.org