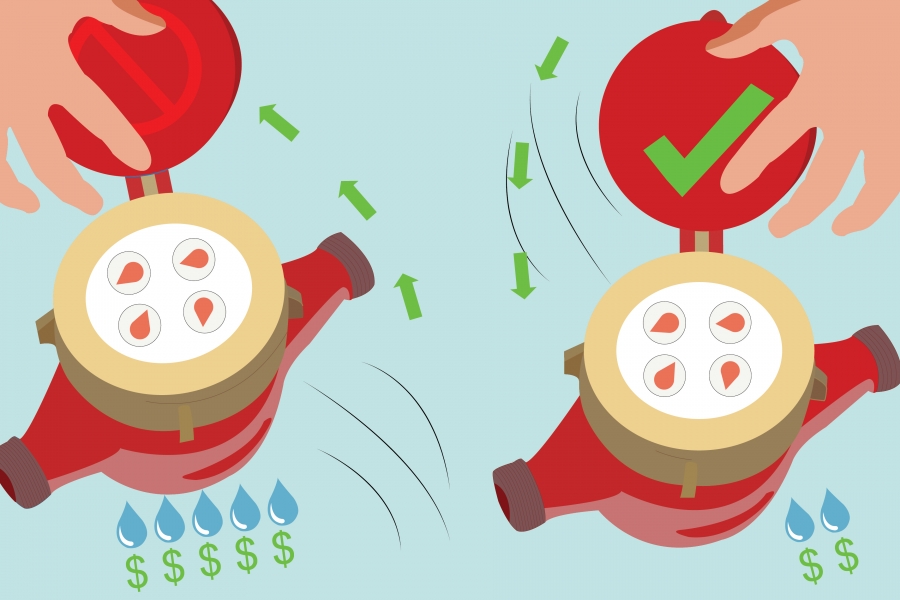 Potential benefits for Davis water consumers
New water meters will be installed in the city of Davis, replacing the existing water meter boxes. The upgrade will use an advanced metering infrastructure to transmit hourly water usage information approximately four times a day.
Having access to water usage information will help consumers keep track of their daily and weekly water usage and spending. The upgrade will also enable customers to set up usage alerts, which will notify them of water leaks.
"The water meter upgrade project will modernize city infrastructure and allow for real-time monitoring of water usage by our customers aiding leak detection and water conservation efforts," said Mayor Robb Davis in a press release.
The majority of existing meters in Davis were installed in 1997.
"The city's existing water meters are past their useful life, and replacing them was identified as a Capital Improvement Project and brought to Council," said Michael Mitchell, the principal civil engineer for the City of Davis. "The meter project is consistent with the Davis City Council's goal to fund, maintain and improve infrastructure."
Dawn Calciano, the conservation coordinator for the City of Davis, predicts that the project will most likely expand to other cities in California as well.
"The economic and environmental benefits will be advantageous for most communities," Calciano said. "Knowing daily and hourly consumption will allow for a better understanding of a property's water usage and allow households and businesses to set up alerts for potential leaks and other unusual usage."
According to Mitchell, the installation will be quick and efficient. Prior to installation, postcards will be sent to residents' homes to let them know when the contractor will be in their area.
"On that day [of installation], the residents' water will be shut off for about half an hour while the meters are changed out," Mitchell said. "When the work is complete, the installer will leave a door hanger, which explains the procedure that took place, communicates any further actions needed by the customer if a meter was unable to be exchanged and provides instructions for flushing the water line prior to use."
If needed, a new meter box will be installed. Pre- and post-installation photographs will be taken.
Using the city's new water-use portal, AquaHawk, water usage will be tracked on an hourly basis instead of the current monthly basis.
Residents can help contractors by clearing pathways from obstructions and by securing pets away from water meters on the day of installation.
The project is expected to be completed by early March in North and West Davis, March in Central Davis, April in downtown Davis and mid-June in East and South Davis.
The entire upgrade will be completed by mid-June 2018.
Written by: Rabiya Oberoi — city@theaggie.org