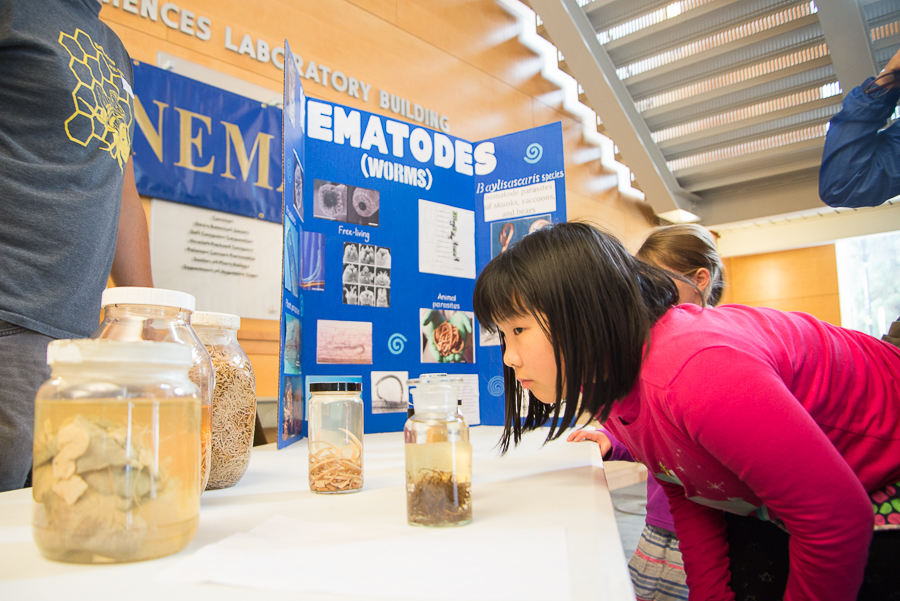 Guide to all 12 museums, collections
Across the UC Davis campus on Saturday, Feb. 17, free museums and collections will be open to the public for Biodiversity Day. Look for the volunteers in matching yellow t-shirts to find the exhibits.
Arboretum and Public Garden 9 a.m. to 1 p.m.
Visitors can take home their own plant and upcycled pot after stopping by the Good Life Gardens near the Mondavi Institute. Melissa Cruz, the outreach coordinator, said prime nursery plants, such as the California poppy, will be available. In addition, volunteers and displays will inform visitors about the importance of pollinators and some creative ways plants reproduce. Spanning 100 acres, the Arboretum houses plant collections and walking paths for visitors.
Bohart Museum of Entomology 9 a.m. to 1 p.m.
Dr. Lynn Kimsey said this museum has the seventh largest insect collection in North America, hosting over 8 million different bugs. At biodiversity day, a live mantis and a petting zoo will join their counterparts. This research collection does specialize in California fauna and mosquitoes, but expeditions are sent around the world to gather specimens.
California Raptor Center  9 a.m. to 1 p.m.
Meet Sullivan, Juliette, Mad-eye, and all of the other birds of prey at the Raptor Center. Julie Cotton, the outreach coordinator, said about 30 birds will be out for visitors to see, with 10 of them being "on the glove", which means out of their cages. This veterinary and rehabilitation center hosts golden eagles, redtail hawks, great horned owls and more. Visitors can see the center's new museum space, stop by a coloring table, and see an exhibit about American Kestrels made by a local Girl Scout.
Museum of Wildlife and Fish Biology 9 a.m. to 1 p.m.
The Museum of Wildlife and Fish Biology, only open to the public on Biodiversity Day, is a collection of 60,000 mammals, birds, fish, amphibians and reptiles. The curator, Andrew Engilis, Jr., collects specimens come from around the world, and uses them in UC Davis classes, research and outreach programs. Just in time for Biodiversity Day, taxidermists will be working on two California Condors. This critically endangered bird has a 10-foot wingspan and visitors can get an up-close experience at these impressive vultures.
Paleontology Collection 9 a.m. to 1 p.m.
The research collection contains specimens from 550 million years ago to more recent times. Fossil invertebrates, vertebrates, and plants are all a part of the big research collection. Typically used for classes only, visitors can see the past contained more than just dinosaurs.  
Phaff Yeast Culture Collection and Viticulture Enology Culture Collection 9 a.m. to 1 p.m.
According to Dr. Kyria Boundy-Mills, visitors can explore the world of microbiology through yeast collection, a winery tour, microscopes, and coloring and reading materials. Guests can learn how yeasts can be kept alive for hundreds of years, and how yeast can be made into art. Kombucha, vegemite and marmite tasting stations will be nearby a yeast smelling station and agar plates visitors can touch. Used for research projects and work contracts around the world, this is a rare chance for visitors to experience the world of single-celled organisms that are in everything from bread to wine.
Botanical Conservatory 12 p.m. to 4 p.m.
With over 3,000 different species, the Botanical Conservatory hosts many unique plants in its greenhouses. The curator, Ernesto Sandoval, is most excited about the fruit on the coffee and chocolate trees. The conservatory also hosts carnivorous plants, orchids, cacti, succulents and more.
Center for Plant Diversity Herbarium 12 p.m. to 4 p.m.
Aside from being able to browse the 300,000 to 350,000 preserved plants, visitors will have the chance to participate in activities put on by the center. This includes using microscopes, plant pressing, mounting demonstrations and going on tours. A student will also be displaying traditional Hmong medicinal plants. Kids will have the chance to mount their own plants on paper.
Although open to the public during the year, the Center for Plant Diversity works more like a library, according to Ellen Dean, the curator, because visitors come looking for specimens to help identify plants or describe new species. This is the only day to truly look around the massive collection.
Department of ​Anthropology Museum 12 p.m. to 4 p.m.
Used before the bow and arrow were created, an atlatls, a type of spear thrower, can be tried out by visitors. It is from Central Mexico and only brought out for visitor use on Biodiversity Day. Dr. Christyann Darwent is also setting up demonstrations of flint knapping, or stone tool making, that will be hosted outside the anthropology building. Inside, in honor of the year of the dog, a dog-themed scavenger hunt will take participants through the anthropology labs and museums. Fossil hominids, primates, and the new anthropology exhibit on the Inuit people will be stopping points along the scavenger hunt.
Design Museum 12 p.m. to 4 p.m.
Only available until April 22, "It's Bugged: Insects' Role in Design" showcases unique interactions between people and insects. Visitors can see art made from insects and insect products. Clothing and photographs of bugs or inspired from bugs will be displayed alongside specimens from the Bohart Museum of Entomology.
Häagen-Dazs Honey Bee Haven 12 p.m. to 4 p.m.
This half-acre farm hosts 225 different plant species; Dr. Christine Casey, the manager of the haven, has seen 85 different species of bees. Activities include making seed cookies to plant in your own garden and the ability to use a bee vacuum to catch bees and examine them closely. While primarily used to teach about the importance of bees, the haven is also used for research and classes at UC Davis.
Nematode Collection 12 p.m. to 4 p.m.
Nematodes, sometimes called worms, are parasitic or free-living organisms found in every type of environment. While a cubic foot of soil may contain millions of nematodes, it is believed only 3 percent of species have been described. The research collection of nematodes is used to help understand ecological and farming environments, although visitors will also be able to see really big whale intestinal worms.
Written by: Rachel Paul — science@theaggie.org