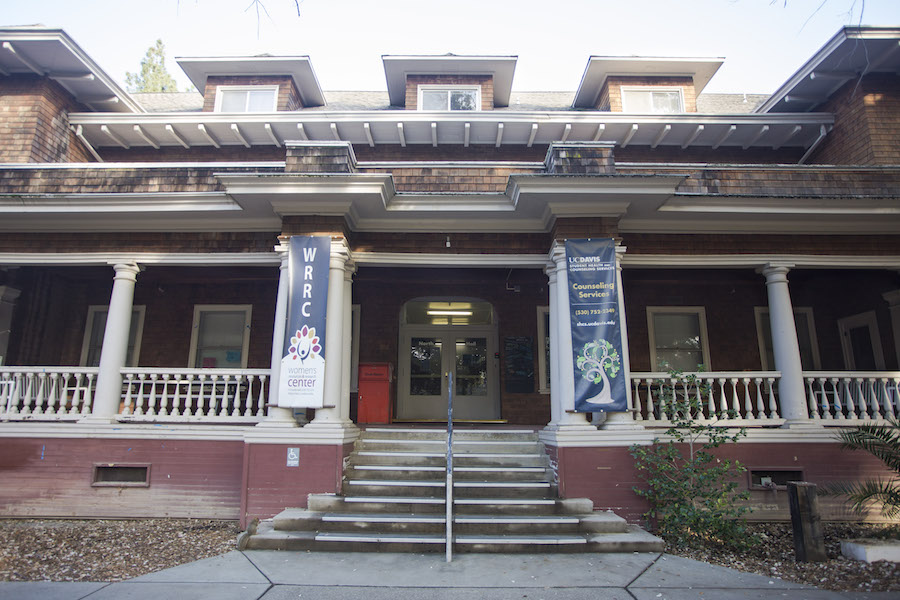 Sarah Hahn said she was threatened, intimidated, told not to talk to UCOP
On Feb. 9, 2018, Sarah Hahn, the director of Counseling and Psychological Services, was made aware that Margaret Walter, the director of Student Health and Wellness, intended to terminate her from her position. Hahn was presented with a letter from Walter stating that her termination would be effective on Feb. 23. Until that date, Hahn has been placed on paid administrative leave.
The letter comes on the heels of mounting criticism and concern expressed by Hahn to both her superiors and administrators at UC Davis, as well as officials from the UC Office of the President, that an increase in student fees for the ongoing $18 million mental health initiative from UCOP was not spent to hire 12 additional counselors at UC Davis, as the money was intended to do. A recent investigation published by The Aggie confirms that UC Davis has not hired an additional 12 counselors and that a portion of the money was not spent as it was meant to be.
"You have failed to demonstrate the professionalism, tact and diplomacy required of your position," Walter stated in the letter. "This intended action is in response to serious and substantial deficiencies in the execution of your duties, namely your failure to provide effective leadership to Counseling Services. This is evidenced by your failure to provide the expected and necessary level of administrative oversight, an inability to support a positive team environment, and a lack of proficiency in college mental health service delivery."
Hahn has served as director of Counseling and Psychological Services since 2013.
The letter was delivered one day after Hahn filed an official Whistleblower Retaliation Report — which protects those who have come forward with concerns of improper governmental activity and feel they are being targeted for doing so — with the Office of Campus Compliance. Hahn said she filed the report after learning "that an HR investigation" which targeted her "was being conducted in a manner, and at a time which [she feels to be] consistent with possible retaliation against [her] for protected disclosures."
"I was concerned that I had been retaliated against for reporting issues related to the limited number of counselors in Counseling Services," Hahn said via email. "I was concerned that I would be terminated as a result of these disclosures. I had expressed, multiple times, that Counseling Services was not growing its staff as we should be, given the new Mental Health Fee which is specifically earmarked to hire new counselors. When I have brought up such concerns I often felt intimidated."
Hahn said she was unsure as to why she was given the letter on Feb. 9, but then remembered a Management Corrective Action outlined in a recent internal audit of UC Davis Counseling Services performed in late 2017. The action states that SHCS will consult with Budget and Institutional Analysis "to determine a level of access to, or specific original output from financial systems that is appropriate to the Counseling Services Director's responsibilities." Hahn would have been granted access to financial information on Feb. 15 — six days after she received notice of her termination.
In response to news regarding the intent to terminate Hahn, the Facebook page "Stealing From Students: Our Mental Health Matters" stated that Hahn "had been in contact with students about the 12 missing counselors and advocating to upper administration for transparency regarding the lack of promised hires." The post received close to 120 shares and around 100 likes and reactions.
"When I inquired about the status of counselor hirings in late 2016, Sarah Hahn reiterated that she would do her best to find all necessary information and advocate for the counselors students had already paid for with our fees," said Samantha Chiang, a fourth-year English major and the director of the UC Davis Mental Health Initiative. "Now knowing that the other administrators in Student Health had been deceiving us all along, I'm not surprised in the slightest that they have chosen to silence Sarah and make her the scapegoat for all of their appalling errors."
Recently, on Feb. 13, a Mental Health Town Hall was held by SHCS to discuss UC Davis mental health and was attended by around 200 students, faculty and community members. During the hour-long audience Q&A, Katrina Manrique, a fourth-year English major, asked the panel of administrators, including Walter, about the termination of Sarah Hahn.
"[Hahn] has been a consistent advocate for the 12 missing counselors," Manrique said. "And now that that audit has been released and she has filed for whistleblower protection, she has been fired. Many students have expressed immense displeasure in this decision. You made it very clear that you all want to work with students, but how can you all take away the one person who's advocated for our demands? We don't want apologies, we want answers."
Manrique's comment was met with loud cheers and snaps from the audience, and a chant of "shame, shame on you, shame on you, Margaret" from one audience member.
"We want to be accountable to you," Walter stated in response to the comment. "It breaks my heart you thought you had one contact, I want to be a good contact to you. We can't comment on any confidential personnel issues related to what you just mentioned, but we all want to be contacts for you and advocates for you."
Chiang then responded that Hahn was "the one who didn't lie to our face about counselors being hired." At the end of the event, there were chants of "bring back Sarah" from multiple students in attendance.
In the chronology of events Hahn provided to Chief Compliance Officer Wendi Delmendo as well as The Aggie, she stated that she expressed "concerns that earlier financial agreements were not being met, that some decisions about Counseling had been made" without her knowledge and "that there was a lack of transparency" with her administrative supervisors, including current Assistant Vice Chancellor for Divisional Resources of Student Affairs Cory Vu in an email in January of 2017.
According to Hahn's chronology, in April of 2017, she emailed Vice Chancellor of Student Affairs Adela de la Torre after letting Vu know she would be doing so, to remind de la Torre that "as she knew, the Regents had agreed to raise student fees to support hiring 85 mental health clinicians systemwide, growing the counseling center's clinical staff by 43 percent." Hahn said she told de la Torre that "by next year, the UCD Counseling Service will only have increased by one counselor over a three year period. The one additional counselor is due to externally funded satellite positions. There is no increase in counselors which is attributable to new funds."
Three hours after she sent this email, Hahn said Vu contacted her telling her "not to communicate" her "concerns to UCOP."
A meeting was held in May with Hahn, Vu and other UC Davis officials. Hahn shared an email she received from Vu in May of 2017 with The Aggie. In it, Vu referenced this meeting, held to discuss Hahn's "concerns about Counseling Services' (CS) funding and staffing levels." Vu then outlined the expectations he required of Hahn.
"Follow the chain of command protocol when you need consultation or to address some other matter such as a complaint," Vu stated in the email from May of 2017. "Comply with the Vice Chancellor of Student Affairs', Associate Vice Chancellor's , and Executive Director of Student Health and Counseling Services' requests, instructions, or directives. Stand behind the campus', division's, and organization's decisions and work ardently toward their realization, even if you would have chosen a different direction."
In her statement to The Aggie about the letter, Hahn said she "was accused of violating communications protocols/procedures (inaccurately), or making others uncomfortable with the information."
"There seemed to be no way to make queries about financial matters related to the Mental Health Fees that was not met with criticism," Hahn said. "But it was my job to be a steward of allocated Mental Health funds; I did not of course have the option to ignore this responsibility."
In an email to Vu and former Associate Vice Chancellor of Divisional Resources John Campbell — the position Vu currently serves in — Hahn discussed her inability to obtain financial data.
"Despite the fact that I am the Director of the Counseling Services and a member of the Executive Team and the Governing Body, I have not been able to successfully obtain clarifying financial data about my area," Hahn said. "Such requests have yielded the response, for years, that I am not being a team player or am not fostering good relationships with my colleagues, which I have been told is a performance issue. This had effectively shut down my ability to get information for the past 3.5 years out of fears that my job will be threatened. Just yesterday I was told that my questions about finances was creating a divide in our organization. I find these comments threatening. I find them to be an indication, again, that requests for financial clarity will be used against me."
Hahn said she believes the May meeting with Vu "was an effort to intimidate" her "into silence and be part of a cover up."
"I was told that concerns had been raised that I was talking to CS staff regarding budgetary issues and my concern about lack of growth in our counseling department," Hahn said in her whistleblower chronology. "I was told that my communication about these matters was a professionalism issue and had to stop immediately. I was told that I was insulting members of the Budget staff by asking questions, and upsetting the HR manager when I asked about delayed hires."
In June of 2017, Hahn said she received a below-average yearly evaluation from Vu.
"I indicated to Cory [Vu] that it was not appropriate that he downgrade me, because my performance only became problematic in his eyes once I reported concerns about how the monies were being spent," Hahn said. "My performance had not changed in any way since before I reported concerns. He cited my relationships with HR and the Administrative Director of SHCS. I indicated that my communications with the HR department were in the context of asking them to initiating hires as we were expected to, and my communications with the Administrative Director and team was related to raising concerns about funding. My downgraded performance was clearly causal to retaliation for my asking appropriate questions and concerns about stalled hires and lack of clarity about funds."
In June, Margaret Walter was hired as the new UC Davis director of Health and Wellness, replacing Vu in directly overseeing Student Health and Counseling Services. Hahn said she sent an email response to university and UCOP officials stating that "it was hard to ascertain if we were receiving the funds." Later in June, Hahn said Walter referred to the email as unprofessional, perpetuating what Hahn says is "representative of a pattern" that if she discussed the mental health fund, she was accused of unprofessionalism. Walter cites Hahn's professionalism issues in the intent of termination letter.
One of the findings of the audit showed a low number of clinical sessions per day per counselor. Counseling psychologists have expressed concerns with the numbers published.
In October of 2017, Hahn said the findings of the audit concerning low productivity data were discussed. According to Hahn, there was an agreement that "counseling should not be allowed to hire more counselors until this matter was looked into." Hahn said she was not in support of this agreement.
"I explained again that delay was not an option, and the funds are not set up to be held back by campuses," Hahn said. "That is not the initiative. There was agreement around the table (not by me) that there was neither a mandate by UCOP nor a mandate from the Provost to follow [UCOP's] recommendation."
Hahn sent an email to UCOP officials in November of 2017.
"We need outside help; it is apparent [to] me that, at this point, it will take a VERY clear and powerful voice to reverse the current," Hahn said she stated in her email to UCOP. "There needs to be unequivocal clarity that current, future, and past MH Fees need to be allocated to Counseling, without condition or delay, in order to immediately hire licensed clinicians to serve the students. I think this would need to be communicated at all levels of leadership on our campus."
In December, Hahn said she asked Walter whether productivity was an area of improvement, but Walter said "'not to worry about it.'" Hahn said she was worried because productivity would be in her yearly evaluation and said she felt she "was being threatened without being given information or opportunity."
Walter did mention productivity issues in her letter of intent to terminate, stating that "clinical productivity has been alarmingly low for several years under your leadership." Walter also stated that Hahn had "described the productivity data in the audit as 'inherently flawed.'"
Katie Fuller, the UC Davis Human Resources manager, Vu and Walter all responded with the same decline to comment — "Unfortunately, I am not permitted to comment on confidential personnel matters." Vu and Walter also did not respond to any of the aforementioned claims which allegedly involved them.
Hahn said she hopes to be able to "continue to serve" the "amazing students" of UC Davis.
"Anyone who is trying to uphold our commitment to the students deserves to be protected from retaliation- not walked out of the office the day after they ask for that protection," Hahn said. "I have faith that mistakes have been made, and will be quickly corrected. We are better than this."
Written by: Hannah Holzer — campus@theaggie.org